[PC,PS4,Xbox] PoE 3.7 Storm Brand Templar Inquisitor Starter Build
PoeCurrencyBuy
Date: May/30/19 07:51:53
Views: 2512
This is a beginner-friendly, league-starter viable, solo-self-found viable, and comprehensive Storm Brand Inquisitor guide. Interested readers can find gear priority, stat suggestions, mechanics explanations, and a whole bunch of links that might be useful for newer players.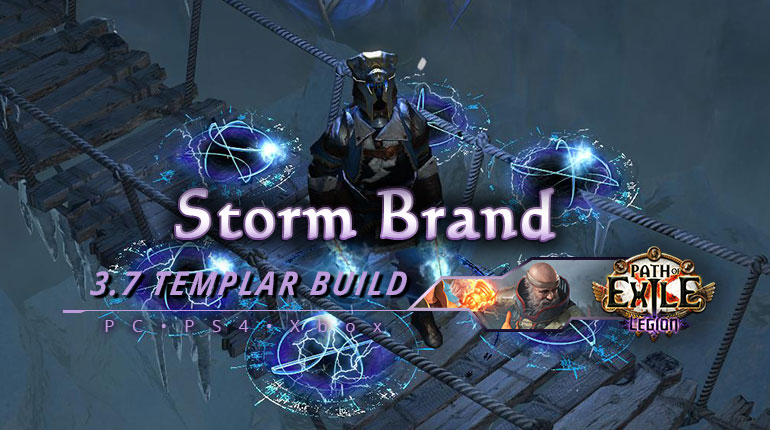 Quick Jump
Pros & Cons
+ Beginner and League Starter Friendly
+ Brand Playstyle.
+ Mind over Matter. Acrobatics/Phase Acrobatics.
+ Gearing is straightforward.
+ Not that many buttons to press.
- Can't do Elemental Reflect.
Skill Tree
Ascendancy: Righteous Providence -> Inevitable Judgement -> Instruments of Virtue -> Augury of Penitence
Bandits: Help Alira. Kill them All is an alternative if you don't need resists and the 2 skill points help your build more.
Pantheons
Major: Soul of the Brine King if without Kaoms Roots. Soul of Solaris if you have them.
Minor: Gruthkul for mapping Yugul for Uber Elder
Passive Tree
PoB: https://pastebin.com/MCw9xumL
Gems Setup
Storm Brand
Brand Recall
Auras
Wrath. It's a more multiplier for damage.
Utility
Other Nice to Haves
Lightning Spire Trap - Increased Area of Effect - Controlled Destruction - Trap and Mine Damage

This is a great way to supplement your single target damage.
Vaal Haste: For all the speed demons.
Vaal Grace: Great all around Defensive buff in sticky situations.
Enduring Cry: Life/Mana regeneration on command as well as a bonus for Endurance Charges which are useful! (Damage reduction and increased Immortal Call Duration).
Quality Priority
Storm Brand > Damage Supports (All give .5% increase) > Increased Crit Strikes
Leveling and Skill Tree
The below is a comprehensive act-by-act breakdown intended to introduce players off of a fresh install into the game. If you are an experienced player consider just looking at the target trees and skipping the in-depth breakdown. The target trees are not to be strictly followed, in fact there are more points in the target tree in case you are ahead of schedule on levels/passives.
If this isn't your first character here are some recommended uniques that will make the leveling process easier (Remember this is SSF and League Start viable so none of these are required at all): Lifesprig, Goldrim, Tabula, Wanderlust, Axiom Perpetuum, String of Servitude (all resist), Le Heup of All, and buying skill/support gems with quality ready to be socketed in!
Gear
For a more detailed selection of gear, please refer to the PoB Link. The gear selected in the PoB is not mandatory if it is not stated. It is recommended that the player check the affix of the gear and make a better choice.
Lastest POE Builds, News and Guides