Buy Cheap PoE Mayhem Currency and Power Leveling Service With Safe
PoeCurrencyBuy
Date: Dec/05/20 20:36:22
Views: 3570
PoE 3.12 Mayhem has started, and there are huge prizes waiting for you at each specific level! Buy cheap poe currency to help you quickly complete your level goals! We also provide power leveling services (lv.1 - 50), manual and safe!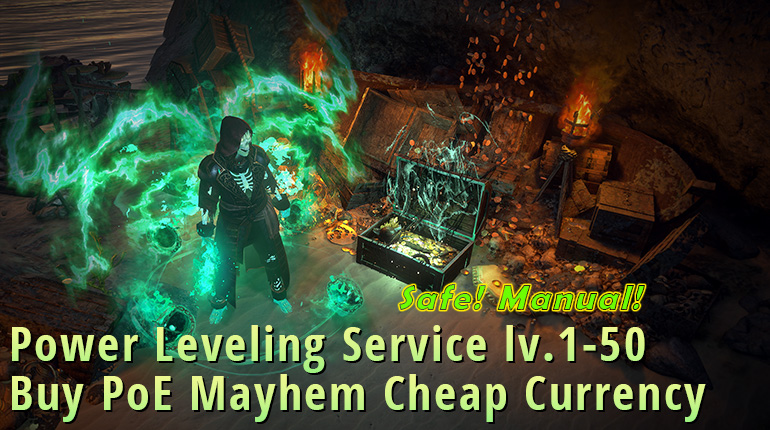 Check All Path of Exile December Event Prizes!
Good Currency and Item for leveling
Chaos Orb and Exalted Orb belong to the currency used in the game for high item level materials, but most of the two orbs are still used as standard units for item trading, if you are a super lucky newbie in the early game Get chaos orb or exalted orb don't use it on rare equipment. For newcomers, taking a deal can get you more.

---
Reforges a rare item with new random modifiers
How can make it: Chaos Orbs are uncommon currency items that can be dropped by slain monsters, chests, and destructible containers. They also drop from Arcanist's Strongboxes.
A Chaos Orb is a currency item that can be used to re-roll the random modifiers on a piece of rare equipment. Chaos Orbs are useful in crafting, as they reroll all modifiers (and the number of modifiers) on a rare item. This makes for unpredictable results, so getting a specific modifier is not easy. Using multiple Chaos Orbs on a piece of equipment in the hopes of getting at least a few good modifiers is called 'Chaos spamming'.
Chaos Orbs is the basic unit of currency in the Path of Exiole. You can understand that using this orb to exchange other equipment you want in the trading market, or to exchange a lot of other currency needed in the early stage.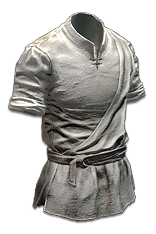 ---
Item has 6 White Sockets and is fully linked (Hidden)
For beginners, Tabula Rasa is a great leveling gear. The original 6 White Sockets allows you to easily hit high damage and fast leveling in the early game. Most players will choose to use Tabula Rasa in the early stages of the game to help them quickly leveling, but this equipment is not easy to rely on the player's own production. You can buy it on R4PG at the cheapest price.

---
Enchants a rare item with a new random modifier
How can make it: Exalted Orbs are extremely rare currency items that can be dropped by slain monsters, chests, and destructible containers. They also drop from Arcanist's Strongboxes. Exalted Orbs can also be obtained by combining 20 Exalted Shards.
An Exalted Orb is a currency item that can be used to enhance a piece of rare equipment with a new random affix. Exalted Orbs are high-value currency that play a crucial role in the in-game economy. Their primary purpose is to craft high-end rare items. Because of this, it is regarded as the "gold standard" currency for trading between players, with many trade deals listed in terms of Exalted Orbs.
You can buy cheap poe currency from PoeCurrencyBuy. Fast! 99% of the orders are completed in 1-5 minutes. Safe! We guarantee that the transaction process is absolutely safe and reliable. 24 online!
If you have any problems, you can contact us at any time via email or live chat. PoeCurrencyBuy is the best place for your purchase of PoE Mayhem currency
Power Leveling Services
Path of Exile prepares a large number of prizes for every event in December, as long as you reach level 50, you will get a free mystery box. In addition, there are opportunities to obtain expensive MTX items including portal, character effect and armour set ,etc. The higher the level, the higher the chance!
PoeCurrencyBuy provides Safe and Fast power leveling service, completely Manual leveling! Don't worry about your account security!
Buy power leveling service now (PC Standard lv.1-50) to get your free box ! !
If you need higher level of leveling service, please contact our customer service via livechat.
Our services
Fast Delivery
We replenish our stock steadly all the time. All products accessiable will be delivered to you in the shortest time. Here is the visual statistic.
90% of the orders are completed in 1-5 minutes, and 8% order delivery 5mins ~ 10 mins. You may find few orders have more than 30mins delivery time. We will explain the reason and how to deal it.
Players are offline. We will contact you in the game constantly until the order is completed.
The information about your character is wrong, like unreal username, a wrong league and so on. Once it happens, we will send an email to you to explain the problem in this order and wait for communication with you
Read the normal problems above will help you receive your poe 3.6 currency in time and free you from a long waiting time.
If you have not receive your currency within 20 min, please check you payment mailbox and contact us by our livechat.
Purchase Process
1. Add your expect number of poe 3.6 currency into shop cart. You can also choose pay for different types of currency together.
2. Leave your email to receive your order information.
3. Leave your character information and league.
4. Pay and wait for our communication with you in game
Contact and Help
Any problem in your order can be solved by contacting us on livechat on our website. If you have any suggestion about our service and our website, you can email them to poecurr[email protected]. We are looking forward to your letters!
Lastest POE Builds, News and Guides