Path Of Exile - Top 10 Popular Game Loot Filter Sound Packs Download
PoeCurrencyBuy
Date: Nov/12/18 07:32:25
Views: 19352
Do you know that you can customize the effect music in Path Of Exile ? The new lootfilter allows players to replace their original system sounds with their own MP3 format music. Many players have used a wealth of ideas to share some of the most popular game sound effects. Here are some interesting sound effects previews and downloads!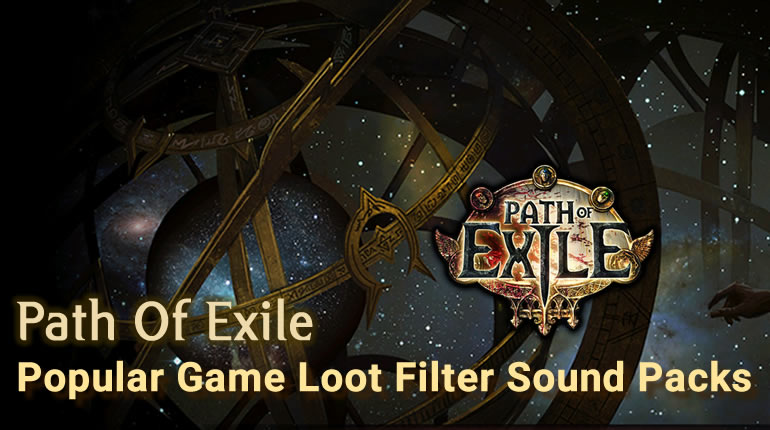 How to include custom sounds ?
The lootfilter for delve include a new style, that only uses templated sounds and comes with a set of default-mp3 files.
To integrate your custom sounds into the filter, you'll have to replace the files in that folder. Note that your filenames must match the ones listed below exactly and you also have to copy all files into the %userprofile%/Documents/My Games/Path of Exile folder.
The filenames will be (it should be fairly obvious, what each sound stands for):
1maybevaluable.mp3
2currency.mp3
3uniques.mp3
4maps.mp3
5highmaps.mp3
6veryvaluable.mp3
7chancing.mp3
12leveling.mp3
placeholder.mp3
1. Path of Exile - Custom Lootfilter Chrono Trigger
Download: http://www.mediafire.com/file/6oajnopl94gapab/Path_of_Exile_CT_Sounds.rar/file
2. Path of Exile - Custom Lootfilter Dota 2
Download: https://drive.google.com/file/d/1Y_ExGXo8ORDAZH8meRMxSBpXYdVsmpAE/view
3. Path of Exile - Custom Lootfilter Legend of Zelda
Download: http://www.mediafire.com/file/8f58cajo9nqvjc1/LoZ_Sounds.zip
4. Path of Exile - Custom Lootfilter Super Mario Bros
Download: http://www.mediafire.com/file/ydrudh6l48v2lk5/mario-filter.rar
5. Path of Exile - Custom Lootfilter Metroid Prime 2
Download: http://www.mediafire.com/file/lxsr38v8hdszk3k/Sound_Files.zip/file
6. Path of Exile - Custom Lootfilter Heroes of Might & Magic 3
Download: https://www.dropbox.com/s/fll34o5kbmcrlcw/HoMM%20Filter.7z?dl=0
7. Path of Exile - Custom Lootfilter Sonic The Hedgehog
Download: https://gofile.io/?c=tV6lfN
8. Path of Exile - Custom Lootfilter Zelda: BOTW
Download: http://www.mediafire.com/file/x4w6x42pibafid1/Zelda_Noises.zip/file
9. Path of Exile - Custom Lootfilter MapleStory
Download: https://puu.sh/Bz1Nh/9ac6807d3f.rar
10. Path of Exile - Custom Lootfilter Diablo 2
Download: https://drive.google.com/open?id=1DlTXhJv3llNOxSrtHO6N7xgLTQonFAaw
Lastest POE Builds, News and Guides