Path of exile 3.1 Builds With New Ancestral Call Skill Gems
PoeCurrencyBuy
Date: Jan/10/18 05:45:23
Views: 3611
Path of exile 3.1 New Ancestral Call is a support gem. Attack skills that linked to Ancestral Call will attack two nearby enemies at the same time, automatically selecting valid targets within range for the attacks. In this Post, PoeCurrencyBuy Will share the Path of exile 3.1 Builds With New Ancestral Call Skill Gems.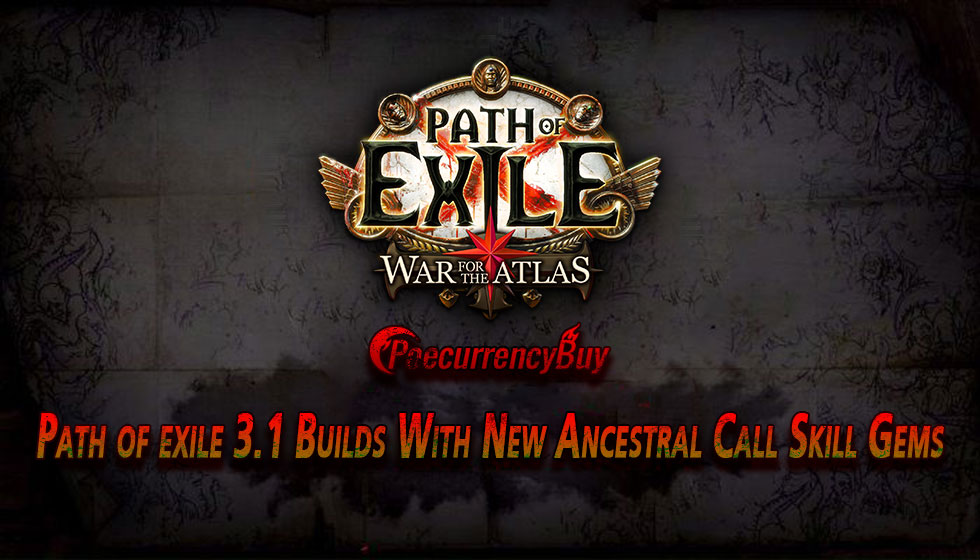 [Marauder - Ancestral Call] Ngamahu's Flame - Molten Strike Berserker - Ancestral Call

That is a build guide for my starter build in Abyss league. Build mainly focused on the new Ancestral Call support gem. If you don't know this support makes it so that you attack two additional targets whenever you attack with a single target skill.

Initially, This Build tried to make Infernal Blow + Ancestral Call + Ngamahu's work together (it didn't work, it was shit). I got to level 55, bought my Yamaha's, spend all my currency six socketing, and it didn't work at all. So I decided to change over to Molten Strike to fully embrace the ball life.

This Build managed to clear all of my Labs, kill elder, kill Atziri and get into red maps with under 1ex in gear. You can scale this build as high as you want really. Items like Xoph's Blood, Molten Strike Helmet Enchant and 6L Belly of the Beast can all improve this build wildly, but at a high cost.

Note: On a 6L Swap Ancestral Call with Ruthless for single target. If you're running a 4L obliterate Multistrike, then swap Ancestral Call and Multistrike for clearing and the single goal.

Devoto's would probably be excellent considering we don't have movement speed boots. The big boy dex roll is also perfect for us. My tree lacks dex, so This Build has taken the +30 dex node and being able to drop this is a good thing. Attack speed is always excellent.

The belly is a viable choice. The % life is better than any 100+ life chest, but the resistances are a little low. Overall This Build would say use it if you can afford it but it's way out of my price range right now.

Build Link: http://www.pathofexile.com/forum/view-thread/2046563


[Duelist - Ancestral Call] Dual Wield Ancestral Call Molten Striker AKA, Not Your Grandma's Duelist

This build focuses on one thing: Making enough meatballs to put your Grandma to shame. As soon as This Build socketed molten strike and ancestral call together I knew this build was going to be fun. The tree focuses on picking up as much physical damage as possible which converted into fire damage with molten strike and Avatar of Fire. Later on, instead of taking Avatar of Fire on the passive tree, you could fit a Xoph's Blood into the build. However, this may cause problems with the amount of Intelligence needed to run some of the auras and gems.

Molten Strike (Mapping)
Ancestral Call - Ele Damage with Attacks - Multistrike - Fire Pen - Elemental Focus.
You can also use Increased AoE instead of Elemental Focus.

Molten Strike (Bossing)
Added Fire - Ele Damage with Attacks - Multistrike - Fire Pen - Elemental Focus.
You can also use Concentrated Effect Support effect instead of Elemental Focus Support focus.
Ancestral Call might work better than added fire on some bosses who spawn a lot of adds, or multi-boss maps because of the overlap.

Build Video: https://www.youtube.com/watch?v=zL9fJ9cfJx8
Build Link: http://www.pathofexile.com/forum/view-thread/2044233
Ordinarily, they're not worth the problems for causes which might be adequate within the long run. Even though they're helpful for players who may well know practically nothing in regards to the game. For one of the most portion, they are learning tools for newcomers to ease them into the game. For additional Poe 3.1 Builds, you may pay a visit to Poecurrencybuy.com. Just a reminder: you will get 5% coupon code free of charge from the reps when you Acquire Poe Currency from this short article.
Lastest POE Builds, News and Guides