Path Of Exile Betrayal League Hideout Changes
PoeCurrencyBuy
Date: Nov/15/18 07:16:23
Views: 3202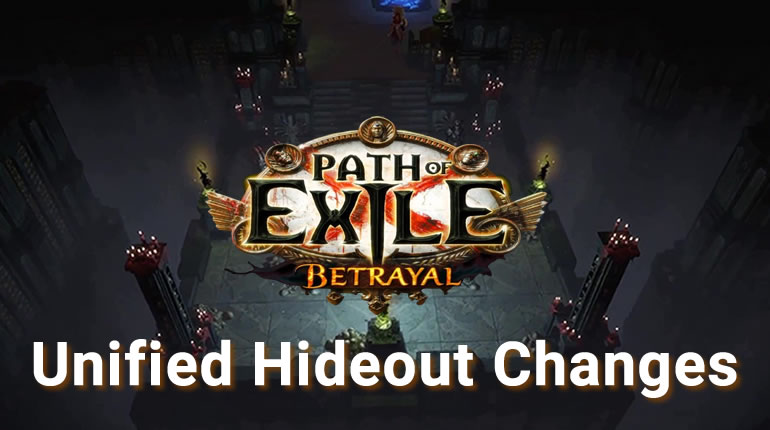 As you know, in the recent announcement of GGG, the next league of the Path Of Exile is - Betrayal. In Betrayal, many long-standing content of games has undergone tremendous changes, especially Hideouts. Here is the specific description of the Hideouts changes from GGG.
Cross-League Hideouts
Previously, you had a hideout per league and had to re-grind for favour/decorations in each league and customise a new hideout from scratch. This meant that people's amazing creations were soon relegated to the Standard leagues and only a few players continued to make high-effort hideouts league after league.
With the new system, your hideouts, favour and decorations are shared across all leagues. Because these systems are entirely cosmetic and provide no gameplay advantage, there is no competitive advantage to starting a new league with an incredibly detailed-looking hideout. It will, however, save you a lot of time setting a new one up.
You can have a different hideout set up for each tileset, and can swap between them at will.
Saving and Sharing Hideout Templates
In Path of Exile: Betrayal, you can export your hideout to a file on your computer, and import it later. This system can be used as a way to either save your work before doing something experimental with your hideout, or as a way to share hideouts with other community members.
When you attempt to load a hideout from an exported file, it will only restore the decorations that you have available on your account. In a later update, GGG will look into features that let you automatically purchase (with favour or, if they are from the store, microtransaction points) missing decorations.
(Note that this won't work on console. GGG are still assessing whether or not they will be able to make this possible in future.)
Hideout Sizes and Master Limits Removed
In the old system, hideouts would upgrade from one size to another as you levelled the Masters up. This would unlock specific parts of the hideout that were previously inaccessible. You also gained more slots to hold masters, and had to level the hideout up to maximum size to have all the Masters in your hideout at once.
In the new system, each hideout is fully available at maximum size as soon as it's unlocked. The sizes do vary from tileset to tileset as appropriate for the theme of the area. There are now no limits to how many Masters can be in your hideout at once.
New Tilesets and Decorations
In addition to new decorations, there are also plenty of new hideout tilesets available for you to choose from. These new tilesets can be encountered in the world and are unlocked on your account forever (not just in this league) once you full-clear them of the monsters inside. Certain tilesets will be rarer than others. Hideouts often contain some on-theme decorations that are unlocked alongside them. GGG also plan to add some premium hideout tilesets to the microtransaction store in the future.
While there's no need to grind Master levels to unlock gameplay systems (such as crafting or vendor options), Masters have Favour Levels which unlock more decorations as you do more missions for them. Like with other hideout progress, these Favour Levels are shared between leagues, so you don't need to grind them from scratch in a new league.
GGG have also made some small quality-of-life improvements to the process of editing hideouts. For example, you now purchase hideout decorations directly from the decoration stash without having to go and talk to the individual Master who granted that decoration.
In addition to the above changes to Hideouts, GGG will continue to disclose new content about the new league Betrayal in recent weeks. As a long-term website that offers players a cheap poe currency purchase, R4PG will always follow up on the latest content of POE 3.5 to provide the best service for players.
Lastest POE Builds, News and Guides