[PC,PS4,Xbox] PoE 3.7 Bladestorm Duelist Gladiator Fast Build
PoeCurrencyBuy
Date: Jun/18/19 03:44:35
Views: 4031
Bladestorm is a new melee skill in 3.7. After a major change in the melee system that promotes poe 3.7, GGG demonstrates this new skill and naturally attracts many players.
This PoE 3.7 Bladestorm Duelist Gladiator Build guide make dual-wielding max block Gladiator with crazy cleer speed, good single target dps and survivability.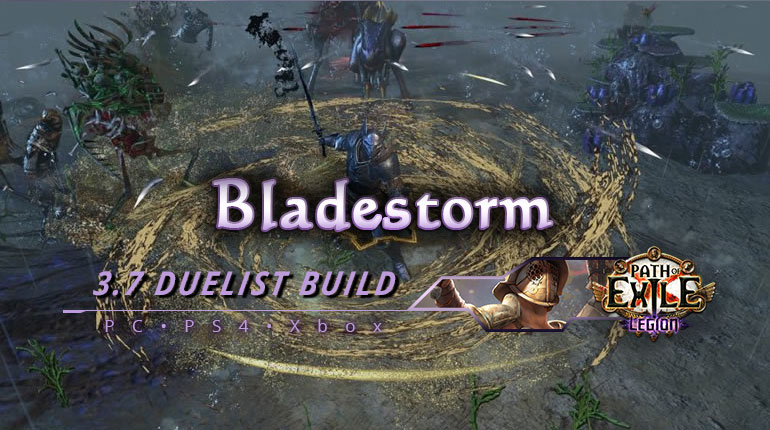 Quick Jump
Skill Tree
Ascendancy
Arena Challenger: gives the build so much clear speed and dps and works great with the sand & blood skills.
Painforged: gives some nice block chance and increased damage
Versatile Combatant: this the one node which makes block gladiator so powerful. When you pick this one up your spell block rate will be equal to your attack block chance.
Violent Retaliation / Outmatched and Outlast: Violent Retaliation would gives more block and damage. Outmatched and Outlast would help with endurance and frenzy charges while mapping.
Bandits: kill them all or help Oak
Pantheons: Soul of Solaris, Soul of Gruthkul
Passive Tree & PoB
First rush either to the leech nodes in Duelist area ("Vitality Void") or to "Resolute Technique" and pick all the good stuff on the way. Then travel to the ranger area and pick up all stuff on the way. When you feel squishy get some life nodes... when you need more damage dps nodes. I guess later on you can spec out of Resolute Technique when you got enough accuracy.
Path of Building Link: https://pastebin.com/rCis0kxa
Cyclone, Impale Version: https://pastebin.com/vvBL0eWm
please be aware that all the dmg from impale is not shown in PoB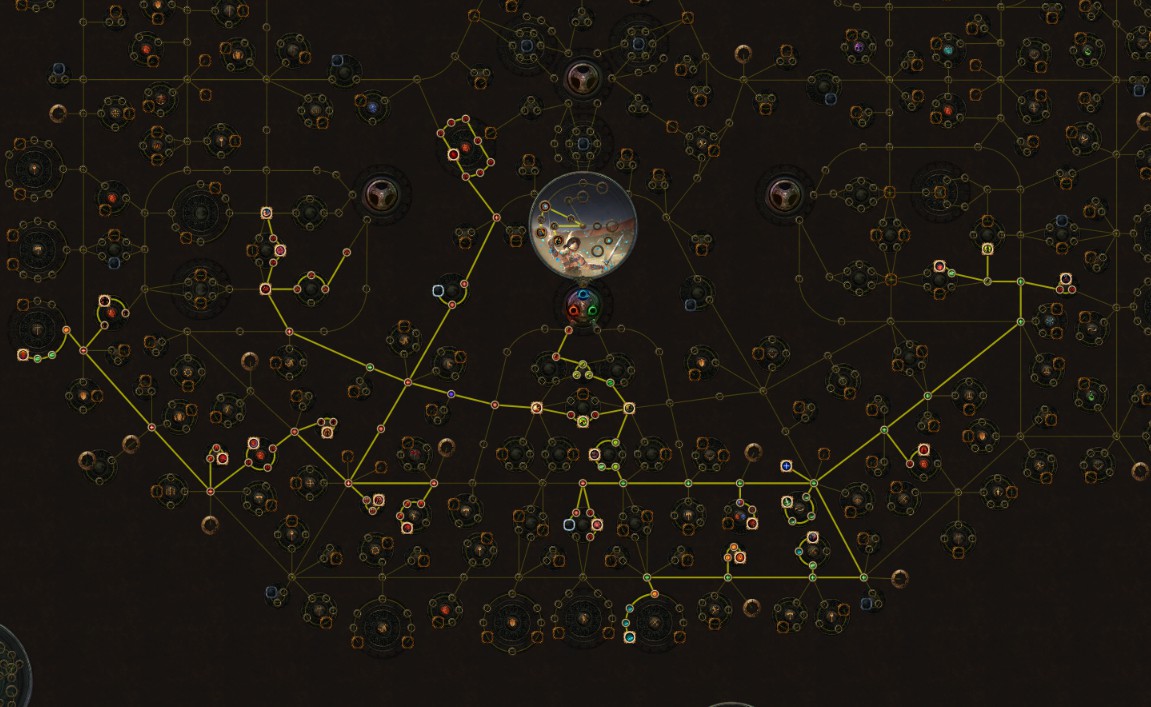 Gems Setup
Main Skill
Directly at the start you get Perforate (available lvl 1) which you will use until you get Bladestorm (lvl 28) as main skill.
Perforate + Melee Physical Damage + Fortify + Multistrike + Rage + Pulverise / Brutality
Bladestorm + Melee Physical Damage + Fortify + Brutality + Rage + Pulverise
Cyclone + Melee Physical Damage + Fortify + Brutality + Rage + Pulverise
Movement
Flame Dash: very nice movement skill early on... works well without any supports
or
Leap Slam + Endurance Charge on hit
Cast When Damage Taken (low level)
CWDT (lvl 1) + Immortal Call (lvl 3) + Enfeeble (lvl 5)
Mana Reservation
Flesh & Stone: feels super strong for leveling
Blood & Sand: also nice for a little mana reservation
Pride: super strong for physical damage builds.
For leveling you also can use
War Banner: for a little extra dps
Herald of Purity: for dps and minions also take some hits for you
(War Banner and Herald of Purity I used for leveling. I dropped those two reservation skills for Pride)
Utility
Vaal Ancestral Warchief + Multiple Totems + Brutality + Melee Phy. Dmg
Venegenace / Riposte + Brutality + Melee Physical Damage
Summon Lightning / Stone Golem
Berserk (in Combination with Rage Support it is really strong to burst down bosses or help with hard encounters)
Gear
On gear look for
% Life
% Resistances
% Armour
% Block
% Physical Damage to Attacks
% Attack Speed
Weapons
Level 28: Lakishu's Blade
Level 62: Prismatic Eclipse
Level 58: Ichimonji
Rare Foil (weapon range:14, +300 phy. dps, +1,7aps, high crit)
Other uniques
Haemophilia gloves: this gloves are super strong for this build and help a lot with clear speed with bleed explosions and give good additional dps.
Belt of the Deceiver: is a nice cheap belt which offers defensive and offensive power.
Flasks
Life Flask: with anti-bleeding
Sulphur Flask: gives some nice dps and life regeneration
Silver Flask: for onslaught
Lion's Roar: gives crazy boost to dps and survivablity with knochback
Mana Flask (optional): just so you wont run out of mana in no regen maps.
Rumi'S Concoction: This Flask helps to max out your block chance and additionally gives a lot of armour.
For a more detailed selection of gear, please refer to the PoB Link. The gear selected in the PoB is not mandatory if it is not stated. It is recommended that the player check the affix of the gear and make a better choice
Lastest POE Builds, News and Guides