[PC,PS4,Xbox] PoE 3.7 Lacerate Duelist Gladiator Endgame Build
PoeCurrencyBuy
Date: Jun/10/19 07:56:11
Views: 5115
Lacerate got a lot of buffs in 3.7, attracting many players who have never tried this skill. This Lacerate Duelist Gladiator Endgame Build fully incorporates the relevant changes in 3.7 and uses some new skill gems such as Blood and Sand to create a powerful endgame build.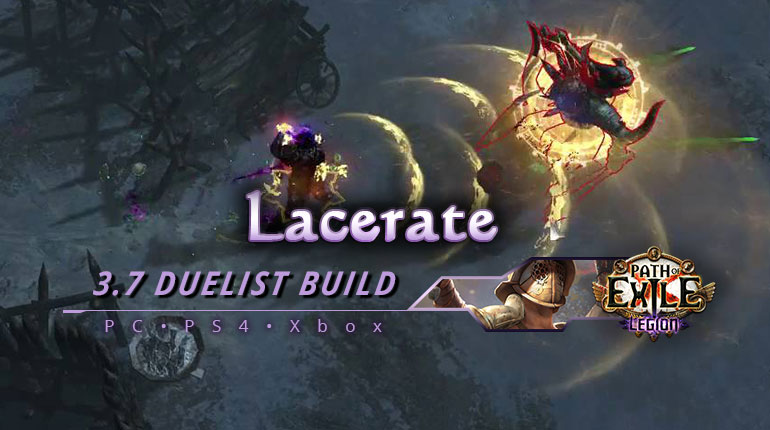 Quick Jump
Pros & Cons
- Hard to Check real DPS (even PoB don't calculate Crimson Dance and Bleed properly)
- It's Still evasion build, you can get occasional one hit on crazy map mode.
- Maddening Presence visual effect (great buff but i hate that circle).
Skill Tree
Ascendancy: Blood in the Eyes -> Gratuitous Violence -> Challenger Arena -> Outmatch and Outlast
Bandits: kill all
Pantheons
Major: Soul of Solaris
Minor: Soul of Gruthkul
Passive Tree & PoB
Path of Building Link: https://pastebin.com/SRnzca69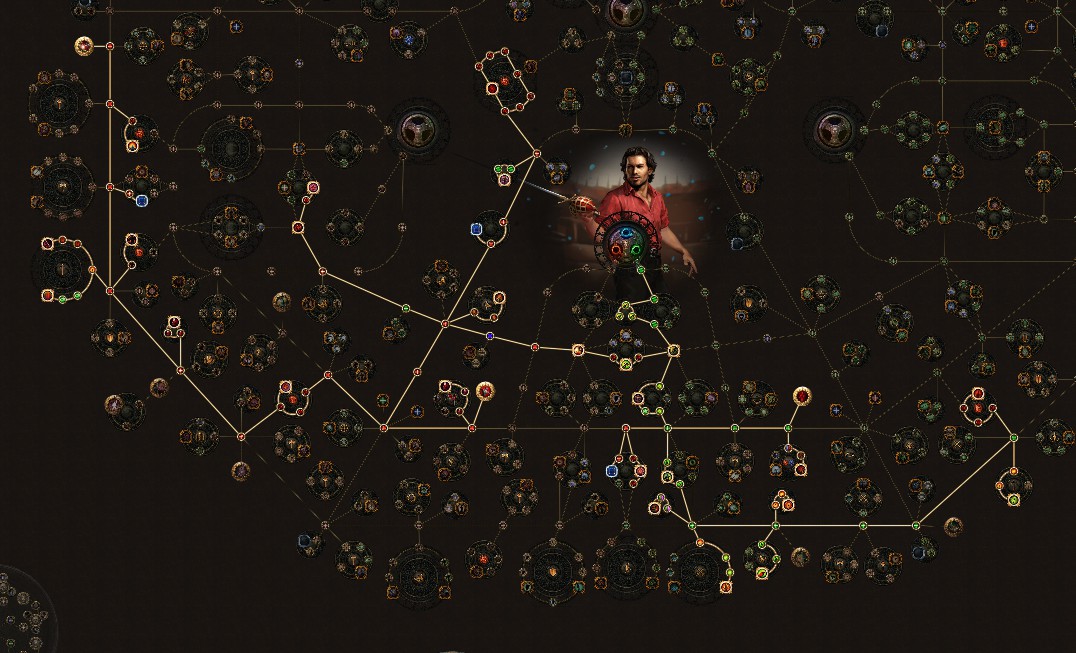 Gems Setup
Lacerate / Double Strike (6 link)
Main Skill -> Rage -> Multistrike -> Brutality -> Melee Physical Damage/Fortify -> Ruthless
However, at the early stage of the league and the development of the character itself, when we do not have Ascendancy and other important keystone may be useful games such as Chance to Bleed / Maim / Faster Attack (instead of Multistrike/Ruthless which needs a lot of attack speed to run smoothly) will work very well and help us go to maps.
And Fortify, the difference between using Fortify or Melee Physical Damage is not significant. So you can easily use these games alternately, Fortify in the main setup is an interesting option. But that does not change my mind about the Ramparts wheel. I think it is overrated, it will give us 4% more reduction from Fortify and attack speed but you must have 6 passives, better go in Soul of Steal if you think about def (3 point need) and Berserking (3 point need) if you think about Attack speed.
We also do not know how Rage will behave in practice (keeping stacks, stacking him on the boss), but this gem looks amazing on paper. If it comes out differently in practice, it will be replaced for Fortify / Chance to Bleed or Maim
Auras/Buffs (4 link*)
1. Grace 50% (when you set up a dreamfather, you do not need it before
2. Blood and Sand 10% - (necessary to change stance)
3. Herald of Purity 25%
4. Vulnerability Curse Aura – Free (when we have Impresence Amulet)
Blasphemy Support + Vulnerability - Blood and Sand - Herald of Purity as 4 link. Grace will be placed in utility with Increased Duration to extend the time of Vaal Grace.

Movement (4 link*)
Whirling Blades/Leap Slam - Faster Attack - Fortify - Blood Magic
Free slot if you use Fortify in your main skill

CWDT Setup (3 link)
CWDT - Vaal Immortal Call/Vaal Molten Shell/Steelskin - Summon Flame Golem
I use maks lvl of gems for CWDT
Utility (4 link)
Blood Rage - Increased Duration - Phase Run - Vaal Grace

Blood Rage for Attack Speed and extra Leech.
Phase Run, additional dmg, speed and pass through enemy, We easily generate frenzy charge, thanks to that the buff lasts long when we use it at full charges.
Vaal Grace for additional defense
Utility 2 (3 link)
Berserk - Ancestral Protector

Gear
Bleed it's not calculated from hit DPS just from your base Physical DMG (weapon dmg*skill base dmg + flat dmg from gear) So on Rare items we looks for Flat Physical DMG! I will link my actual gear.
So Stats priority it's: Resist Cap/HP/Flat Physical Damage/Evasion
Dreamfeather * 2 is our core items, we stack Eva and get 2% Attack Damage every 450 evasion, Attack Speed, flat Evasion, Movement Speed.
Cost: 1 alch - 5-10 chaos (for a good corrupt one)
More Gear: https://pastebin.com/tR7L06t9
Jewel
You look for
-% Life
-% Increased Damage
-% Increased Damage with Bleeding
-% Increased Damage Over Time
Abyss option
- flat life
- flat Physical Damage
Watcher's Eye for Grace it's Really cheap and can give you %Life and some defence node (more Evasion or Blind).
Lastest POE Builds, News and Guides