POE 3.4 Shadow Trickster Blade Vortex Build - League Starter & Easy Leveling
PoeCurrencyBuy
Date: Sep/20/18 07:27:20
Views: 4154
"Everyone knows how to die. Some just need a little nudge to get them started."
The Trickster is a versatile hybrid class that mixes high speed, maneuverability, and slippery defenses. It is well-suited for Shadows that deal damage over time.
Mind over Matter is very nice with the high cast speed of Blade Vortex and Weave the Arcane
Shadow is in a nice spot to get Acro/Phase Acro with MoM together plus good crit also wanted an alternative for the generic Elementalist Blade Vortex build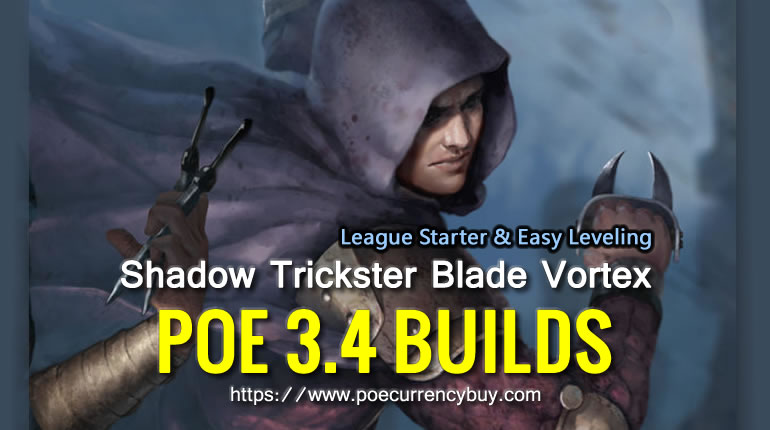 Pros & Cons
Pros
+ Nice League Starter
+ Relatively Cheap to Gear
+ Easy Leveling even without leveling gear
+ Easy to play
+ Tanky (kinda built around that)
+ Fast Clearspeed with BV
+ Good Single target cause BV
+ only 2 Skills(BV+Movement) + Golem to worry about
+ EZ Lab and Trials cause we are so tanky and have good recovery (Regen+Leech+Life/Mana on kill from Trickster)
Cons
- It's BV it's not for everyone
- 2 Meta Items are required (not so expensive but just as a reminder)
- Its not the "Explode the Screen" Elementalist Build
Skill Tree
Ascendancy
Take Trickster and then in this order:
Weave the Arcane -> Swift Killer -> Harness the Void -> Patient Reaper
Bandits
Help Alira
We use everything Alira gives us so it's a no brainer
Passive Tree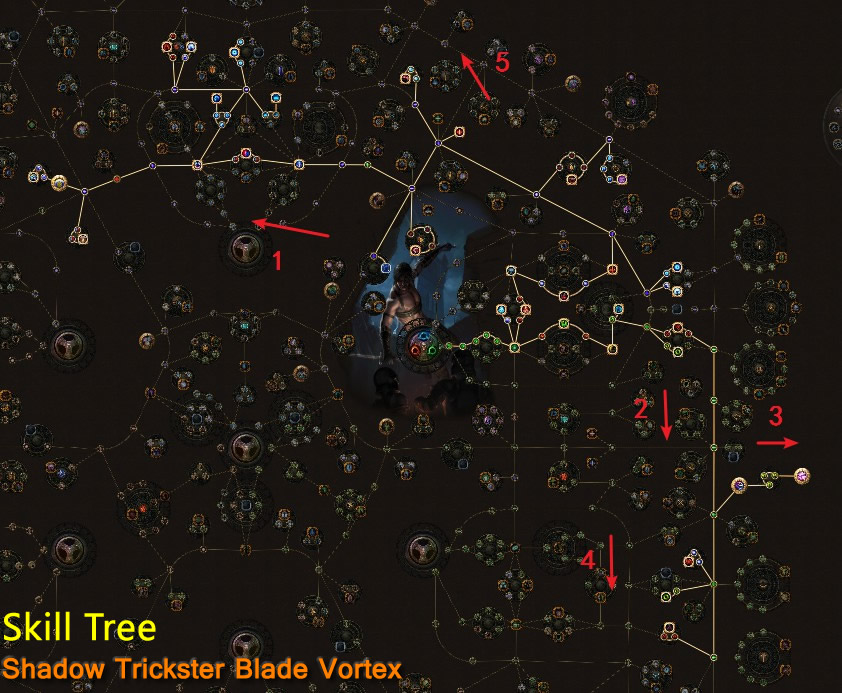 Gems Setup
The links are sorted in descending order of importance. So the last gem in a chain should be the last one you slot in when you upgrade your amount of links.
The colour of the Text implies the colour of the Gem.
Blade Vortex:
4L Blade Vortex - Controlled Destruction - Efficacy - Crit Damage
5L Phys to Lightning
6L Added Fire Damage
Aura/Golem:
Hatred in the Essence Worm
Stome Golem - Flame Dash - Faster Casting
Cast When damage Taken:
Cast When Damage Taken (lvl 1) - Immortal Call (lvl 3) - Increased Duration - (Warlord's Mark (lvl 5)) only if you dont have a on hit Curse Ring
Movement:
Whirling Blades - Faster Attacks - Culling Strike - Fortify
If you're using Void Batterys use:
Lightning Warp - Less Duration - Swift Affliction - Faster Casting
Optional:
Portal - Faster Casting
You can also link you Golem with Minion Life and Blind if you have spare
Gear
Overview








Weapon
Cheapest:Rare Spell Dagger
-Spell Damage
-Crit Chance for Spells
-Optional Adds X Damage to Spells
This should get you started in maps
Divinarius: Gives Crit, Spell Damage and AOE on top its great
Void Battery: Good Option for Damage and Cheaper than a Spell Dagger with Double Extra Damage
Helmets
Starkonja's: Good Defence and Crit for a good price
Lightpoacher: Good Option if you can get good Jewels for it (Not League Start Friendly i think)

Rare Helmet: get Life and Resist (Good Option for League Start since the most uniques are still expensive)
Armours
Belly of the Beast: Our go to Chest. It has all we need: All Res and Life
Carcass Jack: More of a Offensive Option with Area Damage. Also has good all Res and a bit life and is easier to get our Colours
Loreweave: Its a Good Option if you can afford one with good Stats and you're struggling with Elemental Defense
Rare Chest: As Always get Life+resist.
Gloves
Get Rare Gloves with Life Resist.
If you can get attack speed or even better Socketed gems supported by faster attacks since this is our slot for Whirling Blades.
Belts
Rare Belt
-Life
-Resist
This is you best slot for Resist and Life get as much as you can afford here
Movement speed is great if you can craft/afford it
Boots
Rare Boots with Life, Resist and at least 20% Movement Speed.
20% is enough for the start and 30% is hard to afford at the first days of the League, later on of course get 30% or even 35%
Rings
Essence Worm: Needed for less reservation since Hatred is the only Aura we use its perfect for Mind over Matter and our Clear Mind Jewel
Amulet
Rare Amulet with Life+Resist
Get Stats if you dont have them on the Ring
Gain phys as extra element/chaos and crit chance/multi are also very nice if you can afford them but its not necessary
Jewels
Clear Mind
Since we use our Hatred in the Essence Worm this will boost us greatly.
If you decide to get more Jewel Sockets take Rare Jewels with Max Life and at least 1 Damage mod.
For Abyss Jewels get Life and Added Elemental to Spells
Enchantments
Helmet
for Damage: Crit Multi per Blade
for Clearspeed: BV Duration
Also BV Damage is Good if you cant afford the other 2
DONT get BV Area its not worth it
Gloves
Any of Reflection is my Favourite since it distracts enemies
Any of Spite is nice for the free chill on Enemies
Any of winter can work as well but the chill is not as reliable as the guaranteed on winter
Boots
Attack/Cast Speed is great for clear
Leech is best for surviving
regen is good too
if you can get ele pen it is good for bosses but we dont use the full potential of it since we are not full conversion so its not AS good as on other builds
Expectations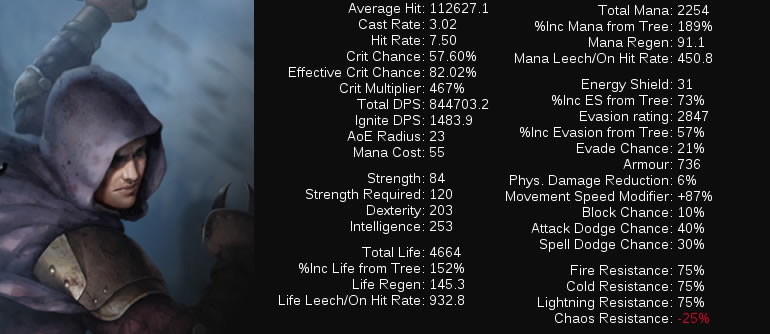 Lastest POE Builds, News and Guides