POE 3.5 Ranger Raider Starter Molten Strike Build (PC,XBOX,PS4)- Easy, Cheap, Tankly, Endgame
PoeCurrencyBuy
Date: Nov/27/18 08:55:14
Views: 5062
"No hunt is complete without the gutting and the skinning."
The Raider focuses on maintaining buffs, gaining Frenzy Charges, Onslaught, or Phasing through kills. She can specialize in one of these buffs to enhance its effect, greatly boosting her speed and evasion.
This build is a molten strike raider based on synergy with raider ascendancy and heavily underrated and under used cheap unique swords for lots of attack speed, defenses, perma onslaught/phasing, tons of DPS and loads of fun
This build is easily started at the beginning of league and starts out cheap and powerful with extreme end game scaling available with investment as the league goes on.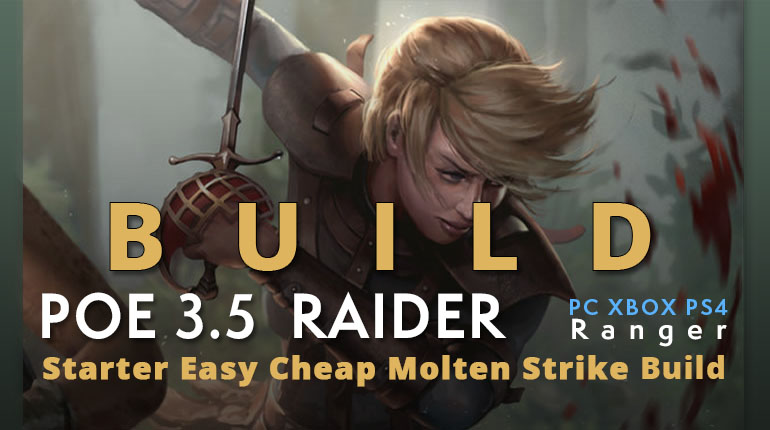 Quick Jump
Pros & Cons
Pros
+ Cheap league starter.
+ Can clear all content. Including Uber Atziri, Shaper, Uber Elder, Hall of Grandmasters
+ Can run all map mods with small adjustments.
+ Easy minimalist playstyle.
+ Very tanky.
+ Loads of DPS from beginning to end game.
+ Variation available.
+ Can have very fast movement speed for map clear and Uber lab farming.
+ Can farm uber lab.
+ Molten Strike finally got an MTX.
Cons
- Molten Strike finally got an MTX (potentially incoming nerf).
- Can get expensive for optimal version.
- Not the fastest zoom zoom clear speed around.
Gems & Gear Setup
Early Leveling Gear and Gems
Since i like to play molten strike all the way through, your best bet is to start with a duelist in order to get Molten Strike and Ancestral Call immediately. Put it in your stash and start your ranger.
The best weapons are anything with high DPS and attack speed. Elemental or physical does not matter. Unique or rare does not matter, just use the best weapons you can get. Claw, Sword, Mace, Two-handed. Does not matter
The best way to boost our DPS will be to skip out on narrow specifical DPS passives and rush straight for point blank and wildfire jewels.
Your best 3L for awhile will be molten strike, ancestral call and fill-in-the-blank. Onslaught is great to start. Added fire or chance to bleed help quite a bit as well until you're able to pick up Elemental Damage with Attacks. Run heralds until you can pick up hatred or anger.
Mid Leveling Gear
If you want to talk about leveling uniques, i don't like almost any. I think your best bet, especially starting the league, is to just get your hands on two of the best one-handed weapons you can get.
That being said, the best leveling unique would be Edge of Madness. Its scaling damage will bring you all the way until Beltimber Blades.
Lakishu's Blade is also quite doable, but the biggest issue with league starter are weapons like these are often out of your grasp, currency wise. And any currency you do find will be better off saved.
End Leveling Gear
Weapons: Beltimber Blades. Haven't you been paying attention?
Now, granted, im not exactly sure how expensive these are at the beginning of the league. Obviously they'll be uncommon for the first few days but again, nobody uses them. They will very soon be 1-5c. Pick them up as soon as you can afford them unless you found a really good rare which can let you ride through a little longer.
Body Armor: Personally i save up for this before ANYTHING else. What you'll want to do is save all your chaos orbs in order to buy Emperor of Purity divination cards.
Typically these go for 4-5c on the first couple days of league start. You need 7 of them. around 30c, trade them in and bam you now have a 6L armor which can easily get the correct colours for your molten strike setup
RRRR,BB. Molten Strike, Elemental Damage with Attacks, Multistrike, Ancestral Call (Swap Added Fire), Elemental Focus, Concentrated Effect.
Now your damage will skyrocket. In Delve league i had my 6L through these cards, including a few chaos spam for stats, BEFORE act10 Kitava fight. Like WTF? Yes, seriously. This is your biggest and best improvement for its cost, and will last you until you can get a great helmet.
Helmet: Once you have your Beltimber Blades and your 6L armor rolling your Molten Strike setup, now you can save up for your helmet.
You will need an Elder helmet with Concentrated Effect and Immolate. I typically upgrade my helmet in stages, but it all depends how you're feeling. You can ride your 6L armor until you're able to get an ilvl 85 Elder helm, which could typically happen on day 4-6, or you could get a lower ilvl helmet to start.
As soon as you get a helmet, socket molten strike into there and setup your combustion cyclone. Now its time to save for w/e chest you want to run. an unlinked QoTF will typically go for 30c but will greatly speed up your farming. Kaom's Hearts will fall to 2-2.5 exalts soon.
Leveling Passive Trees
STARTER VERSION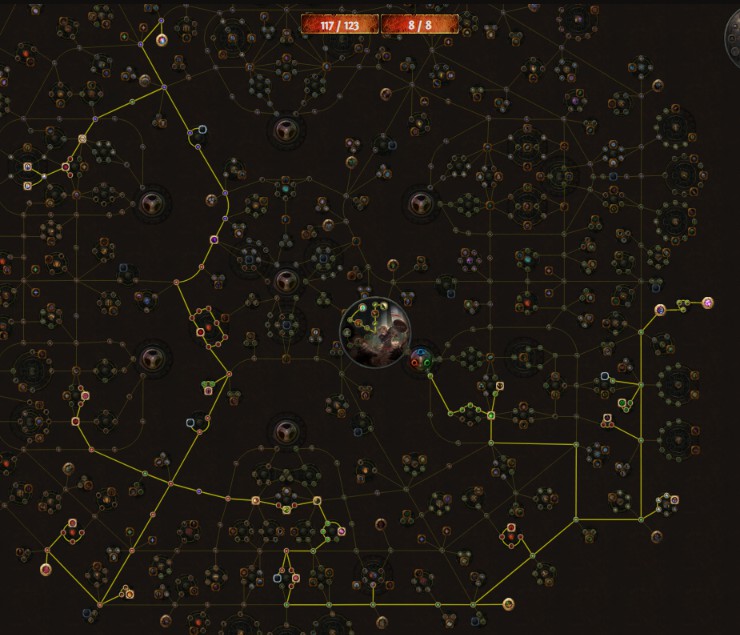 Budget Demonstration
I understand not everybody will have multiple tens of exalts to get the helmet im running, or the crazy watcher's eye jewel i have, or even a xoph's blood. So here i will demonstrate how powerful the build still is without all of these things.
Beltimber Blade, Harlequin Mask, Queen of the Forest, Gripped Gloves, Atziri's Step, Lapis Amulet, For Spiral Two-Stone Ring, Pandemonium Two-Stone Ring, Stygian Vise + Searching Eye Jewel, Cautious Eternal Life Flask Of Staunching, Chemist's Sulphur Flask Of Warding, Ample Quicksliver Flask Of Adrenaline, Ample Jade Flask Of Reflexes, Atziri's Promise
Expectations & POB
POB link: https://pastebin.com/L985uSQK

(If you do not know how to use it, see the instructions below, otherwise please ignore)
Download Path of Building (link: https://github.com/Openarl/PathOfBuilding)
Copy pastebin URL.
Launch path of building.
Click on Import/Export.
Click Import from Pastebin
Paste the URL copied in step 2.
Done!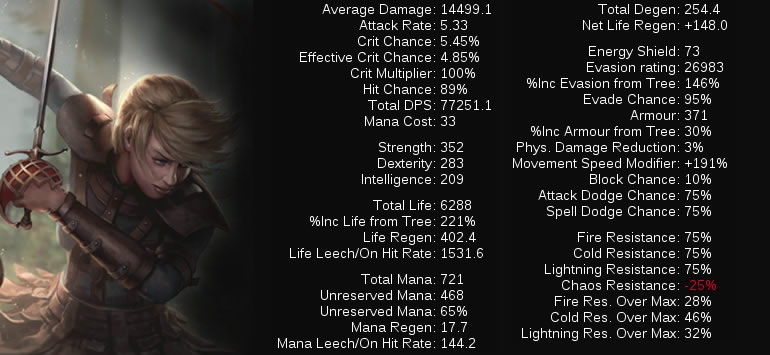 Lastest POE Builds, News and Guides