The Result of Writing Review to Get 80 C and 5 Ex Event
PoeCurrencyBuy
Date: Aug/04/18 05:59:48
Views: 1799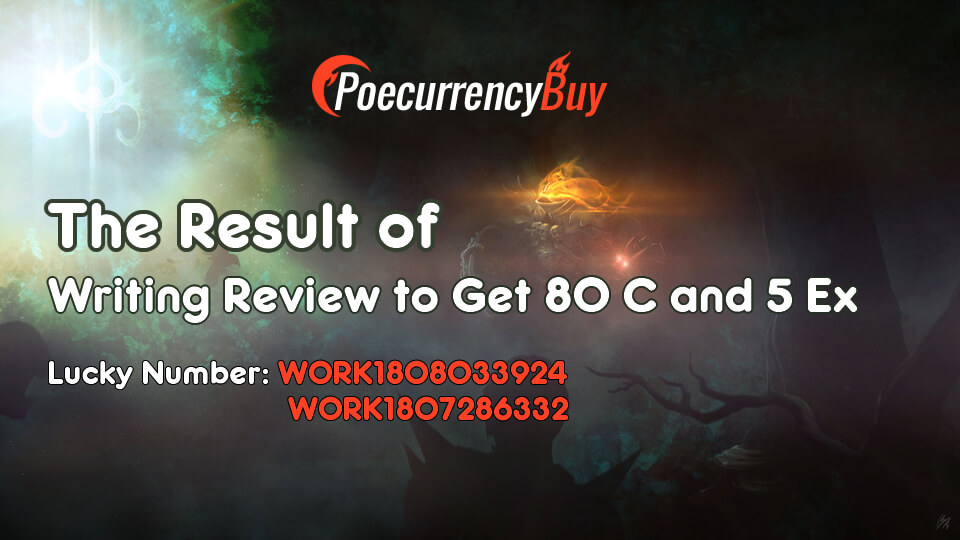 Last week, we have started an amazing event - give us 5 stars on Trustpilot to get 80 Chaos Orb and even 5 Exalted Orb, we said that we will choose 5 reviewers(among every 100 reviewers) to give extra 5 Ex, now our event is finished, there are 38 reviewers have given us a 5 stars reviews and win 80 C, their number are:
WORK1807286332
WORK1807302016
WORK1807305798
WORK1807309687
WORK1807301146
WORK1807304021
WORK1807305726
WORK1807303904
WORK1807305034
WORK1807300439
WORK1807306223
WORK1807305109
WORK1807306043
WORK1807304315
WORK1807313543
WORK1807310920
WORK1807317903
WORK1807310247
WORK1807319565
WORK1807316311
WORK1807314554
WORK1807312124
WORK1807310193
WORK1808016164
WORK1808012672
WORK1808015554
WORK1808026932
WORK1808025525
WORK1808021858
WORK1808023525
WORK1808023521
WORK1808021447
WORK1808025987
WORK1808021089
WORK1808036374
WORK1808035023
WORK1808033924
WORK1808044074
PS. You must know that we give each reviewer a special Number, which can be used to get 80 C from our website - when a reviewer shows this special number to our customer service by LiveChat, they will give you 80 C in the game.
And there are 38 reviewers, so there should be 2 reviews to get 5 EX, we use a Random Name Picker to choose 2 lucky reviewers
The two lucky reviewers are: WORK1808033924 and WORK1807286332
We will contact these two lucky reviewers right now, BTW, if you are the lucky reviewer, you can get connected with us too.
Lastest POE Builds, News and Guides