[3.12] PoE Heist Inquisitor Storm Brand Templar Build (PC,PS4,Xbox,Mobile)
PoeCurrencyBuy
Date: Sep/12/20 09:39:24
Views: 10705
There are no special changes in this PoE 3.12 Templar Inquisitor Storm Brand build. Although there have been many new brands, Storm Brand is still very good and is the mainstream choice of Inquisitor.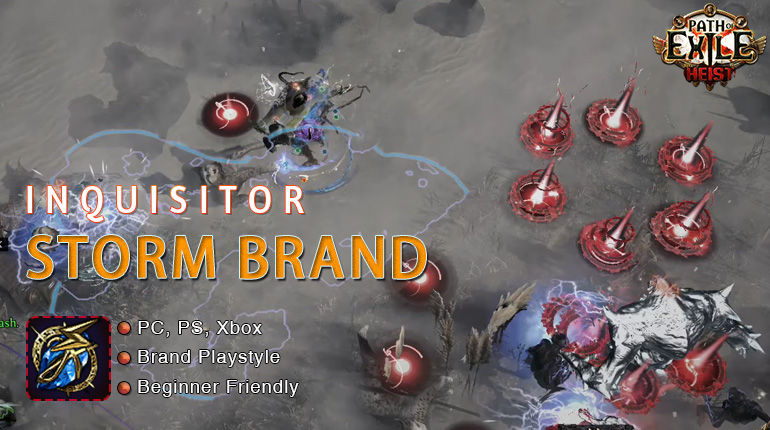 Quick Jump
Pros & Cons
- Can't do Elemental Reflect. Even with pantheons or anti-reflect rings you will do too much damage and one-shot yourself to elemental reflect. Look out for this mod when doing maps. Reroll maps with reflect and don't choose maps with reflect if Zana presents you with an option (be careful for unid maps!)
Skill Tree
Ascendancy: Righteous Providence -> Inevitable Judgement -> Instruments of Virtue -> Augury of Penitence
Bandits: Help Alira. Kill them All is an alternative if you don't need resists and the 2 skill points help your build more.
Pantheons
Major: Soul of the Brine King if without Kaoms Roots. Soul of Solaris if you have them.
Minor: Gruthkul for mapping Yugul for Uber Elder
Passive Tree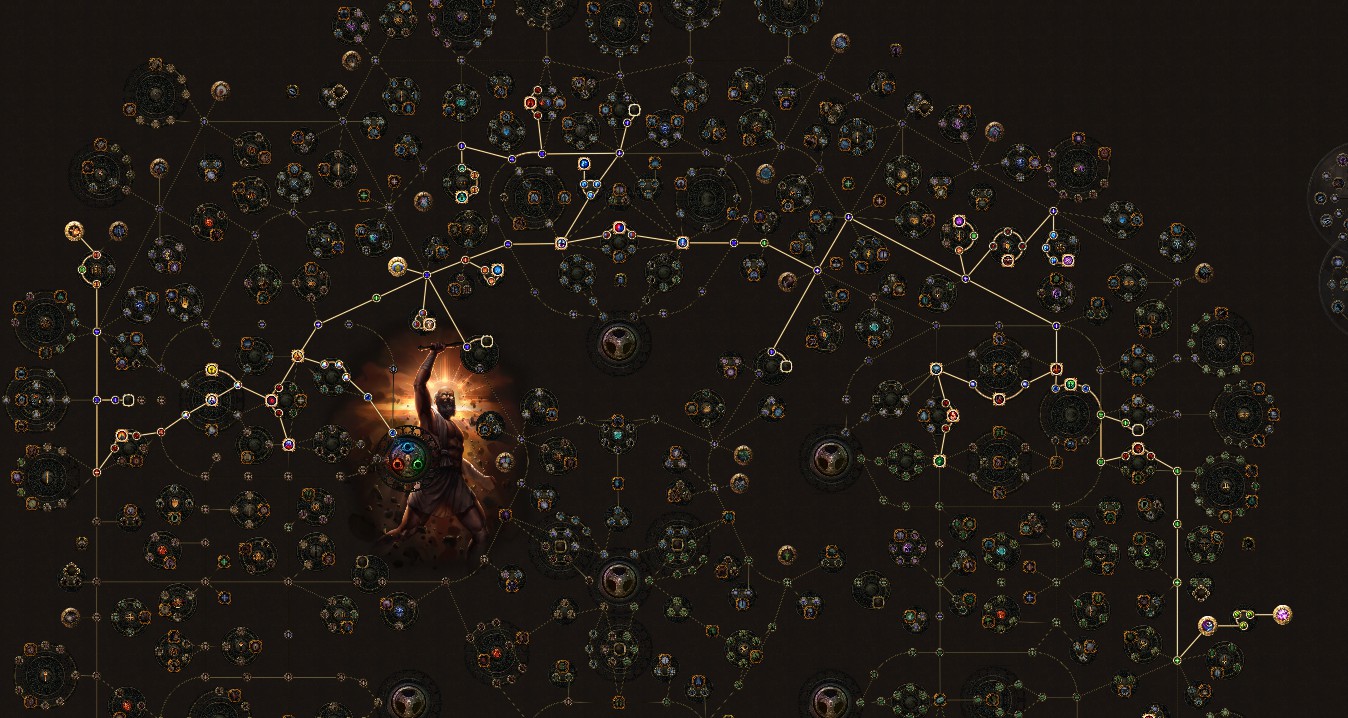 PoB: https://pastebin.com/q82i5bVT
Gems Setup
Storm Brand
Brand Recall
Auras
Wrath. It's a more multiplier for damage.
Utility
Other Nice to Haves
Lightning Spire Trap - Increased Area of Effect - Controlled Destruction - Trap and Mine Damage

This is a great way to supplement your single target damage.
Vaal Haste: For all the speed demons.
Vaal Grace: Great all around Defensive buff in sticky situations.
Enduring Cry: Life/Mana regeneration on command as well as a bonus for Endurance Charges which are useful! (Damage reduction and increased Immortal Call Duration).
Quality Priority
Storm Brand > Damage Supports (All give .5% increase) > Increased Crit Strikes
Gear Setup
Helmet
Rare. Life and Resists are great here. For uniques you could consider things like Starkonja's. The Helm Enchant isn't particularly important with this build. Let non-inquisitors fuss over damage penetration and fossil crafting Nearby Enemies have -9 Lightning Resist. If you're late game the the 40% increased storm brand damage enchant is good - but it's additive with your almost 600+ increased damage already. Also if you're late game consider picking up Spiritual Aid which will convert % minion damage (like from a bone helmet) into generic % Increased damage for your Inquisitor.
Stats to look for: Life > Resists > Mana
Chest
Loreweave. The all-purpose Loreweave is great for this build. The maximum resistances 78 is the most important roll. After that life/attributes/crit/mana are all nice to have. Pre-Loreweave any rare or generically strong chest like Belly of the Beast or Carcass Jack are fine. If going all in on damage consider getting a Shaper chest piece with Spell Crit.
Stats to look for (if you're using a rare): Shaper Spell Crit > Life > Resists
Weapon/Shields
Rare. Daggers/swords are great for the crit related implicits and the ability to use Shield Charge or Whirling Blades. Wands can be fine as well with a shield but I strongly recommend not dual-wielding wands so you can use Shield Charge for survivability in the late game.
Stats to look for (if you're using a rare): Life (if shield) > Gain Lightning as Chaos > Glocal Critical Multiplier > Crit with Spells > Spell Damage > Attack Speed (if weapon) Resist (if shield)
Gloves
Rare. Of Reflection Enchant creates a mirror image that can prove useful for survivability but is in no way required. The spell damage implicit of Fingerless Silk gloves are also nice to have. Insanity Essence crafting should be mentioned for absolute min/maxing for more attack/cast speed on your movement ability. Some great corruptions include % spell crit (applied to the base of the spell!) and %life.
Stats to look for (if you're using a rare): Life > Resists > Mana > Attack Speed
Belt
Rare. Stygian Vise is best in slot if you can get a good Abyss Jewel (more on this in the Jewel section below). The best endgame belt probably involves crafting with a Metallic + Prismatic + Pristine and getting Generic Increased Lightning, Elemental (not with attacks - from prismatic fossil), and high life/resist rolls. I'm also a big fan of flask related rolls since resists can be grabbed on other pieces of gear and flask mods only appear on belts. Doryani's Invitation and Cyclopean Coil can be fine if you want to take a look at some of the unique effects they provide.
Stats to look for (if you're using a rare): Life > Resists > Increased Flask Effect Duration/Increased Flask Charges Gained
Boots
Rare. 30 movespeed life and resists. Kaom's Roots are my personal favorite boots for the build but it comes at losing 4 gem sockets and movespeed and resists. Using Kaom's also basically forces you to use Whirling Blades often because the lack of movespeed is quite noticeable. For a lot of players I just recommend using good rares. If you want a unique that you can swap out for Kaoms take a look at Bubonic Trails (since this provides no resist will make for convenient swapping.
Stats to look for (if you're using a rare): Movespeed > Life > Resists
NOTE: Life/Mana leech enchant is a nice to have. Any of the "haven't killed recently" enchants also function nicely with the build.
Amulet
Rare. Great place to grab some offensive things like crit/multi since armor can't roll those things. Some uniques that are interesting with the build: Choir of Storms, Solstice Vigil, and Aul's Uprising.
Stats to look for (if you're using a rare): Lightning Damage Leech > Life > Resist > Crit/Multi
Rings
Rares. Essence Worm with Wrath is great for effective life. One of the best uniques to get the build rolling in the late game. For rares you want life and resists.
Stats to look for (if you're using a rare): Life > Resists > Crit
Flasks
Atziri's Promise. One of the best DPS flasks in the game and gives life leech.
Diamond Flask. A staple for most crit based builds. Crits being "lucky" effectively rolls your crit chance twice.
Silver Flask. get Onslaught. Attack and Cast Speed is great for our build.
Wise Oak/Vinktar's/Sulfur Wise Oak damage penetration is not important but the defense is great. Vinktars is another form of leech with the build and a nice boost to flat damage if you can remove the shock. Sulfur is great for long duration flask that gives a little increased damage but can be used for long curse removal in maps.
Look for Increased Duration and removal of Bleed/Freeze/Curse.
Jewels
Rares. The only unique Jewel worth considering is Clear Mind (if Essence Worm)but honestly rare jewels offer better value when trying to min/max. For the ultra rich there exists the Watcher's Eye Prismatic Jewel which can give bonuses based on the aura you're using.
Stats to look for on Rare Jewels: Life, Crit Multi, Crit Chance, and Attack/Cast Speed.
Stats to look for on Abyss Jewels: Life, Crit Multi, Crit Chance, and Damage to Spells.
NOTE: Remember there are a few ways to search for Multi:
Global Critical Strike Multiplier, Critical Strike Multiplier with Spells, Critical Strike Multiplier with Elemental Skills, Critical Strike Multiplier with Lightning Skills, Critical Strike Multiplier while Dual Wielding
Leveling and Skill Tree
The below is a comprehensive act-by-act breakdown intended to introduce players off of a fresh install into the game. If you are an experienced player consider just looking at the target trees and skipping the in-depth breakdown. The target trees are not to be strictly followed, in fact there are more points in the target tree in case you are ahead of schedule on levels/passives.
If this isn't your first character here are some recommended uniques that will make the leveling process easier (Remember this is SSF and League Start viable so none of these are required at all): Lifesprig, Goldrim, Tabula, Wanderlust, Axiom Perpetuum, String of Servitude (all resist), Le Heup of All, and buying skill/support gems with quality ready to be socketed in!
Lastest POE Builds, News and Guides