[Expedition] PoE 3.15 League Starter Builds
PoeCurrencyBuy
Date: Jul/23/21 08:06:43
Views: 11004
Path of Exile 3.15 brought a lot of changes to the balance of the game, and many familiar builds have been nerfed. PoeCurrencyBuy has prepared the PoE 3.15 Starter Builds for you, each video guide is attached with a pob link for players' reference.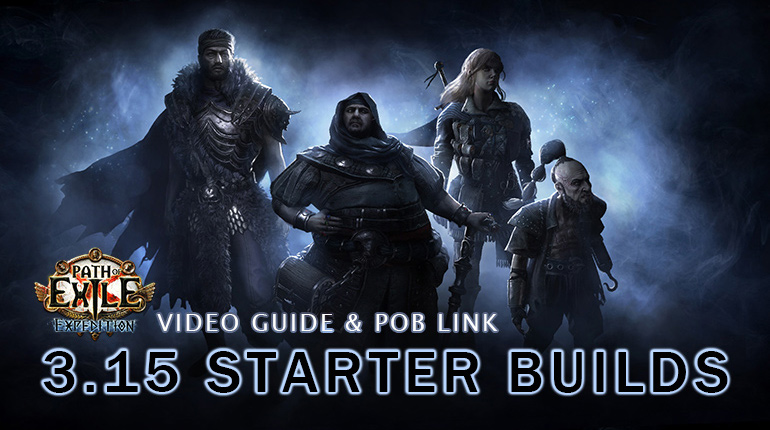 Path Of Building Community: Download
[Kay]PoE 3.15 Minion Army Necromancer League Starter Build - Expedition League
PoB: https://pastebin.com/Z2UweZ2n
[Octavian] Expedition Starter Build - With bonus extra secret build
PoB: https://pastebin.com/0jVz9FL7
Tec Slam chief: https://pastebin.com/hDw6pGdv
[Tripolar Bear] POE 3.15 Ice Trap Saboteur/Raider League Starter Build
PoB: https://pastebin.com/DMeZ9yYU
[Zizaran] PoE 3.15 Toxic Rain Raider Leaguestarter - FAST and RELIABLE!
PoB: https://pastebin.com/2UmUHHgd
[Zizaran] PoE 3.15 Essence Drain Contagion Trickster Leaguestarter
PoB: https://pastebin.com/zRgLdPp3
[Ghazzy] All 3.15 Builds and Guides (PoE Expedition)
PoB: https://www.poe-vault.com/guides/ghazzy-guide-hub
[Ghazzy] PoE 3.15 League Start: Pure Spectre Build Guide
PoB: Ghazzy Guide
[Ghazzy] PoE 3.15 League Start: Dark Pact Build Guide
PoB: Ghazzy Guide
[Ghazzy] PoE 3.15 League Start: Dominating Blow Build Guide
PoB: Ghazzy Guide
[Ghazzy] PoE 3.15 League Start: Lich Queen Build Guide
PoB: Ghazzy Guide
[Ghazzy] PoE 3.15 League Start: Soulwrest Build Guide
PoB: Ghazzy Guide
[Tarke Cat] PoE 3.15 Trap Build Advice for Expedition League
PoB: https://pastebin.com/x4Gjk1z1
[Big Ducks] PoE 3.15 Creeping Frost Occultist League Start Guide
PoB: https://pastebin.com/AJfw8YK0
Lastest POE Builds, News and Guides