Path of exile 3.1 Occultist Builds
PoeCurrencyBuy
Date: Dec/11/17 02:14:58
Views: 4262
Poe Occultists are suited for Witches using a concentrate on chaos harm or curses. Malediction tremendously enhances curse specialists, although Profane Bloom and Void Beacon amplify the output of chaos damage. Occultists are well-served by builds that depend on & maximize energy shield. Occultists also may serve as a generic way to generate Power Charges in builds which lack other means of doing so. In This Build article Poecurrencybuy sort up three Path of exile 3.1 Occultist Builds for you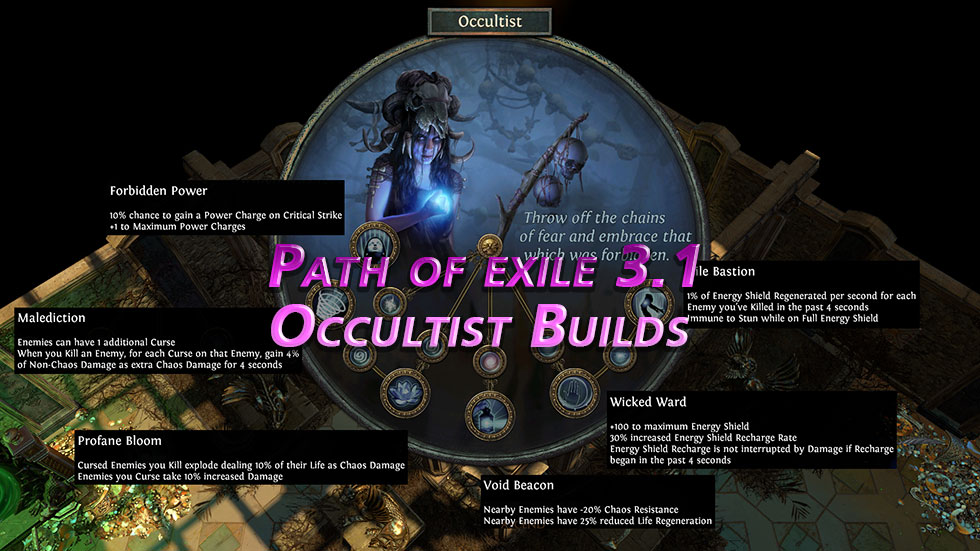 [Poe 3.1] ED Tri-Curse OCC | Hybrid, CI, LL | {League Starter} UberAtziri/Lab/Shaper
This thread contains three versions of the build:
1.Hybrid starter(Life+ES+MoM)
2.CI
3.Low-Life

This build for new players who never played ES based builds before. It's really important to understand core mechanics before running the build.
Procs
+ High Chaos DoT output
+ Very tanky
+ Budget friendly starting
+ Can do ANY map mods
+ Reflect immune
+ HC Viable

Cons
-Not the fastest map clearer
-Weak in party play without expensive gear

Link: Read More


[Poe 3.1] StupidSmile Ultimate Essence Drain [384k+ Dot (Dagger) + Duo Curse + 12k ES
BEST BUILD is the one that offered colossal DPS + survival at the same time. That way, the player can enjoy both killing and security at the same time. You see without 10% there can never be 100%. Which means you will NEVER be able to reach 95,96,97 and eventually 100.
For those that still worry if they are making the right choice, I can ensure you that ED is one of the best builds out there. You can't tank, but you can't die that quickly either. Don't overthink about cast speed. As long you got enough mana to hit, that alone is enough. One hit was equivalent to 10 times of your average spell. Why bother focusing on cast speed when you can catch once, run the other nine. So it completely safe. However, for the fast run, I suggest you pump up a bit cast speed. That way you can reduce the casting gaps between contagion and ED.

Pros:
+ 12k+ ES
+ 384k+ dot damage
+ ES recharge cant be interrupted (Occultist)
+ Chaos resistant reduction aura (Occultist)
+ Trio curse
+ -25% target life regeneration
+ Can clear almost any boss
+ Chaos immune
+ Silent immune
+ Stun immune

Cons:
- Expensive
- Specially made for standard league (proud standard player)

Link: Read More


[Poe 3.1] Cthulhu Arrow (Caustic)- Occultist Variant
This build focuses on damage over time mechanics in the game while also having AMAZING ES regen start time/speed
If you enjoy being able to rush into large packs and kill them all without trying and not ever coming close to death, then this is the build for you. This build farms Uber lab and all map tiers, no doubt in my mind that it would also farm shaper. So I'm going to say now this build can clear all content but not without a decent wallet. There is also a budget version below as well.

Pros:
+ Not that expensive to get going
+ Super relaxed play style
+ High content with low gear

Cons:
- Boring without MTX
- Slower playstyle
- To min, max will cost you a lot of currency
- Crafting the god bow is tons of RNG

Link: Read More
Ordinarily, they may be not worth the problems for reasons which might be sufficient inside the lengthy run. Although they are helpful for players, who may know nothing in regards to the game. For essentially the most element, they may be finding out tools for novices to ease them into the game. For more Path of exile 3.1 Builds, you can go to Poecurrencybuy.com. Just a reminder: you will get 5% coupon code totally free from the reps when you Get Poe Currency order from this article.
Lastest POE Builds, News and Guides