[PC,PS4,Xbox] PoE 3.7 Holy Flame Totem Marauder Chieftain Beginner Build
PoeCurrencyBuy
Date: May/30/19 05:43:05
Views: 4745
This is a very Budget/Beginner Friendly build with Holy Flame Totem. With the new change for Holy Flame Totem that now gives you: immune to Curses to nearby allies while on conc ground) which gives us a more survivability !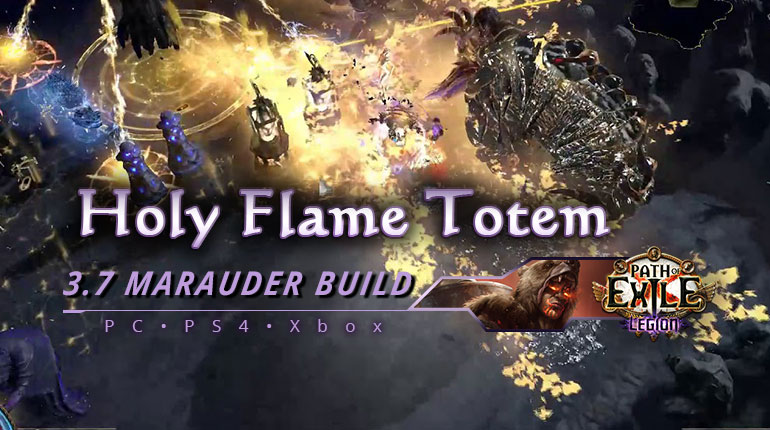 Quick Jump
Pros & Cons
+ Fast clearspeed
+ Very safe
+ All map mods
+ Beginner friendly
+ Cheap
+ Can run on hardcore
+ Alll content
+ Total of 5 totems ( x multiple totem support )
- No life/mana Regen maps can be dificult
- Elemental Reflect Map Mod Killing Totems Fast
Skill Tree
Ascendancy
Ngamahu, Flame Advance (For insane damage)
Hinekora, Death's Fury (for the extra damage and life/life leech applies to you from totems)
Arohongui, Moon¨s Presence (More Damage)
Tukohoma, War's Herald (More Damage and Taunt)
Pantheons
Soul of Arakaali
Soul of Garukhan
Bandits
Kill all for 2 points!
Passive Tree
Part 1 -> Part 2 -> Part 3 -> Part 4
PoB Link: https://pastebin.com/NM9hjTcy
Gems Setup
You can start use Holy Flame Totem at lvl 4.
Main Skill
Holy Flame Totem -> Added Fire Damage -> Infused Channelling -> Elemental Focus -> Increased Critical Strikes Support -> FMultiple Totems Support
Immortal Call Setup (For survivability)
Immortal Call (Lvl 3) -> Cast When Damage Taken (Lvl 1) -> Increased Duration (Lvl 20) -> Vaal Haste
Spell Curse
Flammability (lvl 20) -> Arcane Surge (Lvl 10) -> Increased Area of Effect (Lvl 20)
Escape Setup
Flame Dash -> Faster Casting -> Enhance
Auras/Buffs
Herald Of Ash (You get this in Act2) -> Anger (Act3) OBS: Put this Aura in your Essence Worm Ring -> Enlighten (Drop Chance / Buy from Poe.trade)
Golem - Culling strike / Vaal Righteous Fire
Lightning Golem -> Vaal Righteous Fire (For more Survivability choose instead Vaal Grace) -> Increased Duration -> Culling Strike (Keep Culling strike on lvl1)
Gear
For a more detailed selection of gear, please refer to the PoB Link. The gear selected in the PoB is not mandatory if it is not stated. It is recommended that the player check the affix of the gear and make a better choice.
Something good for leveling
2x Lifesprig - Wand
2x Axiom Perpetuum - Sceptre ( Optional 2)
Tabula Rasa - Body Armour
Wanderlust Boots - Boots
Stone of Lazhwar - Amulet (Provides you with extra damage and mana)
Karui Ward - Amulet (optional 2) (Provides you with projectile dmg/speed - Movement speed)
Lochitonial Caress - Gloves (Provides you with some extra damage)
Asenath's Mark - Helmet (Provides you with some extra damage and Mana regen)
Goldrim - Helmet (Optional 2 for more defence) (Provides you with loads of resistance)
Jewels/Abyss Jewels
You want to look for:
x% Increased Spell Damage
x% Increased Maximum Life
x% Increased Crit chance
x% Increased Crit chance Multipler
x% Increased Cast Speed
x% Increased Totem Damage
x% Increased Critical Multiplier for Spells/Fire Skills/
Leveling Flasks
Quicksilver Flask
Life Flask
The Wise Oak (For more Damage)
Mana Flask
(Grab 1 Sulphur Flask at lvl 35 for some extra damage and Consecrated Ground)
Lastest POE Builds, News and Guides