PoE Final ExileCon Qualifier Events
PoeCurrencyBuy
Date: Jul/31/19 08:42:32
Views: 2197
In the ExileCon Qualifier Events last week, the players showed great enthusiasm. GGG attaches great importance to the players' response, and the final ExileCon Qualifier Events is coming.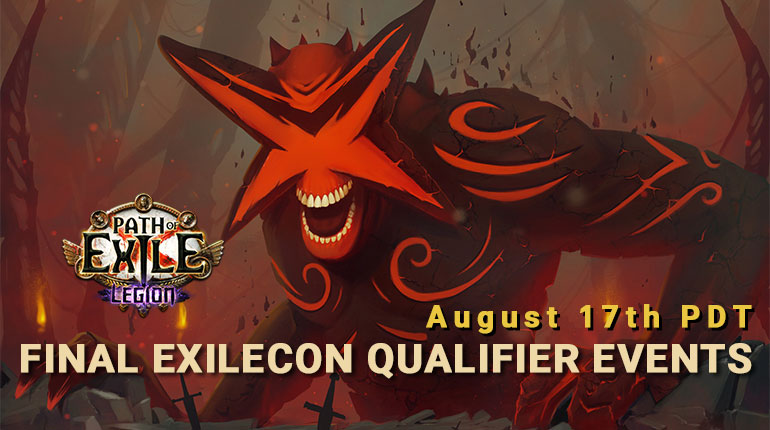 GGG officially announced that fourth and final qualifier event for the ExileCon race finale. on August 17th at 2 PM (PDT) GGG'll be hosting a race event with a VIP ExileCon package as the grand prize. This means the winner will be flown to New Zealand, invited to the VIP dinner, have their accommodation and convention tickets paid for as well as participate against the other three finalists in the ExileCon race finale.
Players will compete in a Standard Solo-Self Found environment to be the first to kill Kitava in Act Five. There will be a death penalty - if you die, you'll not be able to move for 60 seconds. This penalty was added because GGG want to create the feeling of a hardcore event (where deaths basically eliminate you from contention for first place), while not running the risk of accidentally eliminating most of the finalists if they are unlucky at the final event. 60 seconds is a large penalty, so play as carefully as you need to in order to avoid dying!
The event will open for four hours although it's likely that first place will be taken within two hours.
The event is open to all who would like to participate and takes place in a separate event league so that there are no limits to the number of participants who may join. You'll be able to join the event under the character selection screen when it becomes available.
Prizes
1st Place
VIP ExileCon Ticket (Access to the convention and VIP dinner).
Flights to New Zealand.
Accommodation for the convention weekend.
Entrance into the ExileCon race event finale.
Want to get a good grade in the Event? Want to buy some cheap poe currency? Poecurrencybuy is your best choice
As per other community events, GGG'll have shoutcasters and a place where you can view the event! More information will be published in the coming weeks, so keep an eye on the news!
Lastest POE Builds, News and Guides