POE 3.4 Ranger Pathfinder Herald of Agony Build - High Dps & League Starter
PoeCurrencyBuy
Date: Sep/28/18 08:53:58
Views: 3111
"There are venoms and virtues aplenty in the wilds, if you know where to look."

The Pathfinder possesses skills that grant additional flask uses and offensive and defensive bonuses while using them.
This is a summoner build maximizing the damage of the Agony Crawler. Agony Crawler comes from the skill Herald of Agony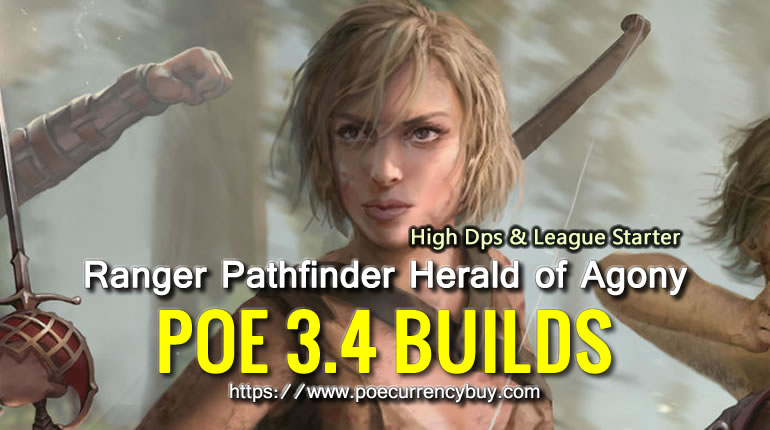 Pros & Cons
Pros
+ High DPS even if budget. Ideal for League Starter.
+ You need 0 mandatory uniques. SSF-able.
+ You are ranged and minion shatters enemies. Fairly safe.
+ Unlimited flasks for boss sustain.
+ Can do all contents. Including all kinds of boss fights, map mods, delving deep, and even phasing through darkness for fossils when you are out of sulphite.
Cons
- You need to adapt to the sometimes-buggy minion AI. I have this fixed here.
- Proximity Shields are annoying.
- Mods that reduces chance to poison will be a bit harder.
- You have almost no armour or evasion. Survival would be based on your crowd control skills and flasks.
Skill Tree
Ascendancy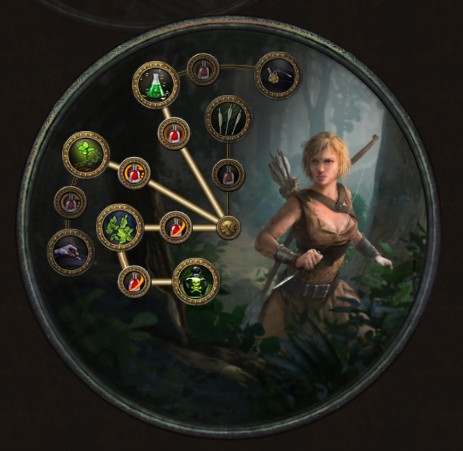 Passive Tree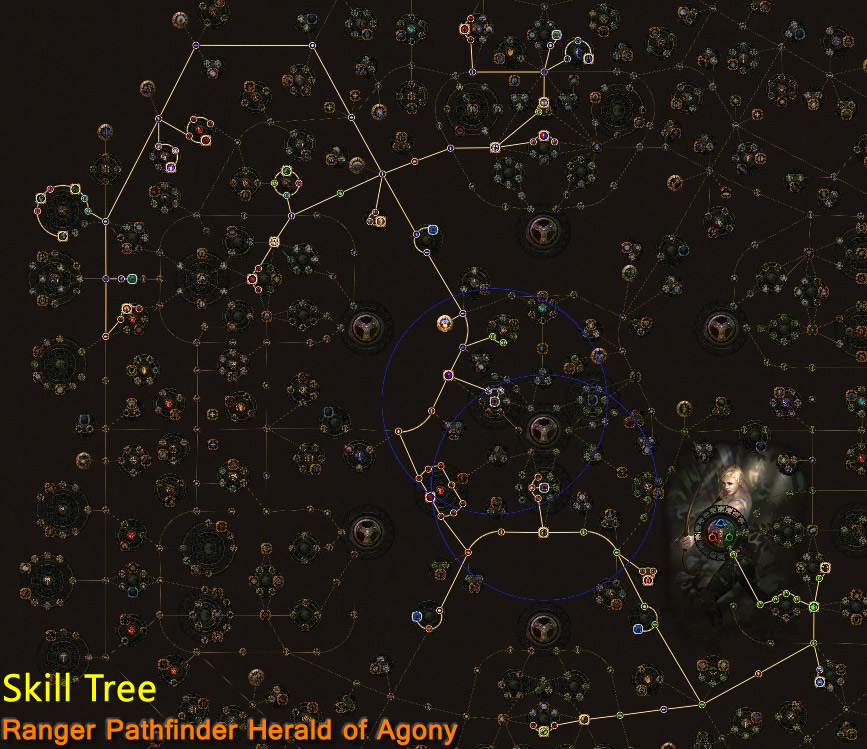 Gems Setup
Herald of Agony
Minion Speed
Damage on Full Life
Minion Damage
Pierce
Physical to Lightning
Swap: Vicious Projectiles, Summon Phantasm on Kill, Critical Damage
Rain of Arrows
Poison
Life Gain on Hit
Blood Magic
Curse on Hit
Assassin's Mark
Optional: Blind, Knockback, Chance to Flee, Maim
Hatred
Generosity
Abyssal Cry for faster pack clears. Minion Damage nodes do affect its damage since you are also affected by those nodes.
Spirit Offering
Immortal Call
Increased Duration
Cast on Damage Taken
Vaal Haste or Vaal Impurity of Ice
Gear
Overview
Recommended Unique
Quill Rain
This allows us to poison as fast as possible, and maximizing the Life Gain on Hit effect.
Since the attack speed is so high, we have to use Blood Magic to bypass mana issues.
One little trick is to get a "+2 mana gain on hit" jewel. This would allow you using skills without Blood Magic.
The Coming Calamity
This gives +2 level to Herald of Agony, allowing its attack speed per Virulence stacks to reach 4% from 3%.
It also caps the herald skill at 45% mana reservation so we can user Hatred to further increase our damage.
If you can't get yourself a 5L, Tabula Rasa will be a better choice.
Rumi's Concoction
This is one simple choice of defensive flasks.
Just chug it when the effect runs out. You are pathfinder so you can do this.
Using with a Basalt flask (with x% increased armour) works well.
The Wise Oak
We only use the defensive part of this flask.
To achieve this, your uncapped elemental resistances must be the same. Do not use this if you can't.
With level 7 haku/elreon, you can adjust minor resist differences by rerolling crafted mods.
Using a blessed orb on your resist ring can also be useful.
Leveling Guide
Gaining Voltaxic Sulphite in the most cost efficient way
Do all maps except T8, T9, T10. You can shape some of those to T13-16, but leave none left.
Shape a T3 map to T8. I recommend Arcade because the layout of Burial Chambers is stupid.
Alc and go on Shaped Arcade Maps. When you have sufficient supply of them, skip fighting monsters and pick up Sulphites only.
The reason why we want T11-16 maps to be fully completed is because delve outposts could drop a lot of those after depth 300. This means profit.
For Non-boss delves
Use Summon Phantasm on Kill for your Herald of Agony. Phantasms would absorb a lot of minion aggro and keep you safe.
Use Knockback to blow away monsters that stuck at doorways. This would as well trick your minion AI into walking through doorways before you do.
Use Blind to reduce chances to get hit by attacks. Still you would want to dodge skills by walking as much as possible. Especially those rares who can't even be knocked back.
Use Wise Oak only when you have same uncapped elemental resistances. The 10% elemental damage reduction is insanely good.
Try to lower your movement speed if you find your minion difficult to clear packs. Use a 0 speed boots like Kaom's Roots if necessary.
Always avoid the exploding blob in azurite fights. Don't even think of tanking it.
For boss-fights
If you are looking for challenge completion, do it on your friend's mine. If they leave before boss is dead you can kill the boss, getting challenge completion, while being able to try again if you didn't.
Boss fights are actually really easy (at least for Vaal ones).
Expectations

Lastest POE Builds, News and Guides