POE 3.5 Shadow Trickster Starter Toxic Rain Build (PC,XBOX,PS4)- Cheap, Safe, Fast Recharge, Endgame
PoeCurrencyBuy
Date: Nov/27/18 07:58:54
Views: 3562
"Everyone knows how to die. Some just need a little nudge to get them started."
The Trickster is a versatile hybrid class that mixes high speed, maneuverability, and slippery defenses. It is well-suited for Shadows that deal damage over time.
This build is an easy, cheap league starter build using the new Toxic Rain and Herald of Agony, that can be boosted with a some investment.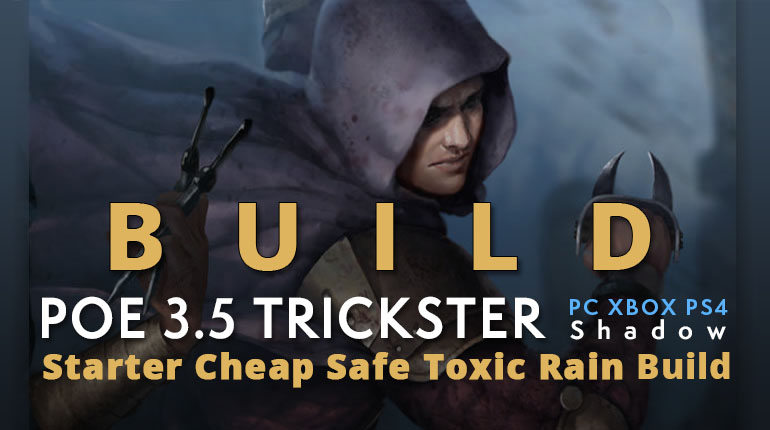 Quick Jump
Pros & Cons
Pros
+ Cheap to start, cheap to invest in upgrades, scope for further investment. Start levelling for 3C; all yellow maps on ~75C.
+ Mandatory uniques are very cheap. Flexible about others.
+ Layered defenses
About 6.5-7k EHP at level 86, up to 7.5k+ at 90 geared.
50% attack/projectile avoidance
80%+ faster start of ES recharge. (ES is >2/3 of EHP)
ES gain on hit coupled with many many hits per second = old-style insta-Vaal Pact equivalent (expensive: 5ex option).
20% Stun avoidance or (4ex option) stun immunity.
Shoot around corners.
Multiple slow mechanics: from Toxic Rain, from Withering Touch, and potentially from Temp Chains on Hit too.
RAT totem can distract bosses; not a true taunt, but often the vital couple of seconds you need.
+ Both active and passive recovery mechanics.
+ Inpulsa-style explosions scale damage with trash mob health (and give a satisfying pop-pop sound!).
+ Explosions rapidly delete packs: the safety of upfront damage, with the sustained powered of DoT
+ DoT and poison scaling for bosses/high HP rares.
+ Quill Rain QoL.
Cons
- Mana can be an issue on bosses; consider bringing a hybrid flask.
- Spell dodge only 10-20%, no block, and not much opportunity for raising resistance cap.
- Movement speed poor for a bow build: ~35%. This might be something that could be improved; please post ideas.
- Probably not HC viable.
- Not SSF viable.
Skill Tree
Ascendancy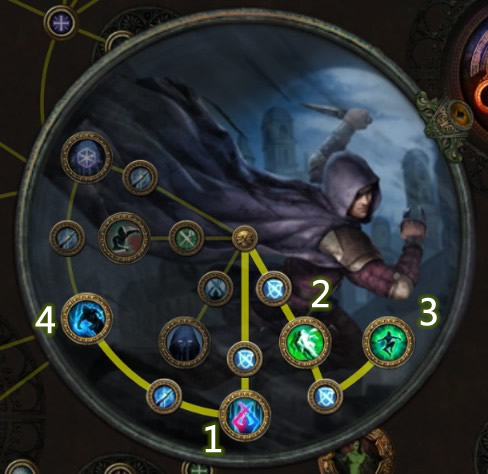 Patient Reaper - for both 50% in DoT, and life and ES recovery on kill - great to get both in a hybrid build.
Ghost Dance
Escape Artist
Prolonged Pain (I assume, but haven't done Uber Lab yet)
Bandits
This quest is given to you by Eramir in the Forest Encampment after you complete Through Sacred Ground or talk with any of the bandit leaders. There are three different bandit leaders. You can either side with one of them (and kill the other two) to get the respective reward or you can kill all of them to get the reward from Erami - from Gamepedia
Kill all the bandits.
Passive Tree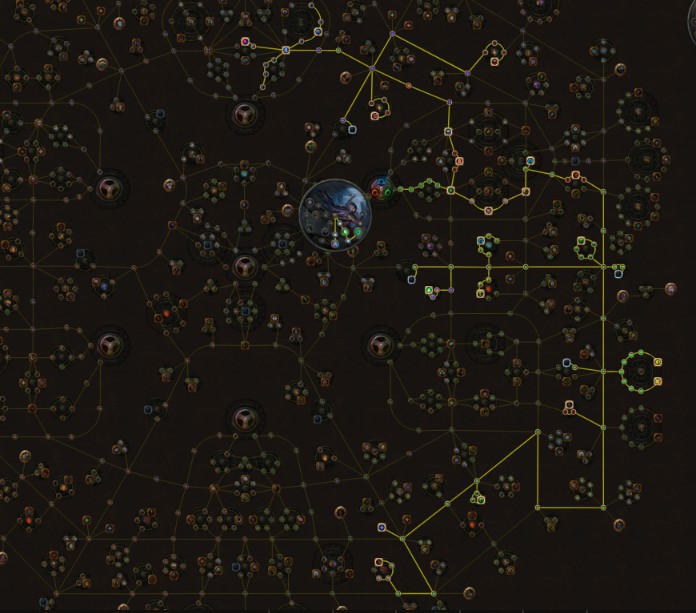 Gems Setup
Primary clear skill 5L on weapon:
Toxic Rain - Vicious Projectiles - Added Chaos Damage - Void Manipulation - Swift Affliction
Possibilities for 6th gem for 6L
Mirage Archer, Increased AoE, Vile Toxins, Faster Attacks, Poison, Unbound Ailments, Empower
Debuff totem
Ranged Attack Totem - Rain of Arrows - Withering Touch - Faster Attacks - Added Chaos - Lesser Poison
For high-tier bossing, perhaps swap Barrage in for Rain of Arrows (not necessary in yellow maps). Rain of Arrows also works very nicely in delves. Alternatively, have Barrage instead of Toxic Rain on a weapon swap.
Minion clear
Herald of Agony - Minion Damage - Damage on Full Life - Vicious Projectiles
Defense / Utilit
Discipline

CWDT - Immortal Call - Increased Duration - Phase Run
Blink Arrow

Summon Ice Golem

Up to you whether to self-cast Phase Run (nice for Delves), or trigger it with CWDT for a "vanish" effect.
Gear
Need Gear
Soul Strike Spike-Point Arrow Quiver and Quill Rain has super quality of life. Alternatively, for a slower but harder hitting option, try Lioneye's Glare
Other Gear
Body: Dendrobate or Hyrri's Ire or Queen of the Forest or Rare with exceptionally high EV
Helmets: Rare, as high ES as you can get.
Boots: Sin Trek
Amulet, Rings, Belt: All Rare
Expectations & POB
POB link: https://pastebin.com/MNhiVLBe

(If you do not know how to use it, see the instructions below, otherwise please ignore)
Download Path of Building (link: https://github.com/Openarl/PathOfBuilding)
Copy pastebin URL.
Launch path of building.
Click on Import/Export.
Click Import from Pastebin
Paste the URL copied in step 2.
Done!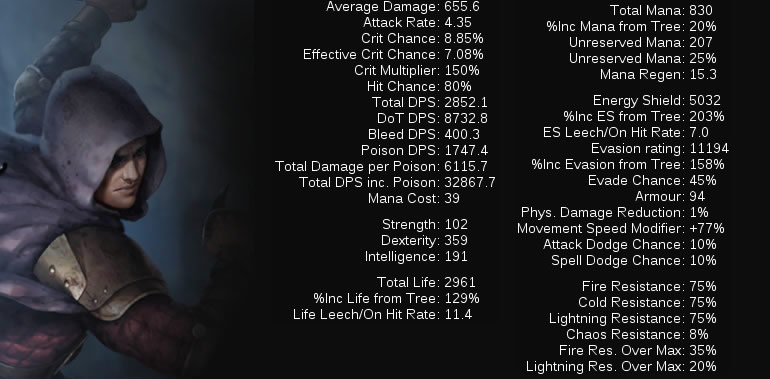 Lastest POE Builds, News and Guides