POE 3.4 Scion Ascendant Molten Strike Build - High Damage & Stun Immunity
PoeCurrencyBuy
Date: Sep/25/18 09:23:35
Views: 4216
This build uses unique items to scale int for easy ES and HOWA damage. The tree is flexible to play spectral throw or bladeflurry but molten strike can get much higher damage with extra projectiles.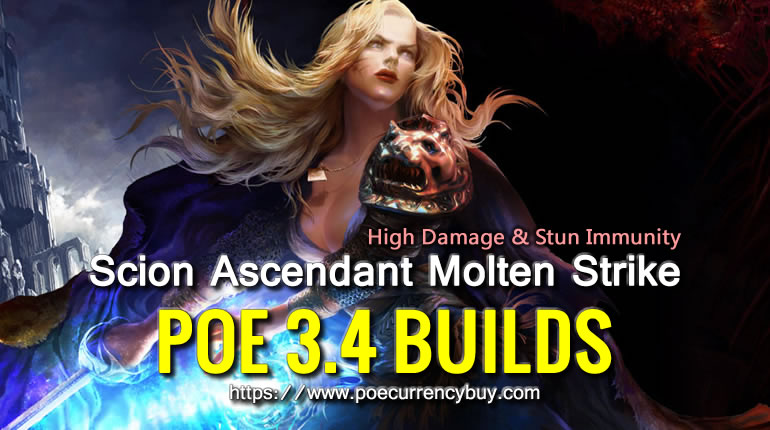 Class Choice
HOWA Guardian
+ Best Rapid Hits prevention through block + evasion
+ Best overall defense from layering mechanics
+ Better Damage
HOWA Scion
New
BLS Scion
+ Best damage
+ Stun immunity
+ Best raw ES number
+ Best clearspeed options
Skill Tree
Ascendancy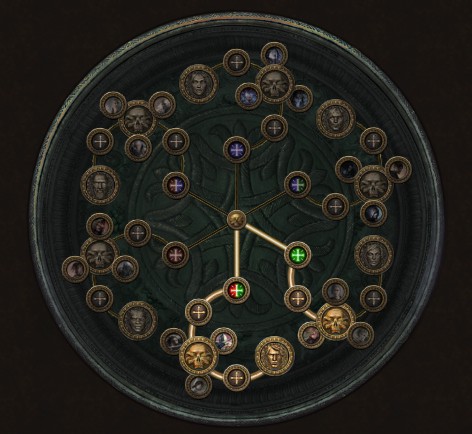 Scion
- Raider is best damage as it sustains frenzy and onslaught against bosses which normally wouldn't be possible. You can run blood rage for onslaught while mapping if you don't mind dealing with the constant degen
- Champion is currently my secondary choice. Intimidate for 10% more damage and continuously taunts for another 10% more damage. Additionally gives 8% movement speed and access to 'path of the duelist' for more efficient pathing.
Alternatives
- Inquisitor has some good damage, pen and int. Also has good pathing options using path of the templar. This is my second choice
- Occultist's damage is less reliable as it relies on applying double damage curses instead of enfeeble. Its advantage is the stun immunity for those who have trouble with stuns
- Elementalist would have slightly more damage then Inquisitor but it needs to reliably shock every 2 seconds to do so which just won't happen with this builds low shock chance. Still an option if you are willing to lose 10% damage in order to get immunity to elemental reflect
Pantheon
Soul of the Brine King Pantheon for the stunlock immunity. Your evasion will keep you from getting stunlocked from attacks but you'll want to be able to charge away from a firestorm that was stunning you
Soul of Abberath is my preferred minor pantheon bonus. Immunity to burning ground is really neat
Passive Tree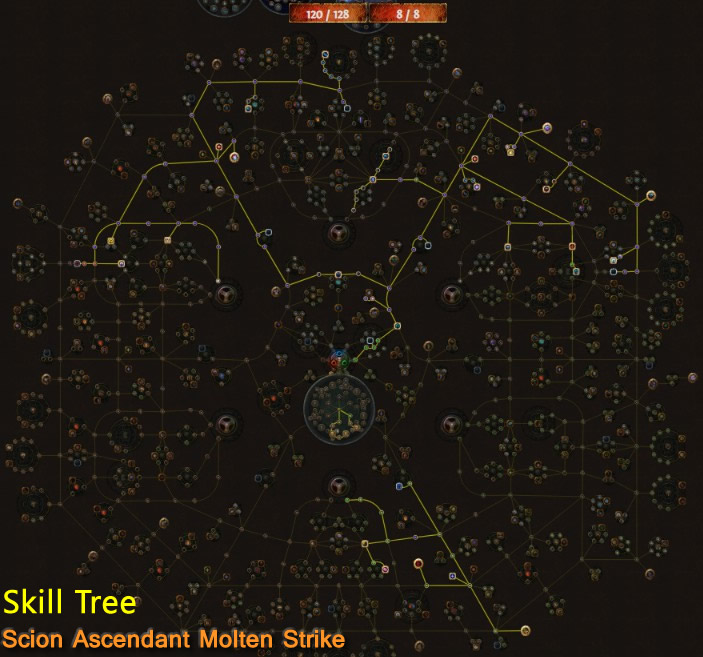 Gems Setup
Chest - There are 7 options here. Multistrike gives the least damage but often makes things 'feel' a bit smoother as it creates more orbs per second and shortens the time before everything gets hit by one. The rest all give pretty much the same damage boost.
Helmet - Before you have the Vertex and a level 3 Enlighten use herald of thunder instead of Wrath

Gloves - CWDT setup.

Claw - Ancestral Protector for attack speed and to apply blind

Shield

Boots - Vaal gems or clearspeed skill or blood rage or CWDT setup or leveling gems for profit
There is a few options, depends on personal preference
Gear
Overview

Weapon
Hand of Wisdom and Action to scale damage off intelligence. Hand of thought and motion are the preupgraded form for leveling
Rings
Int scales damage and %ES so it has really high value. These rings turn each unique item we pick up into a 4% more Int item. This is really solid value as most of the good ES/evasion gear is unique. The guardian version scales through Int even more heavily as it converts mana into flat ES
Gloves
Here is where the synergy really kicks in. Shapers gloves are really the core of the build, their accuracy give us more dps then any other item while also give us massive evasion scaling which is what allows us to reach such high evade chance without evasion focused gear. The build also incidentally gets a hefty amount of strength which is converted into %ES through these gloves.
Amulet
Astramentis is best in slot here. Up to 116 Int while also solving Dex and Str problems. Good rares can come close but no rare can beat this item in endgame
Helmet
The vertex. Pretty boring but its unique and got great evasion and ES. +1 to socketed gems is just a bonus that pushes it over the edge as best. When you have some more currency you can buy a high ES roll one but a cheap rolled one will do until then
Chest
Splendor for scion. Best base ES total in a unique and covers resistances. Guardian can afford to lose ES more to swap into incandescent heart for leech, less ele damage taken and a bit of damage.
Belt
Since its introduction Cyclopean Coil has dominated the other options for belt slot and luckily its even cheap. 15% increased all stats gives more DPS and ES then the previous options plus the 5% increased damage for lowest stat is wonderful for this build since it gets alot of all 3 base stats. The build should end up with Int highest and Dex lowest which means it grants immune to shock and ignite for extra bonus.
Shield
Atziri's mirror is best in slot due to its Int and resistances. It happening to have good evasion, movement speed and extra block is just a bonus. Can be upgraded into Atziri's reflection which makes it even better
Boots
Sin Trek are such good boots. They just have everything we want, Int, Evasion, Move speed and the best ES you'll find. Pity they don't have resistances but they can't be perfect and they still beat any rare.
Guardian takes rainbowstride as it has greater block and so takes advantage to convert some into spell block. Also covers resistances for convenience.
There are two uber lab options that give great DPS on boots. 1-160 lightning damage if you haven't killed recently and 10% penetration if you haven't killed recently so you have a 1/7.5 chance of getting a good one whenever you run lab. I got lucky and got one on my 5th run.
Flasks

Leveling Guide
Skill Choice
Molten strike with ancestral call from level 1
You can also use better clearspeed skills like frostblades, wildstrike, spectral throw etc but molten strike has best dps and will melt bosses.
Gear Progression
Leveling gear and path into endgame stuff. The highlighted items cost 1c or less. You should be able to start mapping wearing just these highlighted(cheap) items. For a smoother experience keep an eye on level requirements and upgrade right when you hit them
Chest - Zahndethus Cassock Lvl 37 - Geofri's Sanctuary lvl 64 - Atziri's Splendour lvl 75 or Incandescent Heart lvl 70
Weapon - Hand of Thought and Motion lvl 22 - Hand of Wisdom and Action lvl 68
Helm - Doedre's Scorn lvl 39 - Vertex lvl 62
Gloves - Asenath's Gentle Touch lvl 25 - Shaper's Touch lvl 66
Boots - Shavronne's Pace lvl 32 - Sin Trek lvl 62
Belt - Bated Breath lvl 22 - Cyclopean Coil lvl 68
Shield - Crest of Perandus lvl 8 - Atziri's Mirror lvl 54
Ring - Timeclasp lvl 22 - Perandus Signet lvl 1
Amulet - Astramentis lvl 20
Priority order for gear upgrades
Shaper's Touch > Astramentis > Vertex > Cyclopean Coil (14% or 15% increased attributes) > Hand of Wisdom and Action > Perandus Signets > Atziri's Splendour (500+ ES)
Check the FAQ for some common questions about gear choices/alternatives
Once fully geared there is still room for improvements, don't forget to check possible rolls on the items. Getting a near perfect Atziri's Mirror, Sin Trek and Astramentis is usually achievable. There is also a big ES difference between a min rolled Vertex and a max rolled one.
Skill Tree
The endgame leech comes from items you won't have during leveling. Vitality void is often taken during leveling for leech.
Scion has an easier time leveling then Guardian as its closer to the good keystones. Do the entire bottom part first getting a wildfire jewel, leech nodes, vaal pact and point blank. Then start on the top section.
Guardian gets its wildfire jewel first then also wants to head down to the section under scion for the same highlights. Cutting across from harrier to get them faster is probably better then going around like you will do in the final tree
Defense
The build paths near plenty of life nodes and its recommended that you pick up several of these while leveling then unspec out of them later when you swap into pure ES. How many you get will depend on how squishy you are comfortable being.
We recommend picking up mind over matter while leveling especially if you are already using the Perandus rings. While using mind over matter the only aura you would be using is discipline so it can absorb more damage along with mana flasks
CI
When your Es is large enough that things are not hitting through it and making you rely on life as a backup swap mind over matter into CI.
Jewels
If you don't have good jewels while leveling then don't take the jewel sockets yet.
Expectations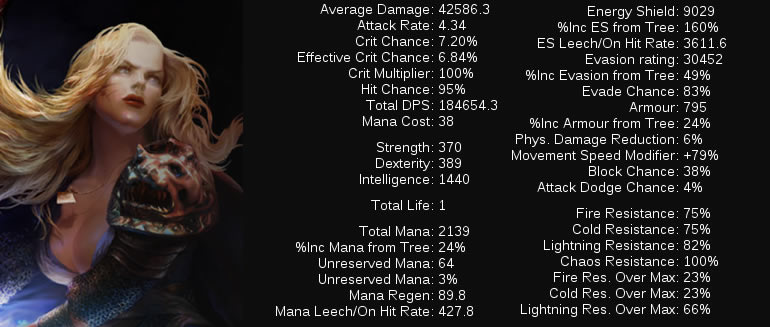 Lastest POE Builds, News and Guides