[POE 3.6 Marauder] Best Synthesis Molten Strike Juggernaut Build (PC,PS4,Xbox) - High DPS, Hardcore, Uber Elder Killer
PoeCurrencyBuy
Date: Feb/22/19 05:57:46
Views: 4279
This Juggernaut Molten Strike build makes up for all the weakness' that an occultist usully face, which is accuracy, low attackspeed, Freeze/temp. chains and endurance charges.
Quick Jump
Skill Tree
Ascendancy
Undeniable -> Unflinching -> Unstoppable or Unbreakable -> Unbreakable or Unstoppable
Bandit
Kill Alll
Pantheon
Major
Soul of Arakaali with 50% increased recovery for energy shield.
with blood rage and cwdt+immortal call. The immortal call makes you immune to phys, thus you stop taking phys bleed damage from blood rage. This makes the 50% increased recovery proc very often :)
Minor
Ralakesh: Cannot be blinded and increased chance to avoid bleeding + less DoT with bleeds.
This makes you take less dot from blood rage. Really effective.
Furthermore you cannot be blinded, maimed and have less chance to receive bleeds.
Passive Tree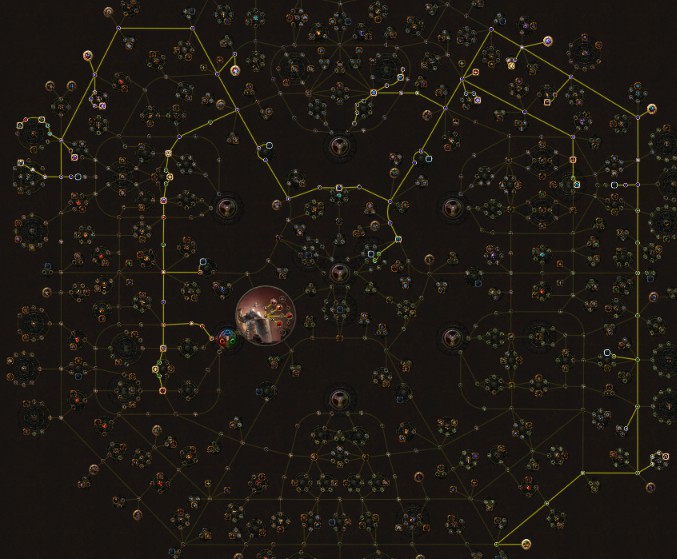 Gems Setup
Move mouse
Molten strike(21/0) You do not need quality on this (4R + 2B or 3R + 2B + 1G)
Elemental Damage with Attack Support(21/20) 1st priority
Concentrated Effect Support(21/20) 1st priority
Ancestral Call Support(21/20) 1st priority
Elemental Focus Support(21/20) 3rd priority
Damage On Full Life Support(21/20) 3rd priority
Gem Options
Point Blank Support(21/20)
1st prioity if you do not run pointblank on passive tree
Multistrike (21/20)
Since number of projectiles were nerfed in 3.5 (Subtracting 3 x 3 balls) Life gain on hit or ES on hit cannot be abused so much.
I therefore find it stronger to have more damage and leech than ES On Hit

CwDT(1/0), Immortal Call(3/0), Increased Duration(21/20), Vaal Haste(21/0)
Enlighten Support(4/0), Wrath(21/0), Discipline(21/0), Purity Of Elements(21/0)
(This basicly gives you 90 Intelligence because you save suffixes on other gear)
Utility (I use), Ancestral Protector(20/0), Lightning Golem(21/20), Blood Rage(21/20)
Curse Caster (Ball Lightning) – CwDT(1/0) – Dying Sun makes 3 projectiles, which is nice, Ball Lightning(1/0), Curse On Hit(21/20)
(Offensive - Projectile Weakness / Conductivity) / (Defensive - Enfeeble / Temporal Chains) (21/20)
Movement (Whirling blades(1/23) or shield charge(1/0)) , Faster Attacks(21/20), Fortify(1/23)
Gear
Move the mouse on the bold poe equipment to see needed mod
Hand of Wisdom and Action: Best corruption: local Increased Attack speed
Next best corruption: added lightning damage
Incandescent Heart: I personally prefer Incandescent Heart over a 750ES .. Vaal Regalia. If you pick VR you take 20% more elemental damage than you would normally and lose a lot of physical reduction from the extra added armour. But if you want to flex high ES numbers due to being small somewhere not to be named feel free.
Shaper's Touch: Preferable corruptions: Curse On Hit, Attack speed or extra frenzy charge. You could setup a 4B and +1 gems corruption. This way you only need a lvl 3 enlighten
Astramentis: This goes so well with HoWA, ES attack builds and Shaper's Touch. Rare amulet with 1% damage per 15 intelligence, 8+% attributes and crafted 20% ES could also be used, but I personally feel that they do not contribute positively to either damage or energy shield pool. Otherwise you need an alternative skill tree, that stacks more intelligence and thus utilizing the +1% damage per 15 intelilligence
Cyclopean Coil: Provides Shock immunity and burn immunity. Needs to have strength higher than dexterity
Good corruption
+Str/int % or + Int/dex %
Increased aura effect of discipline
Increased aura effect of wrath
+% to all elemental resistances
Hubris Circlet: Go for 300 ES or higher,Intelligence and resistance you could go for an atziri helmet if you want to save currency on lvl 4 enlighten and crafting a hubris circlet
The Vertex
Titanium Spirit Shield: Go for 350 ES or higher, intelligence and resistance
Sorcerer Boots: Rare sorcerers boots are best(High ES + Intelligence + Resistance). Death's Door are good if you need bleed immunity. Sin Trek (Cheap). Consider using the +movement speed +% chance for onslaught crafted prefix if you cannot get a abyss jewel with +% chance for onslaught on kill
Ruby Ring, Sapphire Ring
- Cap resistance + Intelligence is minimum
- Getting extra strength, energy shield, Elemental damage with attacks and added lightning damage is also very strong, and you should try to get this.
Abyss jewels
Go for the following: +Energy Shield (35-50), Added lightning damage to attacks (50), attack speed, strength or intelligence, resistances or other usefull damage mods. Use either searching eye jewel(higher chance for elemental damage to attacks) or murderous eye jewel (can have lightning damage to claw attacks)
Regular Jewels
Search the following mods and set hits to be either 3 or 4 on pathofexile.com/trade and buy the cheapest.
Increased Energy Shield %, Increased Lightning Damage, Attack Speed with claws, Attack speed with one handed melee weapons, Attack speed while using shield, Attack Speed, Attack and Cast Speed, Increased Projectile Damage, Increased Area Damage, Increased Damage.
If you want more Energy Shield, need strength or resistances you can force these rolls by adding them in a search function.
Leveling
Leveling Gear
Tabula Rasa, Astramentis, Hand of Thought and Motion, Atziri's Mirror, Goldrim, Skullhead, Wanderlust, Karui Ward, Prismweave, Le Heup of All, Brute Force Solution,
Remember to upgrade your Hand of Thought and Motion into Hand Of Wisdom and Action when you turn level 68.
Flask: Experimenter's Sulphur Flask of Warding, The Wise Oak, Atziri's Promise, Dying Sun, Vessel of Vinktar
Magic Flasks
Go for Increased Duration or less charges used (boss fights) + Immunity to Curses (If you have corruption blood immunity on gem and Cyclopean Coil).
Silver Flask (Uses many charges – If you have onslaught on boots pass this)
Sulphur Flask (40% increased damage, uses small number of charges and gives ES regeneration)
I think Sulphur Flask is much more powerful than Silver Flask due to many more uses in bossfights.
Suggestive 6link for lvling
Molten Strike(boss) + Lightning Strike(map/area) + Elemental Damage with Attacks Support + Ancestral Call + Faster Attacks + Onslaught(Change this into Elemental focus when you can get onslaught flask and sustain it)
Leveling trees
This is the pathing I have picked the 3 rerolls I have made in hardcore.
21 Points
https://i.imgur.com/1xiIMq2.jpg
40 points
https://i.imgur.com/lomtWPy.jpg
60 points
https://i.imgur.com/9kKHvxy.jpg
76 points
https://i.imgur.com/ojveImZ.jpg
86 points
https://i.imgur.com/jm2XCYy.jpg
After this you should pick the travelling points that go by Zealoth's oath, Chaos innoculation, Ghost Reaver, Foresight and Harrier.
Otherwise pick some life nodes if you need it.
After respeccing
Lastest POE Builds, News and Guides