POE 3.6 News About Aura and Jewel
PoeCurrencyBuy
Date: Feb/25/19 02:54:09
Views: 2254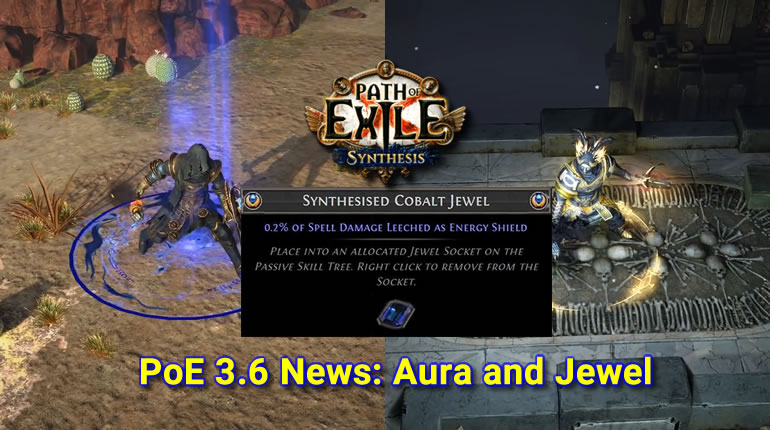 From mew information of 3.6 version of the official, we find a new jewel, which comes with 0.2% of spell damage leeched as energy shield. It is a built-in mod.
The present of the jewel predicts that GGG's intention the coming 3.6 version that
1. All kinds of spell bd will be improved immensely. The demonstration of two new aura support the idea from another aspect. Whether the rework of kinds of spell skills, or the useful mod for spell built in the jewel, the designer of PoE show a friendly attitude to spells.
2. It is a built-in mod jewel. So we can speculate that 5 mods jewel will become common in the new league.
Currently Occultist with pure spell bd show a good viability, and now it get help of the mod 0.2% of spell damage leeched as energy shield. Therefore, we can speculate adventurously that some powerful standing bd will come up in the 3.6 league. So do we need to increase our spell damage vastly on the basis of the original bd? Lol, but from the official attitude of the game, it is not allowed to exist in this invincible bd! ! We will wait and see.
Here is the official's describe about addition and modification of aura:
Alongside the Synthesis League, we're going to be introducing a number of new damage spells and two new Auras that can benefit them. These are called Zealotry and Malevolence. We've also made a few adjustments to some existing auras.

Zealotry is a new holy themed aura that provides more spell damage, a small increase to spell critical chance, and a chance to create Consecrated Ground on hitting a rare or unique enemy. As Consecrated Ground now increases the chance to be critically hit on enemies within it, this further increases your critical chance. The aura works well with the improved Inquisitor Ascendancy, which has some new effects for Consecrated Ground like letting the Consecrated Ground continue to apply its effects for a few seconds after you, allies or enemies leave its zone.

Malevolence is a new arcane themed aura that provides more damage over time, and a small bonus to skill effect duration. It works best with chaos skills like the new Soulrend spell, but the damage bonus affects all damage over time effects like Scorching Ray, damaging ailments like Ignite and Poison, and cold damage over time abilities like Arctic Breath.

We're also making some adjustments to Anger and Hatred. The damage bonus from Anger has been boosted, bringing its added damage to a point that is comparable with Wrath. Hatred now grants more Cold Damage, making it grant a strong benefit for all cold skills, but the physical damage as extra cold damage has been reduced to compensate.
From the information we can find
Double spell aura+Eldritch Battery will become common use. +Eldritch Battery will be the staple for various spell bds to increase damage.
Zealot's Oath+ Storm Brand will become great powerful. We all know, brand skills are specially powerful in 3.5 ver.
Zealot's Oath enhances various bd based on Righteous Fire.
Lastest POE Builds, News and Guides