[POE 3.6 Tempar] Best Synthesis Righteous Fire Guardian Build (PC,PS4,Xbox) - Cheap, HC & SC, League Starter
PoeCurrencyBuy
Date: Feb/27/19 01:25:35
Views: 4067
This POE 3.6 Synthesis Righteous Fire Guardian Build can do: shaper, dried lake (most), normal hillock, minotaur/chimera/phoenix/hydra/t15s/atziri/uber atziri/not hogm cause culling/sarn encampment ONLY CRUEL THO and probably hideout viable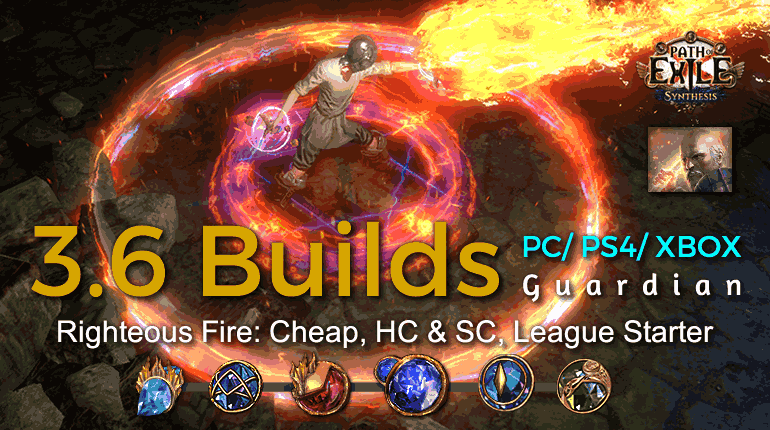 Quick Jump
Pros & Cons
Pros
A Powerful league starter build.
Viable in both hardcore & softcore.
Extremely cheap with TONS of upgradable options for end-game.
Cons
- It may not be suitable for some demanding players.
Skill Tree
Ascendancy
Normal Lab: Time of Need
Cruel Lab: Radiant Faith
Merc Lab: Unwavering Faith
Uber Lab: Bastion of Hope
Bandits
This quest is given to you by Eramir in the Forest Encampment after you complete Through Sacred Ground or talk with any of the bandit leaders. There are three different bandit leaders. You can either side with one of them (and kill the other two) to get the respective reward or you can kill all of them to get the reward from Erami - from Gamepedia
Kill all Bandits
Passive Tree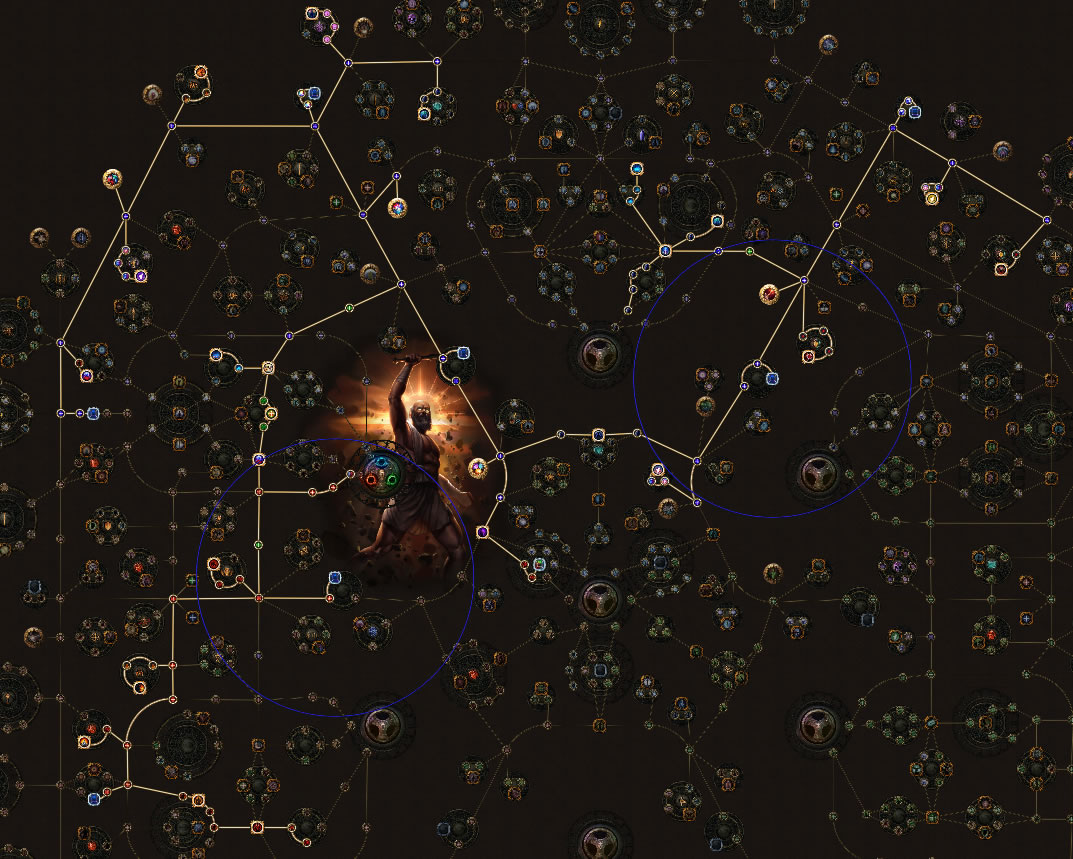 Gems Setup
6L Vaal Righteous Fire
Vaal Righteous Fire 20/20, Elemental Focus 21/20, Burning Damage 21/20, Increased AOE/Conc Effect 21/20, Arcane Surge 21/20, Swift Affliction 21/20.
Arcane Surge gives RF a Duration tag, that enables us to use Swift Affliction. Sounds stupid, but it works.
4L Scorching Ray
Scorching Ray 21/20, Burning Damage 21/20, Elemental Focus 21/20, Efficacy 21/20
4L Orb of Storms
Orb of Storms 21/20, Curse on Hit 20/23, Flammability, Increased Critical Strikes 21/20
Cast on hard rares/uniques/bosses for extra damage and to maintain Elemental Overload.
3L Shield Charge
Shield Charge 21/20, Faster Attacks 20/23, Fortify 20/23
4L Aura Setup
Purity of Lightning 21/20, Purity of Ice 21/20, Enlighten 4/x, Blood Magic 21/x
+2 or +3 Unsets
Vitality 21/x, Purity of Fire 21/x
Random 3L
Discipline 21/x, Flame Dash 21/20, Portal 1/23
X means it doesn't matter. Rest are Level/Quality. Prioritize Levels over Quality on everything.
Gear
Overview
Move the mouse on the bold poe equipment to see needed mod
Doryani's Catalyst, Titanium Spirit Shield, Hubris Circlet, Shavronne's Wrappings, Sorcerer Gloves, Presence of Chayula, Rift Twirl Unset Ring, Doom Grasp Unset Ring, Stygian Vise, Sorcerer Boots
Weapon: Doryani's Catalyst
Focus on the % Elemental Damage roll, after that look for Attack Speed and Crit Strike Chance.
Shield
Look for a Rare with the highest Energy Shield you can get, look for Resists if you need, then Intelligence/Spell Damage/Reduced Damage Taken Over Time.
Chest: Shavronne's Wrappings
Focus on Energy Shield roll, the higher the better. Lightning Resist next.
Helmet
Similar to shield, you'll be looking for the highest possible Energy shield total you can get. After that, focus on getting resists to cap, then Intelligence for more overall ES. You can use Essence of Horror for 30% More Damage on RF/SR.
Amulet
Presence of Chayula. +1 Curse/Max Resists are both really nice corruptions.
Rings
Rare Unset rings with +2/3 level of Socketed Gems, then grab Energy Shield/Resists/Stats.
Gloves
Rares with the highest possible ES, then go for Stats/Resists. You can use Essence of Delirium for 30% More Damage on RF/SR.
GET ADDED COLD OR LIGHTNING TO ATTACKS ON EITHER RINGS OR GLOVES FOR ELEMENTAL EQUILIBRIUM. I HAVE IT ON A RING.
Belt
Go for a Shaped Rare belt (Ideally Stygian on Standard) that has Energy Shield Recovery Rate. It's a more multiplier for our total ES Regen. After that, focus on Energy Shield, Intelligence (Essence Only), Strength/Resists.
Boots
Look for a Rare with the highest Energy Shield you can get, Movement speed, Resists if you need, and always more Intelligence for more ES total.
Jewel Stat Priorities
There's two ways to look at jewels. For maximum ES, or maximum DPS. I went for both.
DPS Priorities
Burning Damage
Fire Damage
Damage Over Time/Damage
Spell Damage/Spell Damage While Holding a Shield (For SR)
Area Damage (For RF)
ES Priorities
% Maximum Energy Shield
Intelligence
Int + Str/Int + Dex
Stats/Resists IF you need them.
You'll also be using 2 Energy From Within jewels and a Watcher's Eye. Go for Energy Shield Recovery While Affected by Discipline Eye, if you can get % Energy Shield Regen with Discipline/% Mana as ES with Clarity as well, great.
Flask
Chemist's Ruby Flask of Heat, Ample Sulphur Flask of Staunching, Rumi's Concoction, Experimenter's Quicksilver Flask of Adrenaline, Witchfire Brew
Lastest POE Builds, News and Guides