[Synthesis] Hot PoE 3.6 Templar Builds (PC, PS4, Xbox) - Inquisitor | Hierophant | Guardian
PoeCurrencyBuy
Date: Mar/01/19 07:45:45
Views: 2713
GGG officially announced PoE 3.6 league in the 20th, 2019. The main NPC of this expansion is Cavas, a spirit who has lost all his memories and want you to help find them. As always, Poecurrency collect PoE 3.6 Templar builds for player, including Inquisitor, Hierophant, Guardian, and Agony Cyclone, Righteous Fire, Spell Totem Arc, Storm Brand skill. Some of which are great for league starter, farming, cheap, low budget available, and some powerful, fast, boss killer, endgame, popular builds for old players.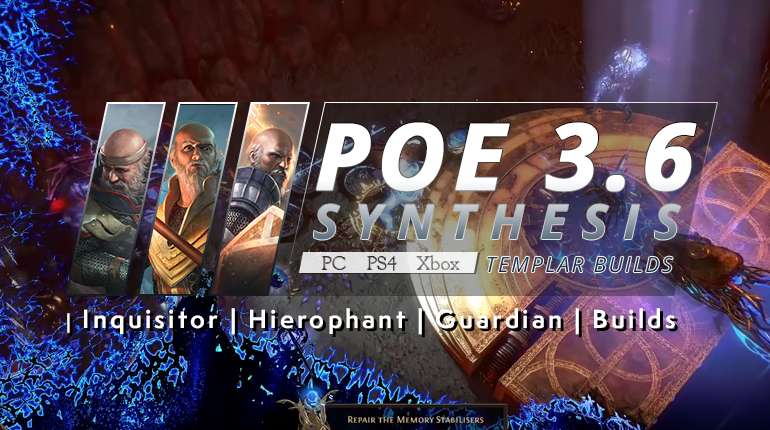 3.6 Guardian Builds
Mechanics
This build uses Cyclone to summon and activate powerful minions. With Cyclone, you attack 6.16 times per second. Here's a list of things that happen as a result
- Two Holy Relics trigger roughly every .62 seconds
- You gain and sustain virulence stacks (very easy to sustain 40) summoning the Agony Crawler
- Summon and sustain Sentinels of Purity (against uniques, but you can also get them from your poison kils sometimes)
- Gain 150 life and 14 mana on hit
Playstyle
The best way to get an idea for the build is to watch the videos above.
- Simply pop your non-life flasks and Cyclone through packs - your minions will do the rest!
- You can very easily face-tank high level bosses with this build (eg. I did a Minotaur at level 79 with under 5k hp facetanking).
- The only somewhat annoying map mod for the build is physical reflect as your relics will one-shot themselves. To run this mod, just summon one relic at a time before entering each new pack. The relic and your agony crawler will mop up just fine.
Path of Building Link links: https://pastebin.com/jyrr9PRT
Pros
A Powerful league starter build.
Viable in both hardcore & softcore.
Extremely cheap with TONS of upgradable options for end-game.
Cons
- It may not be suitable for some demanding players.
Path of Building Link links: https://pastebin.com/QC6V7QYX
3.6 Hierophant Builds
Pros
+ Cheap
+ SSF viable cause no required uniques
+ Many ways to push this build into endgame
+ Save (cause totems and mom)
Cons
- Totemplaystyle isn't for everyone
- Constantly replaycing totems against AOE bosses can be annoying
Path of Building Link: https://pastebin.com/fcxMqzmJ
Pros
+ insane damage output
+ kill Uberelder as fast as a GC Miner
+ no 6-link required (easy to get started)
+ very great clearspeed (nearly the same speed as an ele wander)
+ cheap to get the build running (1-3ex - depends on time of the season)
+ safe way to play
Cons
- expensive to min max (corruptions on items like kaom´s heart or frostferno)
- no leech mechanic -> just life reg via totems (Hierophant Ascendency)
- Totem playstyle is not for everyone
Path of Building Link:
Regular https://pastebin.com/y7P0EZWA
Late Endgame (min-maxed) https://pastebin.com/JKehzB1e
3.6 Inquisitor Builds
Pros
+ Strong clear speed in all map tiers.
+ Fairly strong boss damage.
+ No auras - you die, you release, you run back in.
+ ~7k hp (7k is combined with mana, es and life and can get up way higher)
+ Uses Loreweave
+ Obliterates twinned/multibosses
Cons
- Like most other builds, can be expensive to min-max
- Very squishy to physical damage
- Not very tanky vs syndicates
- Cant do ele reflect
- Does a little less damage vs single target (it's still fast)
Path of Building Link: https://pastebin.com/XB0Ag1BW
Lastest POE Builds, News and Guides