Six Path of Exile Fans Interest Mechanical Questions
PoeCurrencyBuy
Date: Jan/04/18 02:40:19
Views: 2195
Within this article, Poecurrencybuy Sort up six Path of Exile Fans Interest Questions Concerning the Totems, Damage, Skills, DPS, prevent on-evade and on-dodge triggers, the solution to definitively distinguish for you.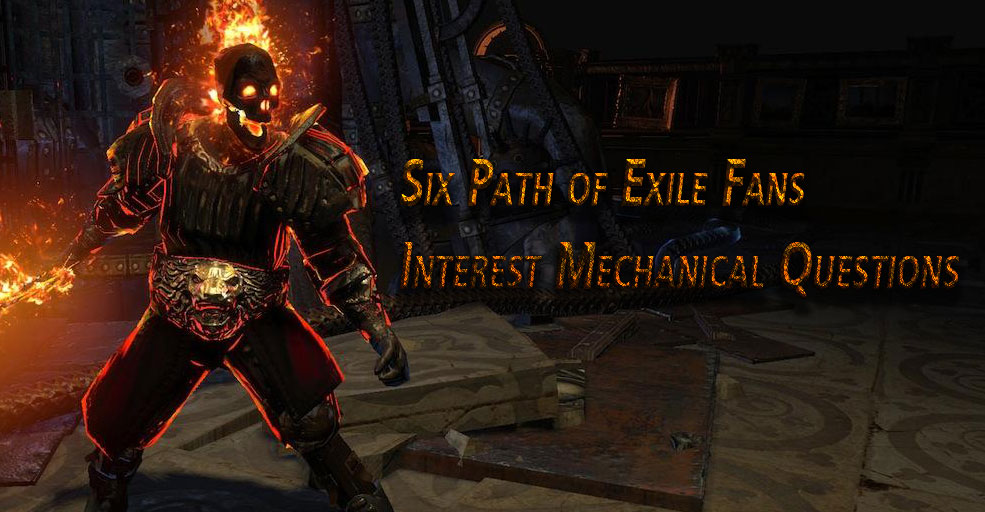 Why is elemental overload worded to only perform with players and not totems?
It is worded that way just because that's what it does, and getting the wording says something else will be problematic.
In the event you mean why it functions that way, then I am afraid that is an example of the type of query that is outdoors the scope of this thread. I can inform you how it does perform (you may need to crit a thing, so your totems Critical strike anything won't cut it, but as soon as active, because Totems use your skills, the advantage from it), but not why that decision was produced.


Elemental conversion follows a precise order and cannot go backward, or it'll result in a loop. Would it be doable to implement a "conversion flag" so you could convert backward within the order, then have the game check when the damage had currently Turned when it hits whatever the source harm kind was?
Almost certainly not, while I never have a complete logical proof of this.
Practically, undoubtedly not - the amount of further processing added to widespread stat calculations by that would be unreasonable if it were feasible.


Is there an inherent limit for the variety of enemies a skill can hit? There was recently a thread about this on Reddit, and it created me wonder if this is just a part of the engine.
There is probably not one limit that applies to all skills, but there is perhaps frequently a requirement that ability possess a limit for technical factors (also as potential balance and or overall performance factors) towards the quantity simultaneous hits which will occur.


Is there a technical limit to DPS?
There's a technical limit to the visible DPS on an ability popup, resulting from that becoming stored in an integer variable.
There's a technical limit on the amount of damage a provided hit can deal (same dealio). But to my expertise not a mechanical limit on the number of occasions you could hit a target inside a second, so I usually do not think there is a technical limit on actual DPS dealt with a specific enemy.
There is undoubtedly a mechanical limit to DPS, due to the fact you'll find restrictions on how higher the values of stats it is possible to get from passives/gear/etc. There's some theoretical "best DPS" build* that could exist with the best gear, that would have additional DPS than any other genuinely probable build. This limit is substantially beneath where any technical limitation would take the place of actual harm.


Was it a conscious selection to prevent on-evade and on-dodge triggers when implementing those systems?
Not indeed the sort of query for this thread, but no. Those are impossible as a consequence of other crucial choices, not a decision to make them not possible.


Is there any way to definitively distinguish regardless of whether a modifier is a neighborhood or global if it could reasonably be either?
If a modifier can modify the base behavior of an item (what a white Item of that sort would do), then it will likely be nearby. There are very couple of exceptions to this, however they do exist, so the answer towards the question is no.
Note that this isn't a case exactly where it "could be either" - the modifier is determined by the amount of frenzy charges your character has, that is necessarily external to the item. A regional modifier like this would make no sense, as the weapon itself cannot have frenzy charges. regional modifiers only affect the item, and are self-contained - when the effect cares regarding the player, it's inherently non-local.
Just a reminder: you will get 5% coupon code for free from the reps for those who Buy Poe Currency from this short article.
Lastest POE Builds, News and Guides