The Path of Exile Fall of Oriath
PoeCurrencyBuy
Date: Feb/24/17 09:17:23
Views: 3453
The Path of Exile Fall of Oriath is the upcoming sixth expansion for Path of Exile. It was officially announced by Grinding Gear Games on February 15, 2017 and will enter a beta phase before being fully released in June/July 2017. The Fall of Oriath will be the game's largest expansion to date, introducing six new acts, a new story progression and the Pantheon system, an Xbox One port and several new unique items and skill gems.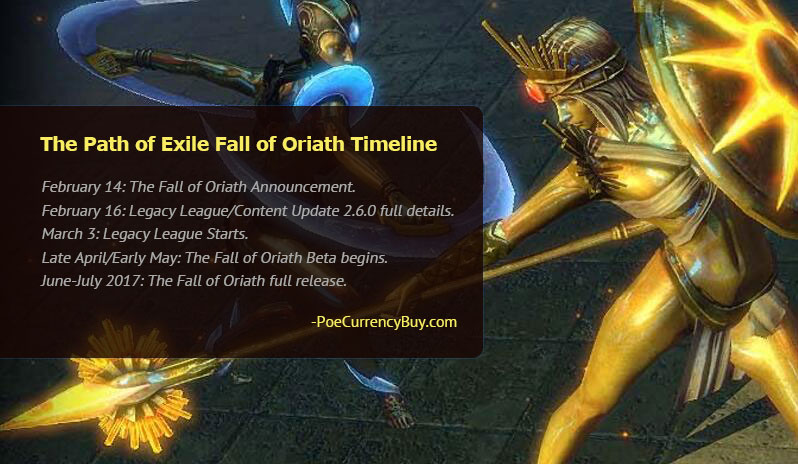 The Path of Exile Fall of Oriath Timeline
February 14: The Fall of Oriath Announcement.
February 16: Legacy League/Content Update 2.6.0 full details.
March 3: Legacy League Starts.
Late April/Early May: The Fall of Oriath Beta begins.
June-July 2017: The Fall of Oriath full release.
Fall of Oriath Skills, Items and Improvements
The Fall of Oriath is our largest content expansion ever. It includes new skill gems, unique items and much more!
Claim the Power of the Gods
The Pantheon system allows you to turn the tables on the gods, wield a fraction of their immense power, and prove once and for all that nothing is immortal. Pantheon powers grant you defensive bonuses and can be swapped in town with no cost, allowing you to tailor your choices to the challenge you're facing.
Act 1: Return to Oriath
Fate rests on your shoulders as you make your final stand.
Act 2: Reunion
The rotting Beast beneath Mount Veruso holds the key to salvation. But beings both mortal and divine seek to keep you from obtaining it.
Act 3: Eclipse
In the centre of Sarn's great bridge, Solaris and Lunaris fight for control of the skies. Meanwhile, beneath the earth, something foul is poisoning the water.
Act 4: Lord and Legion
Ancient Vaal ruins have risen from the depths. Amidst the chaos, the bandit tribes have united under one banner and have stormed the Forest Encampment. Reclaim the homes of your allies and discover the secrets that lay beneath the ruins.
Act 5: The Rising Tide
The Brine King, god of the seas, is expanding his domain. Every border is being redrawn. Come to the aid of familiar allies before his relentless tides wash away all hope.
Act 6: The Fall of Oriath
Atop the frozen peaks of Mount Veruso lies a way to return home, but the death of Dominus has left Oriath in turmoil. Caught amidst the slaves revolting against their Templar oppressors, you are all that stands between the innocent lives trapped in Oriath and the divine wrath of High Templar Avarius.
Part 2: The Gods are Rising
Your triumph over the Beast has had unforeseen consequences. The dormant gods of Wraeclast, once suppressed by the Beast, have regained their divine powers. In Part Two, a set of five new Acts, you will weave through both new and recognisable locations throughout Wraeclast, witness the results of your past deeds, and even confront the gods themselves.
Lastest POE Builds, News and Guides