3.4 NEW LEAGUE :THE DELVE
PoeCurrencyBuy
Date: Aug/27/18 08:03:00
Views: 3668
GGG will star the new league "DELVE" on september. Now let's learn more about what the new league brings to us.
In Path of Exile: Delve, you will delve into the Azurite Mine's infinite depths to extract treasure and discover its subterranean secrets.
Delve league latest expansion features an infinite dungeon and socketable currency items, as well as a bunch of new unique items, skill gems, balance changes, graphics engine improvements and more!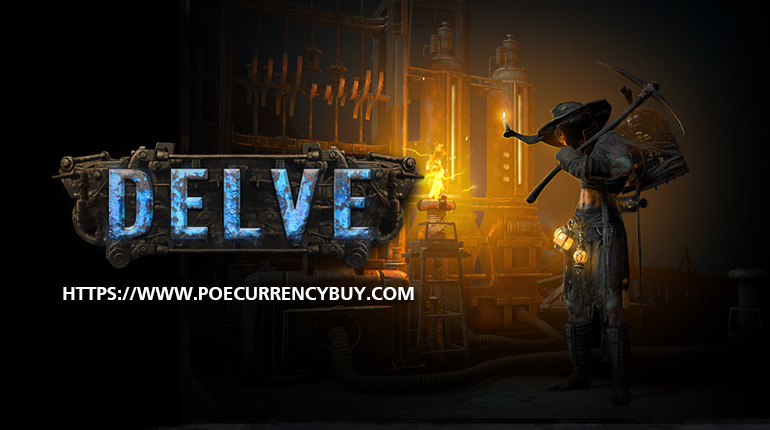 ---
THE AZURITE MINE
Left untouched for over 250 years, the Azurite Mine has been consumed by a malevolent darkness that cast out the Eternal Empire. Niko, an inventor, has harnessed the power of Voltaxic Sulphite to create a machine called the Crawler that can pierce the darkness. Delve into the mine but don't leave the Crawler's light for long or you'll be crushed by the darkness
ps:The Crawler will speed up if you get ahead of it.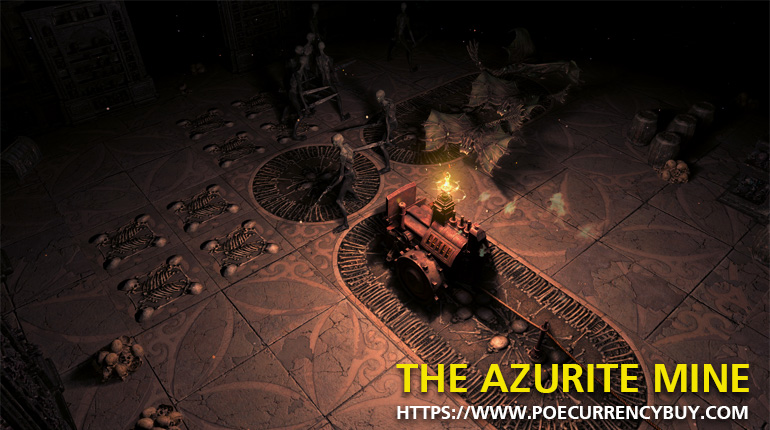 ---
EXPLORE THE DARKNESS
The Azurite Mine is full of treasures for those brave enough to risk the darkness for short periods of time. Use flares to venture farther away from the Crawler's path, and dynamite to destroy unstable walls which conceal even greater rewards.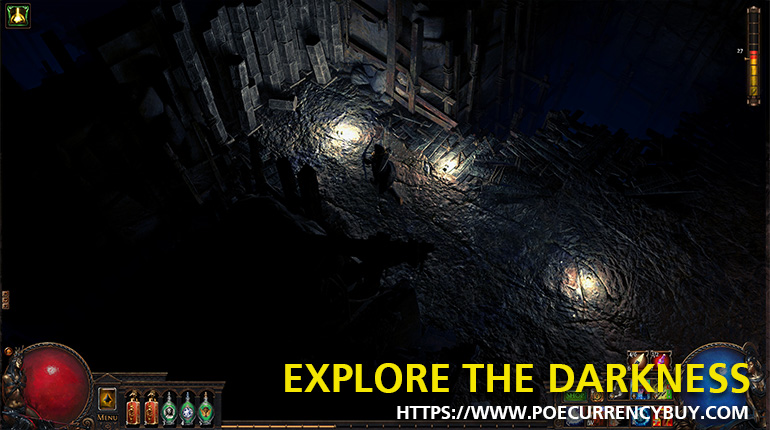 ---
AZURITE UPGRADES
Any Azurite you find in the mine can be traded to Niko at his base camp. In return, he offers to upgrade the Crawler and can sell you flares, dynamite and crafting materials to aid your exploration.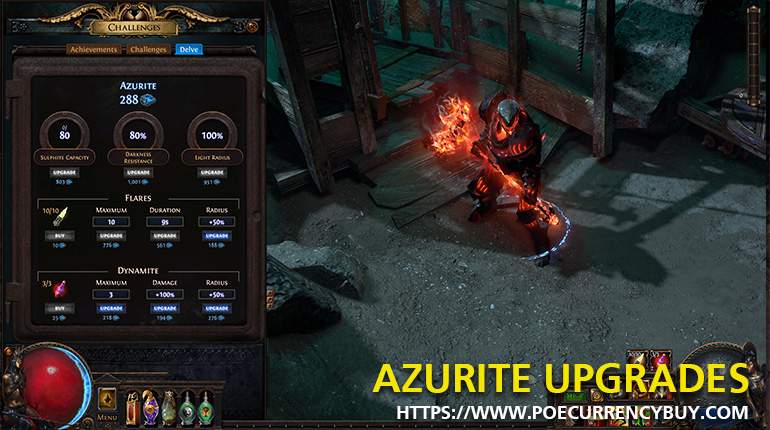 ---
DEEP CIVILISATIONS
Deep in the Azurite Mine, you'll discover many different biomes. As you delve even deeper, you may encounter lost cities from Wraeclast's dark history. Each environment has its own monsters, bosses, encounters, and rewards.

---
SOCKETABLE CURRENCY ITEMS
The ancient civilizations created special crafting items that can be socketed with fossils to modify their behavior.
---
THE INFINITE DEPTHS
The Azurite Mine is Path of Exile's first infinite dungeon. The deeper you delve, the harder the game gets. In Delve, you'll find encounters that are much harder than end-game Maps. Your progress is only limited by the power of your character build. The Depth Ladder tracks who has delved the deepest into the mine.
---
NEW AND REVAMPED SKILLS
Path of Exile: Delve includes ten powerful new or completely reworked skills, centered around two character archetypes: the Guardian and the Pathfinder. Play as a holy warrior who strikes down foes with lightning damage while benefiting teammates and minions, or as a chaotic archer who uses nature- and poison-based skills to pin and suffocate enemies.
---
POWERFUL NEW ITEMS
A Path of Exile expansion is not complete without powerful new items to discover! Delve includes 7 new Divination Cards and 18 new Unique Items which have a focus on creating powerful new build opportunities.
Cerberus Limb Blood Sceptre
One-Handed Mace
Quality: +20%
Physical Damage: 36–66
Critical Strike Chance: 6.00%
Attacks per Second: 1.40
Weapon Range: 9
Requires Level 47, 81 Str, 81 Int
24% increased Elemental Damage
99% increased Spell Damage
19% increased Cast Speed
0.5% of Spell Damage Leeched as Life if Equipped Shield has at least 30% Chance to Block
+1 to Maximum Energy Shield per 5 Armour on Equipped Shield
+5 to Armour per 5 Evasion Rating on Equipped Shield
+20 to Evasion Rating per 5 Maximum Energy Shield on Equipped Shield
Command of the Pit
Quality: +20%
Armour: 80
Energy Shield: 15
Requires Level 37, 29 Str, 29 Int
Has 2 Abyssal Sockets
6% increased Cast Speed
6% increased maximum Life
With a Ghastly Eye Jewel Socketed, Minions have +1000 to Accuracy Rating
With a Hypnotic Eye Jewel Socketed, gain Arcane Surge on Hit with Spells
Riveted Gloves
Quality: +20%
Armour: 80
Energy Shield: 15
Requires Level 37, 29 Str, 29 Int
Has 2 Abyssal Sockets
6% increased Cast Speed
6% increased maximum Life
With a Ghastly Eye Jewel Socketed, Minions have +1000 to Accuracy Rating
With a Hypnotic Eye Jewel Socketed, gain Arcane Surge on Hit with Spells
Crown of the Tyrant
Magistrate Crown
Quality: +20%
Armour: 192
Energy Shield: 37
Requires Level 58, 64 Str, 64 Int
Has 1 Socket
+95 to maximum Life
Nearby enemies have -10% to all Resistances
You and Nearby Allies have 64 to 96 added Fire Damage per Red Socket
You and Nearby Allies have 56 to 88 added Cold Damage per Green Socket
You and Nearby Allies have 16 to 144 added Lightning Damage per Blue Socket
You and Nearby Allies have 47 to 61 added Chaos Damage per White Socket
Demon Stitcher
Satin Gloves
Quality: +20%
Energy Shield: 32
Requires Level 41, 60 Int
15% increased Cast Speed
+66 to maximum Energy Shield
+62 to maximum Life
Sacrifice 5% of maximum Life to gain that much Energy Shield when you Cast a Spell
Doryani's Delusion
Quality: +20%
Armour: 289
Requires Level 68, 120 Str
Grants Level 25 Purity of Fire Skill
Adds 26 to 45 Fire Damage to Spells and Attacks
112% increased Armour
+63 to maximum Life
30% increased Movement Speed
Doryani's Machinarium
Maze Map
Map Level: 72
Map Tier: 5
38% increased Experience gain
Monster Level: 80
Found Items have a 10% chance to drop Corrupted in Area
Unique Boss is augmented by Player choices
Mark of Submission
Unset Ring
Requires Level 24
Has 1 Socket
Curse Enemies with Socketed Curse Gem on Hit
Soulwrest Ezoyt
Staff
Quality: +20%
Physical Damage: 55.2–165.6
Critical Strike Chance: 6.40%
Attacks per Second: 1.20
Weapon Range: 11
Requires Level 62, 113 Str, 113 Int
+18% Chance to Block Attack Damage while wielding a Staff
Trigger Level 20 Summon Phantasm Skill when you consume a Corpse
140% increased Spell Damage
26% increased Cast Speed
96% increased Mana Regeneration Rate
Minions deal 45 to 66 additional Physical Damage
If you Consumed a Corpse Recently, you and nearby Allies regenerate 5% of Life per second
The Grey Spire
Staff
Quality: +20%
Physical Damage: 73.2–135.6
Critical Strike Chance: 6.10%
Attacks per Second: 1.25
Weapon Range: 11
Requires Level 68, 113 Str, 113 Int
+18% Chance to Block Attack Damage while wielding a Staff
Has no Sockets
297% increased Global Damage
29% increased Attack Speed
+4% to all maximum Resistances
The Primordial Chain
Coral Amulet
Requires Level 34
(2-4) Life Regenerated per second
Can Summon up to 3 additional Golems at a time
You cannot have non-Golem Minions
25% reduced Golem Size
Golems Deal 40% less Damage
Golems have 35% less Life
Golems have 83% increased Movement Speed
Primordial
---
THE TIMEWORN RELIQUARY
In your travels across Wraeclast, you may very rarely discover a Timeworn Reliquary Key. This key will open a portal to the Timeworn Reliquary which contains one of 150 Unique Relics from past Path of Exile leagues
Lastest POE Builds, News and Guides