Path Of Exile 3.10 Delirium Revealed Details
PoeCurrencyBuy
Date: Feb/26/20 02:19:50
Views: 3610
The official forum of the Path of Exile has released the latest information for the next expansion, which will be the first expansion of the PoE in 2020 - Path of Exile Delirium. With Delirium,Path of Exile is sending players off the grid to carve out a brand new section of its passive skill screen. You just have to slay a few thousand weird new monsters along the way.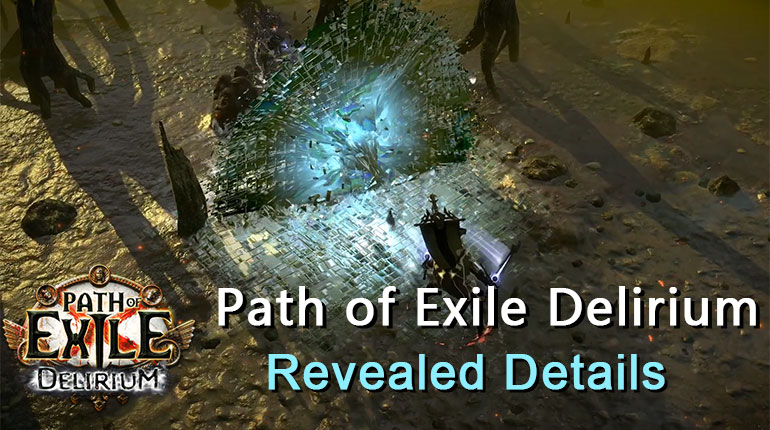 Mirror and Mist
The new Delirium content gives each area an item called the Mirror of Delirium. Players will see a ghostly reflection of their character in the Mirror and touching it causes the player character to enter a special Delirium state. In this state, the area becomes covered in mist and any existing monsters gain new abilities, while other new monsters will also spawn, acting as a manifestation of the player character's fears. The further players move into the mist, the more monsters will appear and the more extra abilities they have, making it more challenging.


Delirium Endgame
You can find Orbs of Delirium which can be applied to maps to uniformly apply Delirium to that map. Each additional Orb increases the density, dramatically increasing its difficulty and how rewarding it is. Each Orb of Delirium has a reward theme, and sets the Delirium reward type for that map.
For example, you can apply several orbs to a single map, thus drastically increasing its difficulty. This means that it could drop currency and unique items as additional Delirium rewards.

However, the rewards go deeper than that. Any maps affected by these orbs will drop Simulacrum Splinters. 100 of these splinters combine to create the Simulacrum, an item that enabled access to a special new end-game challenge.

Passives
One of the most exciting new item types being added in the Delirium league are cluster jewels. These items can be placed onto the passive skill tree to add even more passive skill slots, allowing even further player build customization. There are small, medium, and large cluster jewels, all which have a different number of passive slots. Some cluster jewels will even contain build-defining abilities. GGG showed one cluster jewel which contained a keystone passive called Hollow Palm Technique, which allowed for an unarmed monk-style build. GGG describes the addition of cluster jewels as the biggest change to player build customization since 2016's introduction of Ascendancy classes, so it should be exciting to see what players come up with as they put their own, custom spin on tried-and-true character builds.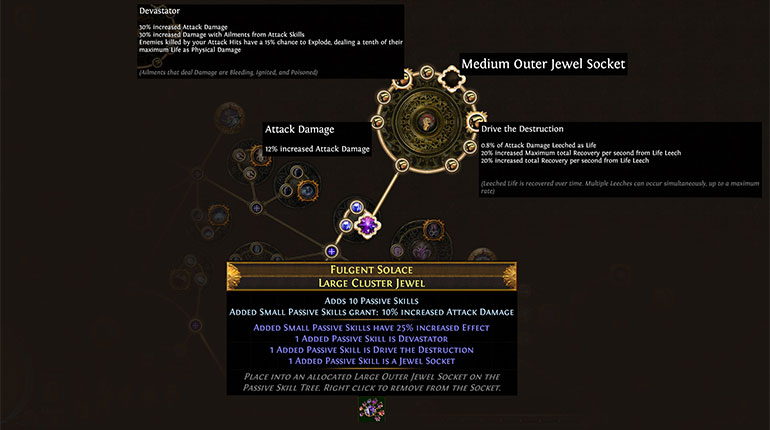 Conquerors of the Atlas
In other content news, Grinding Gear Games has released improvements to the latest Conquerors of the Atlas expansion and is working on further enhancements. Improvements include adjustments to difficulty, rewards, and spawning rate, as well as some updates to the UI. Other content receiving tweaks and improvements are the Vaal Side Areas that spawn in end-game maps and the Temple of Atzoatl from the Incursion expansion.

New Skills and Items
PoE Delirium added some new skills and unique items to the game. While recent expansions have focused on aiding specific archetypes with the new skills, these ones are designed to be more readily used across different styles. Four skills will be added, with two of them shown. Blade Blast uses a general change to the blade skills that now sees blades left behind once used. It causes any blades left behind to explode and can be combined with other skills to determine when and how they explode. Kinetic Bolt is a new wand skill that creates a forking bolt with a good area of effect, and is designed to be useful at low levels and work well with support gems to make it viable in the end-game.

Path of Exile 2
We know that many players are looking forward to the arrival of PoE2. The official revealed that PoE2 is under stable development, and the Delirium and the subsequent expansion will gradually lead players to transition to PoE2.
Path of Exile: Delirium goes live on PC March 13 – a Friday, of course – and on PlayStation 4 and Xbox One the week of March 16.
Lastest POE Builds, News and Guides