Poe 3.0 Shadow Build | Baldersh's Chin Sol Trapnel Shot
PoeCurrencyBuy
Date: Sep/14/17 03:33:21
Views: 3347
Poe 3.0 Shadow Build | Baldersh's Chin Sol Trapnel Shot was made to farm Uber Lab/Atziri/Highish maps early into the league on a really tight budget to maximize poe currency gain. this build currently at 11.5 exalts which is way more than bd've ever had this early and more than I know what to do with.this bd've cleared three different types of uber labs with full keys including charge disruptors with no problems at all. bd've also gotten into early red maps now with the same budget, but it's starting to get kinda sketchy without upgrades.This Build use a neat mechanic with Tinkerskin to open up a flask slot and also solve mana problems entirely. Grab Eldritch Battery on the skill tree and you can then reserve 100% of your mana and remove your mana flask. Tinkerskin will single-handedly solve your mana problems as it costs 30-50 ES to throw a set of traps, and if a trap goes off, you get 50 ES back.
It does the damage. Path of Building clocks the 10c version at 100k dps per trap buffed (with standard boss resists). You throw 12 traps. That's 1,200,000 damage. It does the damage.
Blast Rain augments your aoe clear and makes certain you're never running around aimlessly wondering if that girl was giving you a signal when she said you should come over for some coffee. It does about half the damage of Shrapnel Shot. That's still a lot. Like 600k a lot.
When you pour currency into it, grab a six link, signal fire, elemental damage on jewelry, and accuracy, you will double your damage.
That's 2,400,000 per 12 traps with standard boss resists with Shrapnel Shot, 1,200,000 with blast rain.
You have very high hp if you compare your hp to most people at level 50. You CAN change this and increase it by getting rid of some damage nodes and grabbing life nodes instead. I don't though, because I don't afraid of anything.
If you're planning on doing T13-16 maps, I would grab some extra health nodes and upgrade your gear. That'll bring your HP to around 5000 at level 89. Which is fine, because you are a trapper. You aren't facetanking. I mean you can if you want to, but I advise against it.
You use acrobatics for dodge, and have around 30% evade chance too. We also use Arctic Armour because it is wonderful.
The best defense you have is that you are constantly moving since you're a trapper. It works very nicely. Also everything dies too fast to hurt you.
3.Skill Tree/Ascendancy/Leveling/Bandits
Skill Tree

My tree right now (85):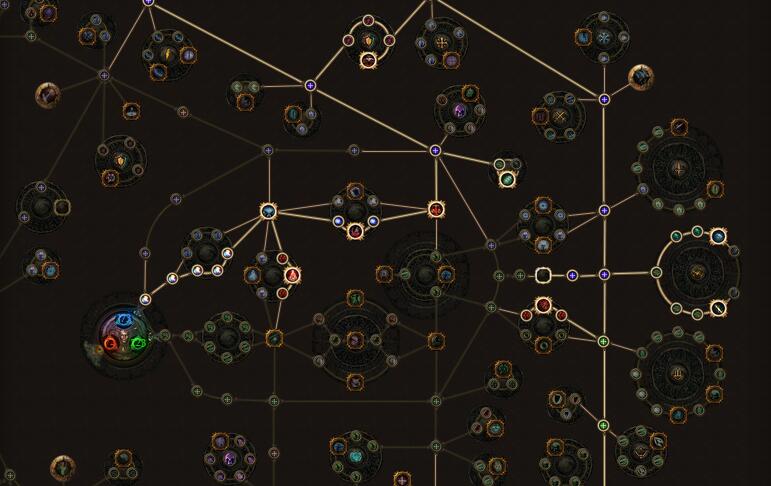 Bandit: Alira
Reasoning: Crit Multi OP. Also helps to get resists which are tough when you use this many uniques.

Leveling: I leveled using Fire trap/Ice Trap. Grab all the trap nodes first, and as you get near to level 62, get the bow nodes.[/bold]

Ascendancy
Saboteur. Ok moving on.
Other than the uniques in the list below, grab as much life/resists/accuracy/elemental damage to attacks as possible. Also upgrade to The Signal Fire when you can/if you want more damage. And use two Collateral Damage Jewels. That is all.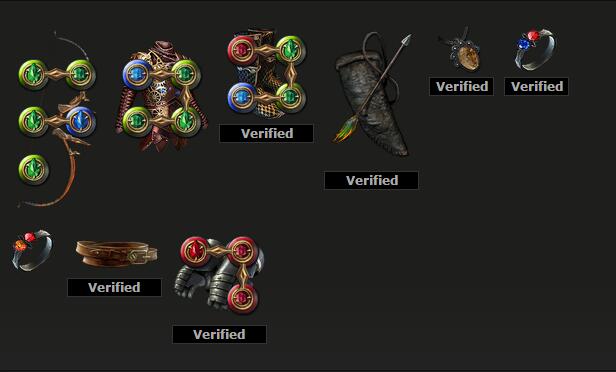 In order of importance
Main Damage: Shrapnel Shot - Trap(if not using Deerstalkers anymore) - Cluster Traps - Increased Critical Strikes - Elemental Damage with Attacks - Added Lightning Damage
Secondary Damage: Blast Rain - Same shit as above.
Defensive: Immortal Call - Cast When Damage Taken - Increased Duration
Movement: Blink Arrow - Faster Attacks
Auras: Herald of Ice/Wrath(or Grace)/Arctic Armour
Other: Vaal Lightning Trap, Vaal Grace, Assassin's Mark, Summon Ice Golem
Lastest POE Builds, News and Guides