POE 3.4 Delve Farming Game And Ending -- Arc With Spell Totem Support
PoeCurrencyBuy
Date: Aug/28/18 09:01:06
Views: 2829
Strengthened by the 3.3 league, the ARC is a very good skill. We will choose the BUILD called "Arc+Spell Totem Support" for land reclamation in POE 3.4 Delve league.
The advantage of this is that, during the game story, we can make good damage without strong equipment and there will be no obvious shortcomings.
Later process, until the brush map, only needs some ordinary game equipment to meet the needs of this build. Besides, we can adjust the equipment and talents, the late stage of ending game will be also a very easy thing. Below we'd like to introduce the contents of this bd from the beginning, including: the choice of practicing skills in the previous period, using what equipment to transit, how to choose the sublimating talent and the talent trends of each stage.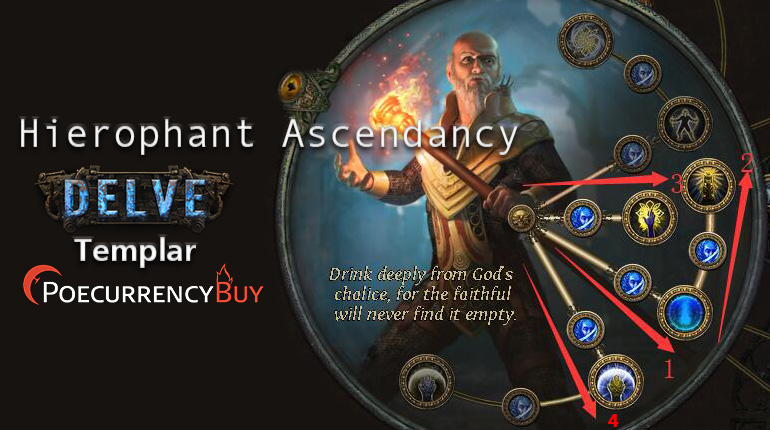 Level 1-11 Skill Gems and Skill Tree
Level 1-8: Freezing Pulse - Arcane Surge Support(3 link add Onslaught Support)
Level 8-11: Freezing Pulse - Arcane Surge Support - Added Lightning Damage Support
PASSIVE-SKILL-TREE: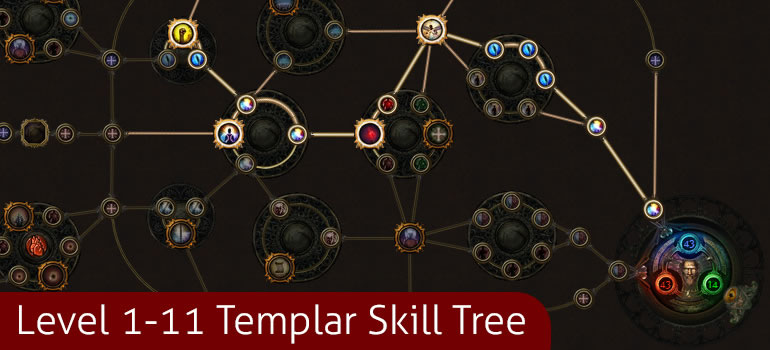 ---
Level 12-29 Skill Gems and Skill Tree
Level 12-18: Arc - Arcane Surge Support - Added Lightning Damage Support
More than level 18: Arc - Spell Totem Support - Controlled Destruction Support - Faster Casting Support or Added Lightning Damage Support
Halo effect: Herald of Ice + Herald of Thunder
Trigger "Elemental Overload": Orb of Storms - Increased Critical Strikes Support
PASSIVE-SKILL-TREE: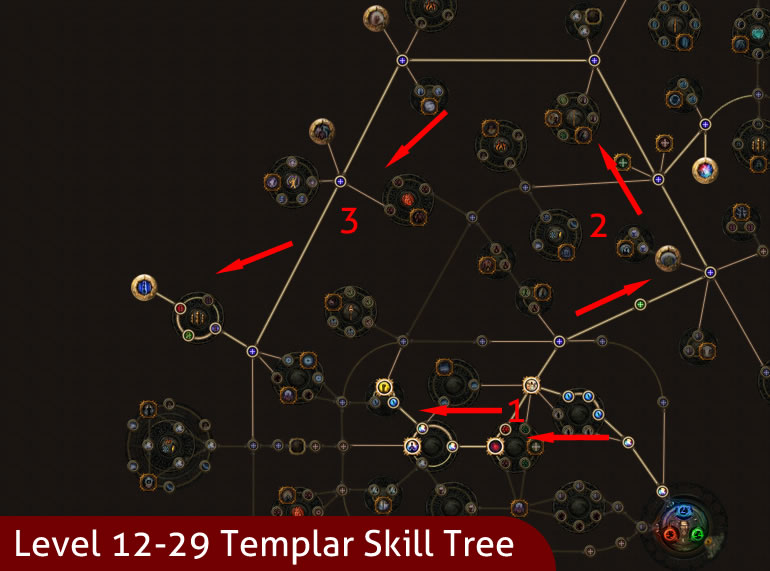 ---
Level 30-45 Skill Gems and Skill Tree
Point out"Mind over matter" in the passive skill tree
then turn off Herald of Ice+Herald of Thunder or keep Herald of Thunder
PASSIVE-SKILL-TREE: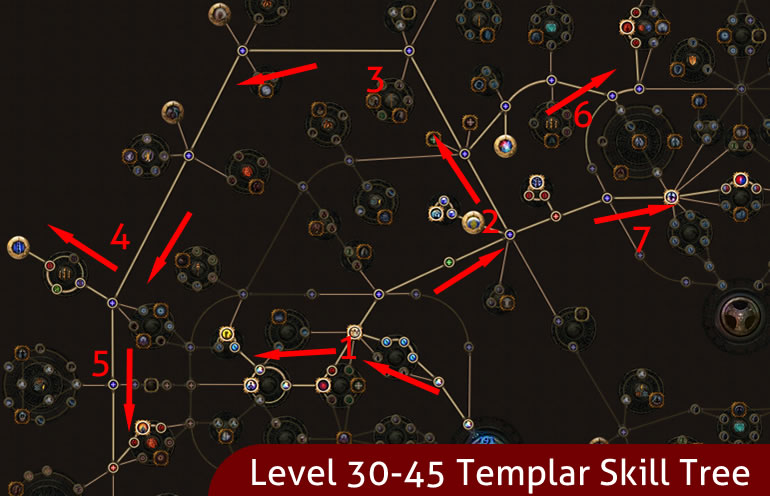 ---
Suggest get a "Tabula Rasa Simple Robe" for farming
Arc - Spell Totem Support - Faster Casting Suppor - Added Lightning Damage Support - Controlled Destruction Support - Lightning Penetration Support
Shield Charge - Faster Attacks Support - Fortify Support
Orb of Storms - Curse On Hit Support - Conductivity - Arcane Surge Support
Cast when Damage Taken Support - Immortal Call - Vulnerability - Increased Duration Support
Vaal Grace
Flame Dash-Faster Casting Support - Portal
Tabula Rasa Simple Robe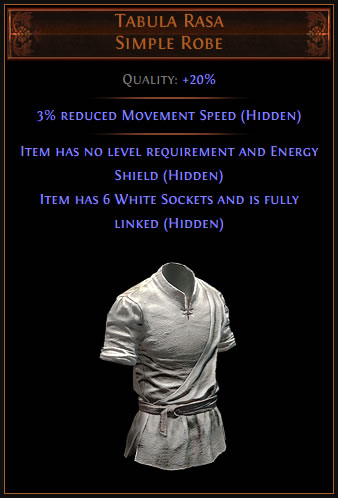 You can buy Tabula Rasa Simple Robe on POECurrencyBuy.com
PASSIVE-SKILL-TREE: https://www.pathofexile.com/fullscreen-passive-skill-tree/3.3.2/AAAABAUCAQQHBLMI9AmqDkgRLRGWFr8aOB0UHwImlScvKhMsnC0fMtE2xTpYRUdJT0yzVEdVS1XGVkhY5VnzWitd8l5dYeJmnmpDcg98g3_GgpuD24Uyi4yMNo9GkFWVIJctmjuexKIAoqOj8qa-pwinlLyqvOrAZsCawfPR_dWm2CTZ_OFz6-7tPPnd-tI=
---
Level 100 Equipment and Skill Tree
Equipment:
WEAPON: Farm map can use Brightbeak, or Sceptre, Dagger, need SpellDamage, CriticalStrikeChanceIncrease, IncreasedCastSpeed, LightningDamage.
SHIELD: need IncreasedLife, CriticalStrikeChanceIncrease, IncreasedCastSpeed, SpellDamag
BODY ARMOUR: IncreasedLife, Resist, mana or Loreweave, Cloak of Defiance
HELMET, GLOVES: IncreasedLife, Resist, mana
BOOTS: MovementVelocity, IncreasedLife, Resist
AMULET: SpellDamage, ncreasedCastSpeed, CriticalStrikeChanceIncrease, CriticalStrikeMultiplier, IncreasedLife
RING: Essence Worm or hight life, hight mana
BELT: IncreasedLife, Resist.
FLASK: The Wise Oak, Diamond Flask, Basalt Flask, Quicksilver Flask, Eternal Life Flask.
JEWEL: nedd life, SpellDamage, IncreasedCastSpeed, CriticalStrikeMultiplier, TotemDamage
PASSIVE-SKILL-TREE:
https://www.pathofexile.com/fullscreen-passive-skill-tree/3.3.2/AAAABAUCAQQHBLMFQgceCPQJqgthDkgOXA_EES0RlhZvFr8aOBzcHRQdgx8CJpUnLyoTLJwtHzBbMtE1kjbFOlg64Tt8PC1BlkVHRX5G10lPSVFMs03jVEdVS1XGVkhXKVjlWfNaK1vTXfJeXWHiZlRmnmjyakNxhXIPfIN_xoKbg1-DzIPbhTKLjIw2jmSPGo9Gj_qQVZRvlSCVLpctmjuexKIAoqOj8qZXpr6nCKeUrJeus69stvq3PrjKuZO8qrzqvV3AZsCawfPDCcau0B_Q9dH91abYJNi92fzfoOFz42rr7uv17Tzv6_Af8NXyHfJF96b53frS_gr-jw==
---
Ending Game Skill Gems, Equipment and Skill Tree
SKILL:
Arc - Spell Totem Support - Lightning Penetration Support - Controlled Destruction Support - Added Lightning Damage Support - Elemental Focus Support(it is hard to make higher boss feel electricity,so use Elemental Focus Support)
Searing Bond Clarity Flame Dash
Wrath(Essence Worm)
Lightning Warp - Faster Casting Suppor - Less Duration Support - Swift Affliction Support
Cast when Damage Taken Support-Immortal Call - Vaal Haste-increased Duration Support
Summon Lightning Golem - Minion Life Support - Minion and Totem Elemental Resistance Support
Conductivity - Arcane Surge Support - increased Duration Support - Spell Cascade Support
Equipment:
WEAPON:

Shimmeron*2

BODY ARMOUR: IncreasedLife, Resist, mana
HELMET, GLOVES: IncreasedLife, Resist, mana
BOOTS: MovementVelocity, IncreasedLife, Resist
AMULET: SpellDamage, ncreasedCastSpeed, CriticalStrikeChanceIncrease, CriticalStrikeMultiplier, IncreasedLife
RING: Essence Worm

or

hight life, hight mana
BELT: IncreasedLife, Resist...
FLASK: The Wise Oak, Diamond Flask, Basalt Flask, Quicksilver Flask, Eternal Life Flask.
JEWEL: nedd life, SpellDamage, IncreasedCastSpeed, CriticalStrikeMultiplier, TotemDamage
PASSIVE-SKILL-TREE:
https://www.pathofexile.com/fullscreen-passive-skill-tree/3.3.2/AAAABAUCAQQHBLMFQgj0CaoLYQ5ID8QQzBEtEZYWQBa_HNwdgx8CIG4i9CaVJy8pTyoLK7YsnDBbMtE2xTpYOtg7fDwtQZZFR0WdSU9Ms06uUDBTUlVLVcZXlFjlWitd8l5dXyph4mZUZp5o8mpDa7dsC20ZcFJ8g33Sf8aCm4Nfg8yD24PzhTKFe4V9idOLjIw2jEaPGpBVkyeXLZo7muChL6IAoqOj8qeUrJeuEq6zr2yxNrc-uMq8qrzqvorAZsCawxPGrtAf0PXR_dWm2L3Z_Nte4XPr5Ovu7Djv6_Af8kX4k_nd_go=
Lastest POE Builds, News and Guides