POE 3.4 Duelist Gladiator Ice Crash Build - High DPS and EndGame Viable
PoeCurrencyBuy
Date: Sep/10/18 09:11:45
Views: 3896
"Raise your hand to the roaring crowd and pledge your allegiance to glory"
The Gladiator takes the hybrid nature of the Duelist a step further, with a combination of speed, power, and protection. This Ice Crash Build can do any boss in any map. Ice Crash attacks an area, converting some of your physical damage to cold damage. The damage is weaker further away from you. Ice Crash requires a sword, mace, axe or a staff, but can also be used while unarmed. More importantly, use this build can get hight DPS and endgame viable!

Pros & Cons
+ Can be viable really fast with cheap items
+ 75% block & Spell block with Rumi's concotion while in fight (50/50 in hideout)
+ High regen (Mainly 830+ HP / sec, up to 1100+ with glove lab enchant)
+ High physical mitigation (4% from node "Soul of Steel" + Arctic armor + 5/6 Enduring charges + 10% reduced from "Outmatch and outlast" in Ascendancy + Pantheon nodes while stationary)
+ Can facetank almost everything
+ Can do almost every map mod (Except elemental reflects)
+ Can AFK in maps without problems
+ Can apply a 20% shock on a block for 4 seconds, works on bosses !
- Clear speed is not really good compared to fast builds, but it's okay
- Can't do elemental reflects
- Abyssus (negative effect countered well with all the physical mitigation + block)
Skill Tree
Ascendary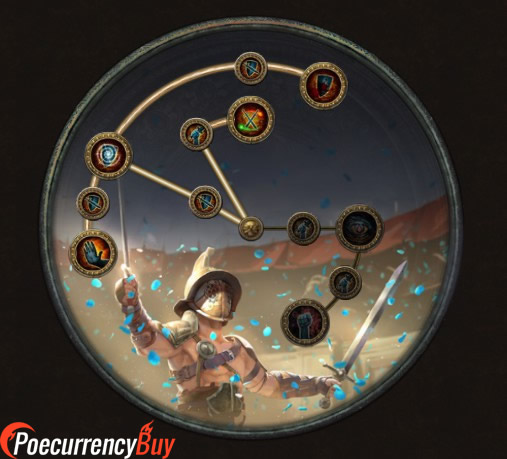 Painforged > Versatile Combatant > Outmatch and Outlast > Violent retaliation
Passive tree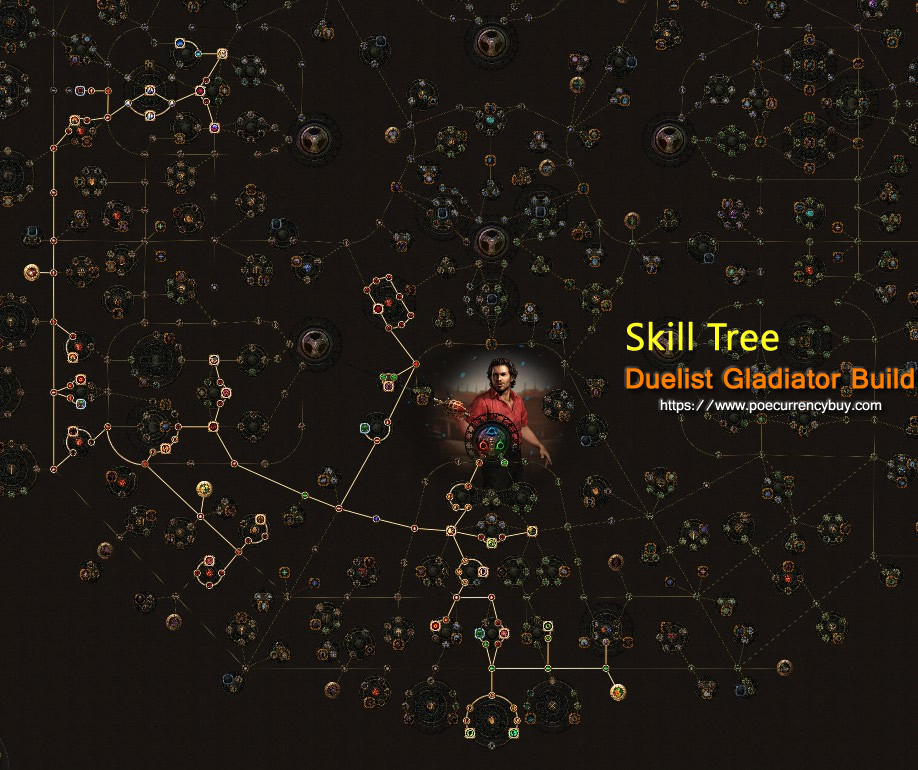 - While leveling, get these nodes as fast as you can, in this order : Vitality Void > Iron Reflexes > Unwavering Stance > Resolute Technique. The rest is up to you, go for more DPS or more life depending on what you need the most.
Gems Setup
Weapon:
Block chances reduction
Blood Magic
Enfeeble
Shields:
Arctic Armor
Herald of Purity
Hatred
Helmets:
Shield charge
Fortify
Blood magic
Faster attacks
Gloves:
Cast when damage taken
Summon stone golem
Summon Holy Relic
Blood rage
Chest:
- Switch Elemental damage with attacks with Blood Magic for No leech maps
Ice crash
Melee physical damage
Elemental damage with attacks
Concentrated effect
Elemental focus
Cold penetration
Boots:
- Remove Reckoning on Physical reflects maps
Reckoning
Melee physical damaghe
Enduring Cry
Consecrated Path
Gear
Overview: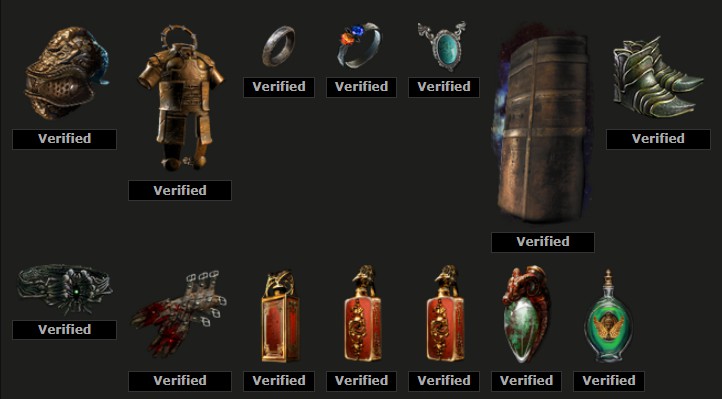 Info:
Your main stat for DPS will be the flat physical damage on rings & amulet
Considering you always have 5/6 endurance charges, you only need 85/89% resistances to reach the overcap
The Word of Light enchant on the facebreakers is really important, since it gives 6% life regen when you take a critical. You can farm it in normal lab, since the regen value is the same for every lab level
The 2% regen when hit enchant on boots is important. Uber lab only since the value decreases on lower lab versions.
The +1 Endurance Charge Meginord's Girdle is important, but a good stygian vise can be used for more dps and life
Feel free to use your own flasks setup
Jewels
Stat priorities :
% Max Life
% Chaos resistance
% attack speed
% damage
% elemental resistance to reach the overcap
Expectations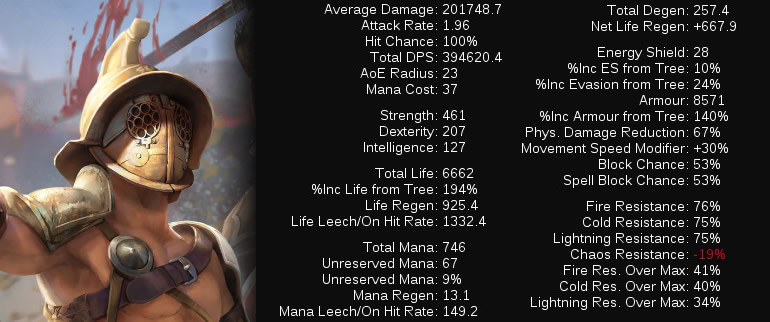 Boss Fights
This build can do any boss in any map, here is some main bosses :
- Normal atziri : Facetank, don't even move out of the AOEs. Remove your Reckoning, or you could OS yourself on the Reflect Atziri when she splits
- Normal atziri trio : Use rumi, facetank and remove bleed stacks if any
- Uber atziri : Split phase is a bit hard, the repeated spears can kill us on a bad combo (3 hits non blocked for example). Remove your Reckoning, or you could OS yourself on the Reflect Atziri when she splits
- Uber atziri trio : Kill the titty girl first, be careful with her projectile rain. When she is dead, facetank the other two
- Shaper : Always stick on sides of the arena, never on the center. Shield charge into the volatile vortexs to stack them, and everything should be okay
- Guardians : Nothing special, facetank them, just avoid Hydra's loaded bow shoot and phoenix one shot AOE
- Uber Izaro : Facetank him, even his slams

On all these bosses, be sure to maintain 6 endurance charges + Fortify ALL THE TIME.
Lastest POE Builds, News and Guides