POE 3.4 Duelist Slayer Earthquake Build - Easy and Cheap Leaguestarter
PoeCurrencyBuy
Date: Sep/18/18 03:00:48
Views: 3528
"No judge. No jury. Just the executioner"

The Slayer class focuses on raw power and maintaining sustainability as they fight. They possess bonuses to life leech and stun and passives such as Bane of Legends gives them an edge against tougher monsters.
Earthquake is a good-looking, powerful and exciting Skill to play. It deals high damage, which one shots trash and even tougher enemies with ease. And Slayer has amazingly great offense capabilities which synergies very well with Earthquake.
Slayer is just faster, deals much more damage and is also very safe for a 2Hand Melee Build. It's the better choice for this Build

Pros & Cons
Pros
+ Satisfying play style
+ Easy Leaguestarter
+ Cheap to start off
+ Great Uberlab farmer
+ Somewhat fast Mapping
+ Can do most Mapmods
+ Likes to kill hard Bosses
+ Fast leech and good Life pool
+ You won't feel any degen whatsoever
Cons
- No leech Maps can kill you easily
- Can be quite Expensive at the Top end(like almost every Build).
Skill Tree
Ascendancy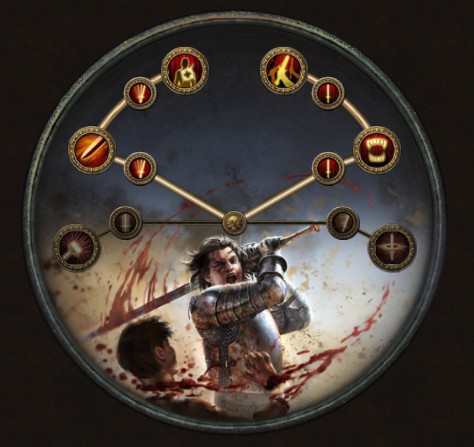 Bandits
Just kill all. Two points are worth more, than any of the buffs they give you.
The Pantheon
Major God: Soul of Arakaali
Try to upgrade this Pantheon as fast as possible to take advantage of the "50% increased recovery Rate of Life, if you've stopped taking Damage over time recently".
This is why our Bloodrage-CwDT-Immortal Call-Increased Duration Setup is so important.
Minor God: Sould of Gruthkul or Soul of Tukohama.
Passive Tree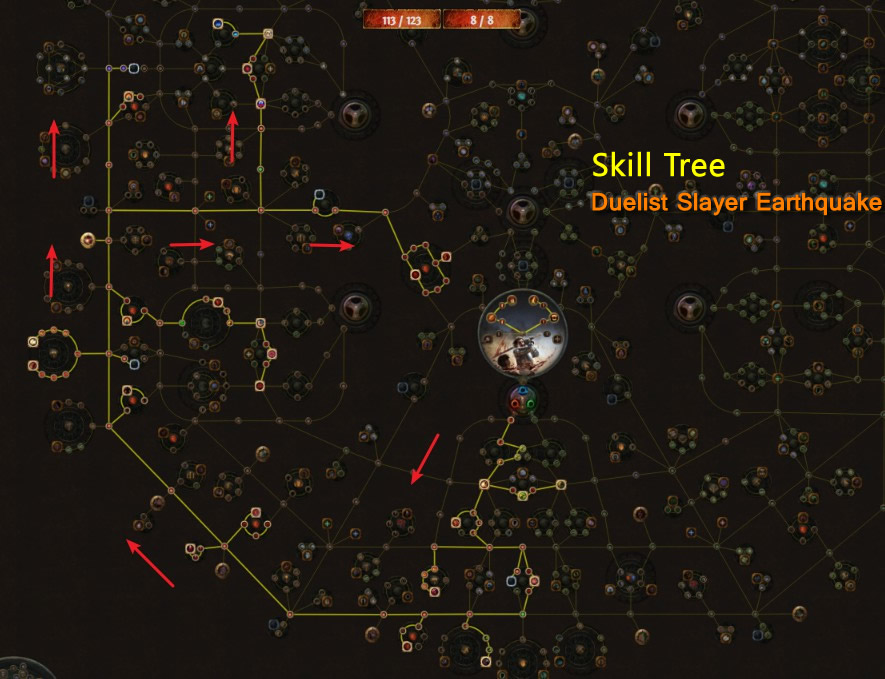 Gem Setup
The links are sorted in descending order of importance and the colour of the Text implies the colour of the Gem.
Earthquake Setup
Colors: R+R+R+R+R+B
Gems: Earthquake - Less Duration - Melee Physical Damage - Ruthless/Maim - Damage on full Life - Increased Area of Effect/Concentrated Effect
Note: Use Ruthless if you have Maim in your Totem Setup to get more singletarget damage and great "Crits".
Vaal Warchief Totem Setup/Vaal Double Strike
Colors: R+R+R+B+R+R
Gems: Vaal Ancestral Warchief Totem - Melee Physical Damage - Bloodlust - Concentrated Effect - Damage on full Life - Maim
Note: The Totem Setup is very important for the singletarget damage. It more than doubles your damage output.
A Vaal Double Strike setup would fit as well, but i prefer the totem, especially now, because it got a vaal version too. Note that the gemlinks are different.
Leap Slam Setup
Colors: R+G+R+R
Gems: Leap Slam - Faster Attacks - Blood Magic - Fortify
Aura Setup
Colors: G+R+G+B
Gems: Hatred - Herald of Ash - Arctic Armour - Enlighten LVL3 or 4
Note: You don't have to use Enlighten if you play with Hezmana's bloodlust.
You can play without Arctic Armour but i recommend it since u don't need much mana anyway.
Utility Setup
Colors: R+R+G+R
Gems: Cast when Damage Taken level 1 - Immortal Call level 3 - Blood Rage level 7 - Increased Duration
Note: You will use Blood Rage and Immortal call to take advantage of the 50% increased Life Recovery Buff from the Pantheon "Soul of Arakaali" and of course for frenzy charges and short Physical Damage immunity.
Gear
Weapon
Start with a Kaom's Primacy or Hezmana's Bloodlust. Later you swap to Disfavour. Try to get one with a good roll (600+pdps). Atziri's Disfavour is your Endgame Weapon, you won't find any better weapon except mirror tier rares.
Helmets
A Rare Armour Helmet is the Best Option here. You want as much Life as you can get and some Resists. Later you can get yourself the Helm Enchant. A great way to do this is to use Greed Essences for guarantied Life roll.
Armours
Belly of the Beast is BiS for this Build! However, you can start with a Rare 6l Armour with some Life and Resists. You don't want to use a Kaom's Heart, since we need links for our totem.
Gloves
Rare Gloves with Life and Resists work fine, however the vulnerability on Hit Corruption is icing on the cake. Tombfists are another Option for us to get the Intimidate Effect, but you will lose some sockets. In that case, use CwDT with Immortal Call in your Tombists, and put Blood Rage in an Unset Ring.
Belts
Lether belts and Stygian Vises are a nice Bases. Try to get as much Life as possible on your Belt (150+ is superb). Resists, Elemental Attack Damage and other Stats are a good option to have. Later you want an Elder rare belt with Increased Life Recovery Rate.
Boots
Again, Rare Boots with Life, Resists and maybe some Movement Speed should do the Job. The regen enchant is the best. The other option is increased Attack speed when you've killed recently. Kaom's Roots are unfortunately not an option as we need the Sockets.
Rings & Amulet
Ming's Heart is a cheap and very underrated Ring that gives us 60+ Chaos resistance and a big Damage boost, and only sacrefices 5% Life if its well rolled, which you can counter with a single life node on the tree. It should be easy to get one with under 7% reduced Life and 47+ Chaos resistance. The other Ring slot is free for a Rare Ring with Life, intelligent and the resists which you may be missing. Elemental Attack Damage, Added Physical Damage and other Stuff is of course a good addition to have.
Carnage Heart gives us all the Attributes we need and other very helpful Stats like Resists, some Leech, increased leech Rate and Damage. It will carry you all the way into late Endgame. Warped Timepiece is also a solid choice. It further reduces your Earthquake delay from ~0.30 to ~0.25 and also grants some leech, attack- and movementspeed and dex/int. Later you can replace them with a Rare Elder Amulet for more Life, Increased Maximum Life Leech Rate and Damage.
Jewels
There are two Unique Options for us: The Red Nightmare for easy Endurance Charge generation and some Block and Emperors Mastery for Increased Attributes, Life and most importantly a little Character Size increase, which is purely Cosmetic, but looks better the bigger we get. These are not necessary at all, but having them is a great way to improve your char. For your Rare Jewels you should use some similar to mine. You need one Jewel with some Mana Leech
Flasks
First you should use one or two Life flasks with Instant Heal and Freeze immunity, later you replace them. Nice Unique flasks are Lions Roar, Atziri's Promise, Taste of Hate and Sins Rebirth. You also want a Curse Remove/Freeze Utility Flask later. It adds QoL.
Expectations
Lastest POE Builds, News and Guides