POE 3.4 Marauder Juggernaut Blade Flurry Build - High Damage & Fast Mapper
PoeCurrencyBuy
Date: Sep/18/18 02:02:44
Views: 3675
"What divides the conqueror to the conquered? Perseverance."
The Juggernaut class revolves around defenses, providing physical damage reduction through armour and endurance charges, life regeneration, and protection against slows and stuns.
This build will work on a lower budget, you will still have good es, damage and immunities, but obviously the more you have the better. Fortunately the build is so strong that it will plow through the game even with 8-9k ES and lower damage, so you'll be able to farm up currency for gear improvements easily.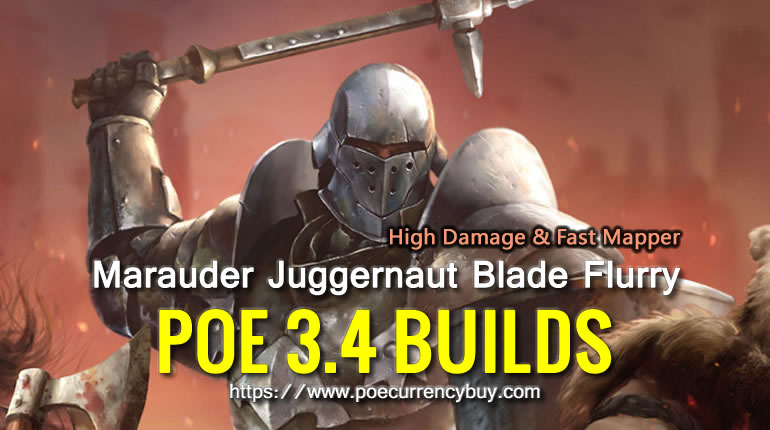 Pros & Cons
Pros
+ Basically indestructible with end game gear, just insanely tanky with budget version
+ Very good damage, up to 1.8m shaper dps (or way more, read below)
+ Flexibility, you can go for either more dps or more ES, also you can switch to molten strike easily
+ Immune to all major debuffs in the game (+ temp chains)
+ Mows through end game content like it's nothing, uber elder included
+ Very good uber lab farmer
+ Very fast mapper
+ You can start the build with 3-5ex and upgrade it gradually
Cons
- Can't do ele reflect maps (unless you take out all support gems, damage is still fine then)
- Very expensive to reach crazy numbers
Skill Tree
Ascendancy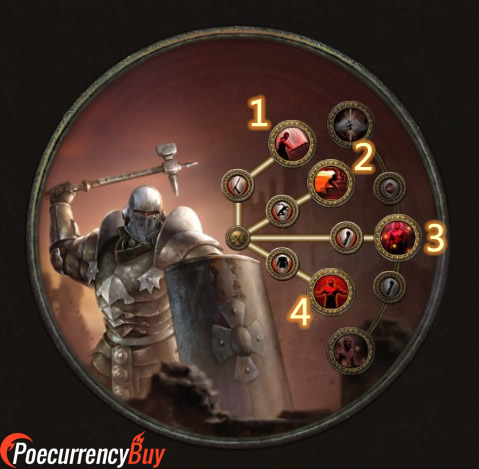 Undeniable -> Unstoppable -> Unflinching -> Unbreakable
Bandits
kill them all
Pantheon
Arakaali, you only need to upgrade Arachnoxia for increased recovery of energy shield, do it as soon as possible. For the minor one, i like Ralakesh, nice against phys degens, lab traps and blind
Passive Tree
Gems Setup
Weapon
frenzy, blood rage, ancestral protector (you can add enchance instead of frenzy for more attack speed)
Armor
blade flurry, conc effect/increased aoe for mapping, damage on full life, elemental damage with attacks, elemental focus. If you have a 6l -> lightning penetration
Shield
lvl 1 clarity (if you have watcher's eye), lvl 1 summon lightning/flame golem, lvl 1 cwdt
Helmet
wrath, vaal discipline, purity of elements, enlighten (preferably lvl 4)
Boots
shield charge, faster attacks, fortify, culling strike
Gloves
increased duration, lvl 3 immortal call, lvl 1 cwdt, lvl 5 enfeeble/elemental weakness
Gear
Item List
Hand Of Wisdom And Action, Incandescent Heart, Hubris Circlet, Titanium Spirit Shield, Shaper's Touch, Cyclopean Coil, Death's Door, Agate Amulet, Moonstone Ring
Jewels

Flasks

Tips
Uniques Tips
- Wall of brambles - this armor will completely solve your physical damage problems for the entire storyline
- Belt of the deceiver - very good defensively and offensively, can be used till respec
- Carnage heart - same story, it will solve any attribute problems as well
- Le heup of all - great and cheap rings, they boost stats, resistances and damage very nicely
Other Tips
Don't try to tank the strongest attacks in the game if your ES isn't high enough. If you are below 10k ES, there are abilities that can 1 shot you if they crit (t13 malachai slam, Uber Atziri's construct thing). you can tank shaper's slam comfortably even with 10k es, just make sure you have fortify on. We would recommend doing uber elder with at least 10k ES and 1.2m shaper dps, it should be easy to do it without dying at this point.
Expectations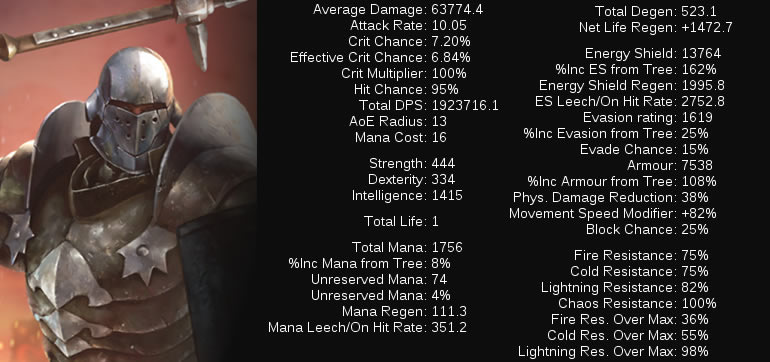 Lastest POE Builds, News and Guides