POE 3.4 Ranger Deadeye Elemental Hit Build - High DPS & Budget Friendly
PoeCurrencyBuy
Date: Sep/17/18 09:30:43
Views: 4858
Elemental Hit is an attack skill, executing a basic attack with added damage of a random element. An Elemental Hit may be performed with any weapon. Combat Focus now causes Elemental Hit to deal 50% less damage of the prevented element, including damage that gets converted from the prevented element to a new element.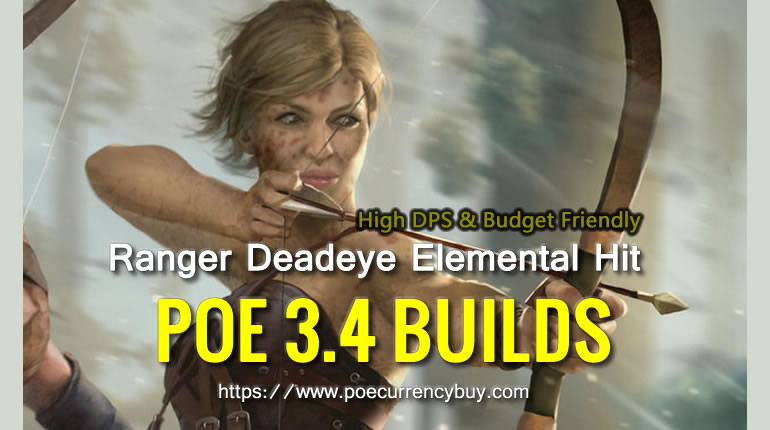 Skill Tree
Ascendancy
Deadeye: Gathering Winds -> Fast and Deadly -> Far Shot -> Ricochet
Bandits
Help Alira
Pantheon
Major: Arakaali (Unlock Arachnoxia)
Minor: Doesn't really matter
Passive Tree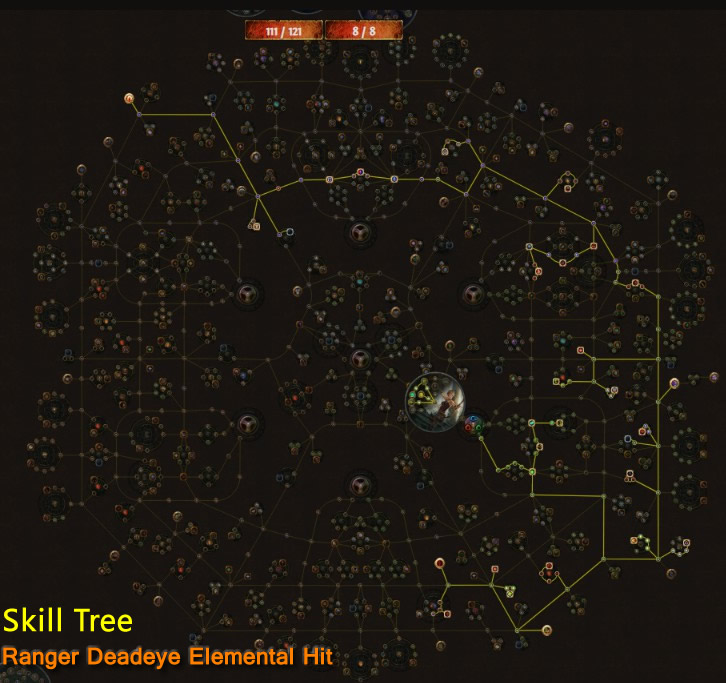 Gems
AoE

(Elemental Hit + GMP + Mirage Archer + Combustion + WED + Fire Pen)
For AoE: swap Fire Pen with Cold to Fire if you don't use Pyre.
Single Target
5L: Elemental Hit + Combustion + WED + Fire Pen + Slower Proj
6th link: Empower lvl 4 or Faster Attacks or Damage on Full Life
Frostferno 4L: Ele Hit + Combustion + WED + Fire Pen or Damage on Full Life (~12% more dps than Fire Pen if your life is full...)
Auras
- Vaal Haste
- Grace if you're using Queen of the Forest
- You may use Herald of Ash in order to improve AoE clear
Other
- Orb of Storms + Power Charge on Crit + Curse on Hit + Proj Weakness vs. Bosses / Guardians / Shaper OR: gloves with Elemental Weakness on hit corruption (but only if you can manage to get this corruption on a really nice pair of gloves)
- Blink Arrow
- Ice Golem
- Blood Rage
- CWDT + IC
Gear
Required Items

Helmet
Starkonja Head, Devoto's Devotion, Frostferno
- 4L Ele Hit + Combustion + WED + Fire Pen in Frostferno = dps of a 6L single target setup
- Devoto's if you want more movement speed
- Starkonja's for more life
- 15% Ele Hit attack speed or 40% Ele Hit dmg enchant
- Frostferno with +2 Fire / AoE / Cold / Lightning corruption provides the highest single target dps (+2 Cold or Lightning or AoE are working for Fire Ele Hit too!!!)
- If you're using a Frostferno, you don't have to use Pyre. (This only applies to gems in Frostferno!)
Chest
Loreweave, Kaom's Heart, Queen Of The Forest
- QotF: high movement speed
- Loreweave: higher dps and survivability vs. ele dmg
- Kaom's: more life
Gloves
- Rare gloves with accuracy, life, resists; nice to have: attack speed, Gripped Gloves (projectile dmg implicit)
- or Tombfist
Boots
- Rare boots with movement speed, life, resists
- or Bubonic
- or Atziri's Step
- Boots enchant: ele penetration, attack speed, leech, crit, ... whatever you prefer
Belt
- any rare belt / stygian vise with life, resists, WED
Rings
If you're using a Frostferno, you don't have to use Pyre. (This only applies to gems in Frostferno!)
- Replacement for Pyre: The Taming or any rare ring with life, WED, accuracy, res
Amulet
If you can't afford Xoph's Blood, get a Yoke of Suffering
Weapon
- Quill Rain: high AoE clear speed
- Chin Sol: highest dps vs. monsters at close range
Quiver
- Rare quiver with life, crit multi, WED, attack speed
Flasks
- Wise Oak
- Quicksilver (increased movement speed during flask effect)
- Diamond (freeze removal)
- Life (instant heal + bleed removal)
- 5th flask: Jade if you're using QotF; Silver flask for Onslaught or w/e flask you prefer
Jewel Positions
- Combat Focus CRIMSON Jewel next to Golem's Blood (at the bottom of the tree)
- Combat Focus VIRIDIAN Jewel next to Heartseeker (right side of the tree)
- Lioneye's Fall slightly below Soul Raker (right side of the tree)
Lastest POE Builds, News and Guides