POE 3.4 Scion Ascendant Ice Crash Builds - High Damage & Fast Boss Fight
PoeCurrencyBuy
Date: Sep/13/18 07:33:07
Views: 3648
The daughter of corrupt nobles, the Scion was exiled to Wraeclast for killing her husband on their wedding night. She is aligned with all three core attributes - strength, dexterity and intelligence, which places her in the center of the passive skill tree. This unique position allows her to develop into almost any type of character build, while lacking the dedicated specialisation that the other six classes offer.
This build chooses Ice Crash to get very high damage and Freeze & Stun immune (thx to Kaoms roots). To maximize your Ice Crash Experience you should enable "Attack in Place" for Ice Crash

Pros & Cons
Pros
+ Very high dmg
+ Over 5k Life
+ Freeze and Stun immune thx to Kaoms roots
+ -% Max res immune thx to Loreweave
+ all content ezpz
+ average to good clearspeed
+ much leech with vaal pact and slayer overleech
+ nearly only uniques, wich means you dont need to search for random rares wit hthe right stats
Cons
- Cant do no leech map and should aavoid reflect ones
Skill Tree
Ascendancy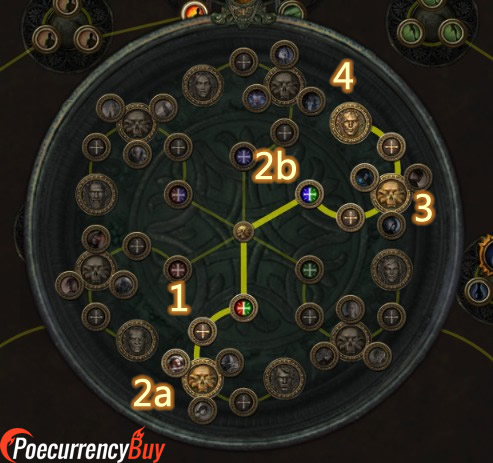 We pick first the Slayer overleech. After that we pick the Assassin passive, wich gives us ez Power charge generation. Finally we take the Assassin start point and respec our tree a bit.
Bandits
We pick Alira for mana reg, crit multi and All res
Pantheon
The pantheon is full up to you.
Passive Tree
Gear & Gem Links
Gear Overview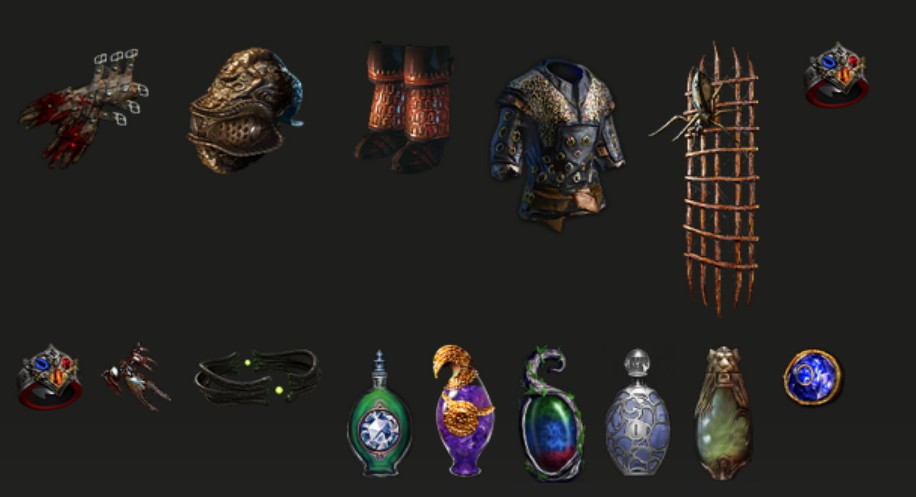 Gloves
We play around the Facebreaker Gloves as a "weapon", wich means we play UNARMED. Try to get 3R 1G and put in Vaal Grace for huge defense boost or 3R 1B and put in Frost Bomb for a huge offence boost.
Gems: Cast when Damage Taken(lvl5) -> Immortal Call(lvl 7) -> Ancestral Protector -> Vaal Grace (Frost Bomb)
Helmet
We take the Abyssus because it gives us a HUGE dmg boost with alot of crit multi and phys to attacks
Gems: Shield Charge -> Faster Attacks -> Fortify -> Blood Magic
Shield
Our Shield is the Lycosidae for 100% Hit chance.
Gems: Hatred -> Herald of Ash -> Blood Rage
Chest
Our Chest is the Loreweave wich you can easy get if you sell a full inventory of Unique rings to a Vendor (60 Unique Rings). We switch out Increased Area with Concentrated Effect for Bosses. Stat Priority: Phys dmg -> Elemental Damage -> Crit Chance -> Max Res -> Life
Gems: Ice Crash -> Melee Physical Damage -> Phys to Lightning -> Elemental Damage with Attacks -> Multistrike -> Increased Area of Effect (Concentrated Effect)
Boots
We take the Kaom's Roota as Boots wich give us free Stun and Freeze Immunity and alot of Life
Our Belt is the Darknes Enthroned with at least one "All Res" jewel in it. Put in your best Abyss jewels with Life and Phys dmg to attacks.
Rings
Our Rings are 2x The Taming, wich provides us Huge dmg with up to 120% Elemental Dmg per ring and alot of Resistances with up to 40$ per Ring.
You can also go for some insane Steel Rings with 40% all res and T1 Phys wich should result in a similar dmg boost. Together with Elemental dmg on these you would realy raise your dmg into the oblivion, but this would be some Mirror Tier Rings.
Flasks
Our Flask are a pure dmg Setup for max dmg Boost against Bosses and tough enemys. You should realy get Bleed Immunity on the Diamond Flask ;). The Wise Oak provides additional to the dmg boost the res you need to cap out Elemental Weakness maps. The Lions Roar could be a bit annoying with the knockback but eeasy countered with the Protector Totem behind the enemy. The Taste of Hate gives us a good dmg and defense boost especially because of our Abyssus Helmet. The Atziris Promise give us additional to its dmg boost some nice Chaos res.
Jewels
We prefer Abyss jewels with Phys dmg, Life and Attack speed. We can also take some normal Jewels with increased phys dmg %max life and attack speed, but this result in a bit less power overall.
We also take a Watcher's Eye with Crit-Hatred for additional Crit Chance
Enchantment
Helmet
40% increased Ice Crash Damage
15% of Ice Crash Physical Damage gained as Extra Cold Damage (this is stronger than the 40% Boost))
Ancestral Protector Totem grants 18% increased Attack Speed while Active
Blood Rage grants additional 12% increased Attack Speed
Boots
16% increased Attack and Cast Speed if you've Killed Recently (for faster Mapping)
Damage Penetrates 10% of Enemy Elemental Resistances if you haven't Killed Recently (for Bosses)
Gloves
We dont take Enchantments on our Gloves because we want some nice Corruptions:
Curse Enemies with Level (10–12) Elemental Weakness on Hit
Attacks have +(0.5–0.8)% to Critical Strike Chance
+1 to Maximum Frenzy Charges
(4–6)% increased maximum Life
(8–10)% increased Attack Speed
Leveling Tips (simple)
Try to get the Facebreaker asap, wich you can start to wear from lvl 16 straight to endgame. you should also try to get the Lycosidae asap, wich you can start to wear from lvl 11 straight to endgame too. if you cant afford one play with an Accuracy gem until you get it. With the facebreaker in your hands you should first scale ur dmg with rings and amulets wich provides phys dmg to attacks until you can wear the Rigwalds Curse and the Tamings. Take a Meginord Girdle until you get some nice Abyss Jewels for your Darkness Enthroned Belt.
Expectations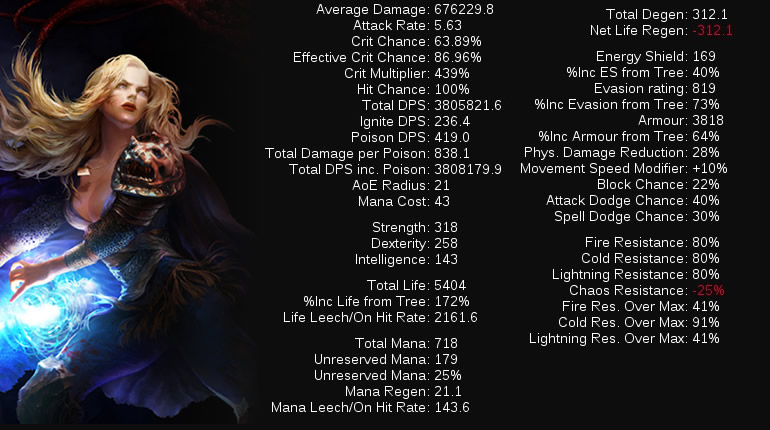 Lastest POE Builds, News and Guides