POE 3.4 Shadow Saboteur Fire Trap Build - Cheap & Uber elder viable
PoeCurrencyBuy
Date: Sep/08/18 09:50:42
Views: 4213
The Shadow Saboteur build focuses on using both fire traps and flamethrower traps depending on the situation.Fire trap is a strong map clearer and also kills bosses with ease up to tier 16 guardians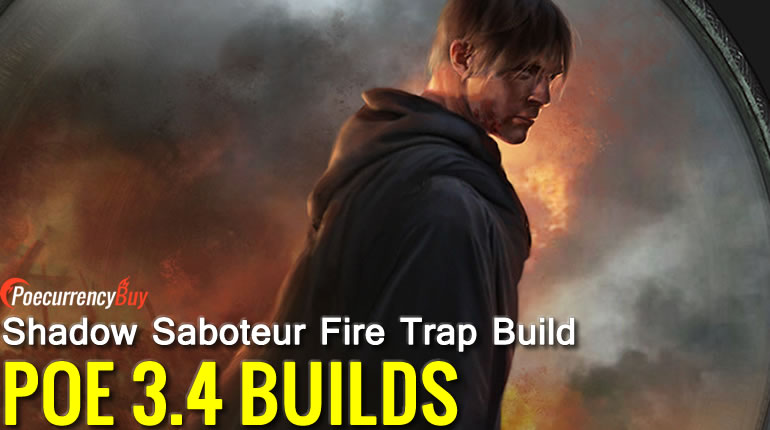 Pros & Cons
Pros:
+You can do everything with budget gear and 5-links.
+Can one-shot elites&beyond bosses with fire trap in even %40+ life or +% resistance modded red maps.(Unless you are unlucky with crits.)
+Can kill tier 16 guardians and pushes shaper to next phase in couple of seconds.
+Can do every map modes but some are dangerous.
+Watching flamethrowers burn everything to ashes makes you feel like a pyromaniac
Cons:
-Physical mitigation is low due to being a dodge character.
-You can't tank everything and need to learn your character's limits.
-It takes some time to get used to the playstyle.
-Isn't fast as an arc trapper for mapping.
Ascendancy + Skill Trees
Ascendary: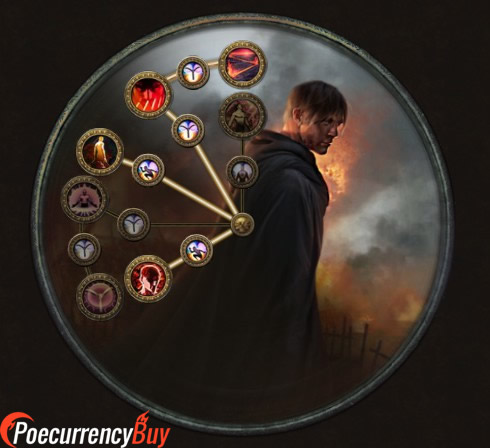 Normal lab:Perfect crime
Cruel lab:Chain reaction
Merciless lab:Born in the shadows
Uber lab:Pyromaniac
Skill Tree: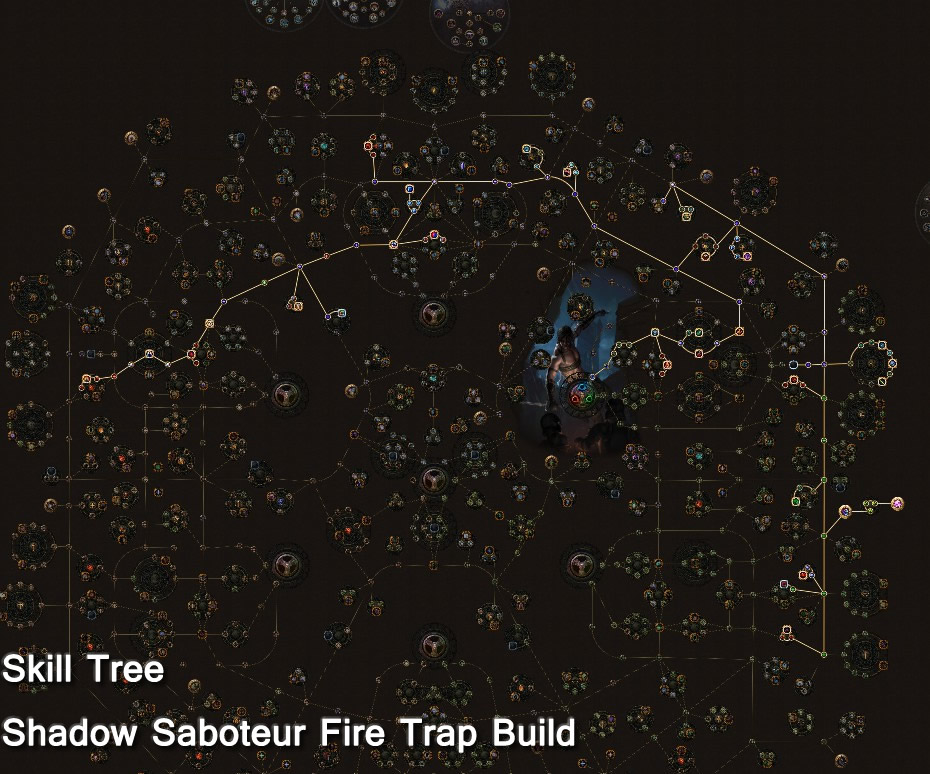 No uniques are required as this build is fine for a league start - but if this isn't your first character of the league then these will make the process easier: Goldrim, Tabula, Wanderlust, Prismweave, Silverbranch, Hyrri's Bite, Storm Cloud, Storm Prison, Lochtonial Caress, Karui Ward, Blackheart, Thief's Torment, Elreon -Mana Cost jewelery (resists/int a plus!), and buying skill/support gems with quality ready to be socketed in!

NOTE: Rangers do not get access to Added Lightning or Kinetic Blast so buy them on another character or trade for them! Kinetic Blast can be purchased from Siosa in Act 3 for SSF.

NOTE: It needs to be stated again: MAKE SURE YOU USE BARRAGE FOR LEVELING. Kinetic Blast will be miserable against some bosses.
Gems and Links
Weapons (Bow)
Colors: G-G-G-B-B-R
Gems: Fire Trap- Trap and Mine Damage- Cluster Traps- Combustion- Controlled Destruction- Fire Penetration
Fire penetration is your 6th link.Replace fire penetration with increased area effect if you are doing the mapper build.So you need blue instead of red socket.

Body Armor
Colors: G-G-B-B-B-R
Gems: Flamethrower Trap- Trap and Mine Damage- Increased Critical Strikes- Elemental Focus- Concentrated Effect- Fire Penetration
Increased critical strikes should be your 6th link.Level 4 empower actually gives way more dps than increased critical strikes but i wanted to keep the build as cheap as possible.If you have the money you can try it.

4-link:
Colors: G-G-R-?
Gems: Blink Arrow- Faster Attacks- Blood Magic-gem of your choice

4-link:
Colors: G-R-R-R
Gems: Bear Trap- Cast When Damage Takent(lvl1)- Immortal Call(lvl1)- Increased Duration
Level your bear trap so it doesn't stuck on the cwdt setup.

4-link;
Colors: R-B-B
Gems: Herald of Ash- Anger- Purity of Lightning- Enlighten(lvl3)
First of all if you don't have watcher's eye or lvl 3 enlighten yet,use arctic armour as your 3rd buff.Purity depends on your watcher's eye so coloring may change.You need level 3 enlighten and the %4 reserve reduction node on talent tree to use all 3 buffs.
Gear for reference
Gear:
Weapon: Piscator's Vigil
Shields: Esh's Mirror
Chest: Queen of the Forest
Helmets: Rare
Gloves: Sadima's Touch
Belts: Headhunter
Boots: Goldwyrm
Rings: Ventors
Amulet: Biscos
Stat Priority
Weapon: Lightning Damage > Crit > Attack Speed > Multi > other flat elemental damage
Shields: Life > Resists > Accuracy > Evasion
Chest: Life > Resists > Evasion > Elder Attack Crit
Helmets: Life > Resists > Evasion > Accuracy
Gloves: Life > Resists > Attack Speed > Evasion (Gripped Gloves or the of-Reflection enchant are nice to have but in no way required.)
Belts: Life > Resists > Flask Duration
Boots: Movespeed > Life > Resists > Evasion > Open
Rings: Life > Resists > Crit > Flat Lightning Damage >Accuracy
Amulet: Life > Crit Multi > Crit Chance > Flat Light Damage > Accuracy
Jewels:
Abyss Jewels are huge sources of flat damage in their current state. It's worth mentioning the Watcher's Eye jewel that can give you some insane stats like Lightning Pen During Wrath. It may be worth working in an aura like Hatred/Haste/Grace if you get a Watcher's Eye that gives you useful stats like Flat Cold Damage, Base Crit, Permanent Phasing, Dodge, Spell Dodge, or Movespeed. Inspired Learning can be great for people wanting to get the headhunter "feel" without spending tons of exalts. Check the Leveling Section for a tree that incorporates this jewel.

Flasks:
Quicksilver. Adrenaline is great.
Jade/Stibnite. (if Queen). Evasion means more movespeed
Silver. (if not Queen). Use with Quicksilver to multiply your movespeed. Great for jumping around between packs
Diamond. Getting crit capped is important because we stack crit and crit multi.
Dying Sun. Gives an additional projectile which is great for both parts of our Kinetic Blast!
Instant Life Flask/Wise Oak/Vinktars/Atziri's Promise. Flex flask for personal preference.
Enchantments Stats
Boots:
"x% increased critical chance if you haven't crit recently"
"Damage penetrates x% of enemy elemental resistances if you haven't killed recently"
Helmet:
"Flamethrower trap has 2 additional traps."
Other options are:
"Flamethrower trap has 12% increased cast speed"
"Flamethrower trap has 15% increased Cooldown Recovery Speed"
"Flamethrower trap deals 40% increased Damage"
"Flamethrower trap has 30% increased Skill Effect Duration"
Expectations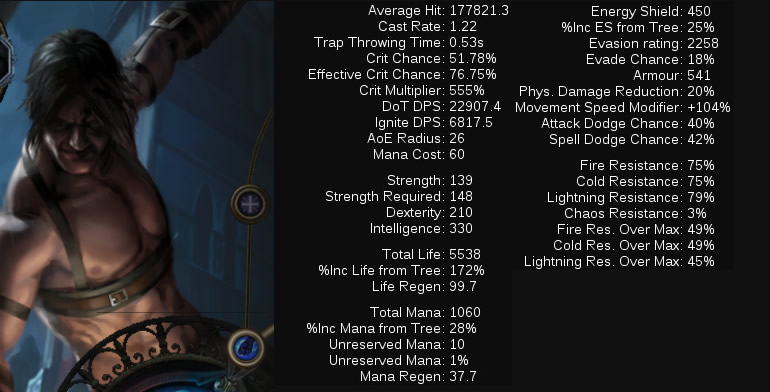 Leveling tips
For skills start with explosive trap and get fire trap as soon as it is available.Shadow has access to all trap gems so you don't need to trade with other people.You don't have to use flamethrower trap while leveling because it may be hard to link it somewhere especially at league start.Fire trap has enough damage to finish all the quests and prepares you to maps.

For unique items you can use wanderlust boots,doedre's tenure gloves,lifesprig wands then into axiom perpetuum,goldrim helmet and elreon jewelery with "- mana cost to skills".Replace boots and gloves after level 40-50 and get rare ones with life and resist.

Mana cost might be a problem especially at league start so don't try to use every buff while leveling.Just pick anger or herald of ash and use mana flask.Once you get slavedriver's hands you can activate the rest of the buffs.
Lastest POE Builds, News and Guides