PoE 3.9 Shadow Venom Gyre Assassin Freeze Build (PC,PS4,Xbox,Mobile)
PoeCurrencyBuy
Date: Dec/02/19 05:55:02
Views: 4764
This build is based around the gem Venom Gyre and we are building it by stacking elemental damage and critical strike damage. If Venom Gyre feels bad we can easily switch to Cobra Lash, they are practically the same. By using Hrimsorrow's we convert a the rest of our Physical Damage to Cold, and then further amplify this damage by using things that increase our cold damage such as Hatred, Herald of Ice, and gear.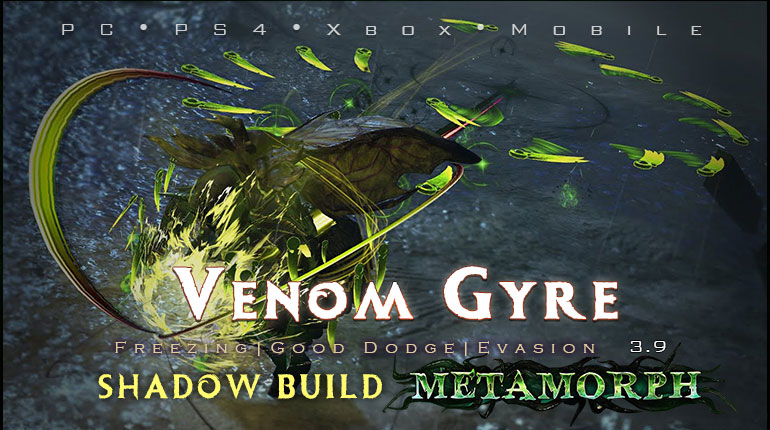 Quick Jump
Pros & Cons
- Can't do No Leech Mods on Maps
- Unpredictable game feel, as it is a brand new gam (looks good tho)
- Fairly low life, big balls playstyle
- Price will ramp up quick, some of the juicy end game uniques are expensive early on
Skill Tree
Ascendancy
Mistwalker > Unstable Infusion > Deadly Infusion > Opportunistic
Pantheon
Major God: Soul of Lunaris or Soul of Solaris
Minor God: Soul of Shakari
Bandit: Help Alira
Passive Tree & PoB
Path of Building Link: https://pastebin.com/1rZVeT5Z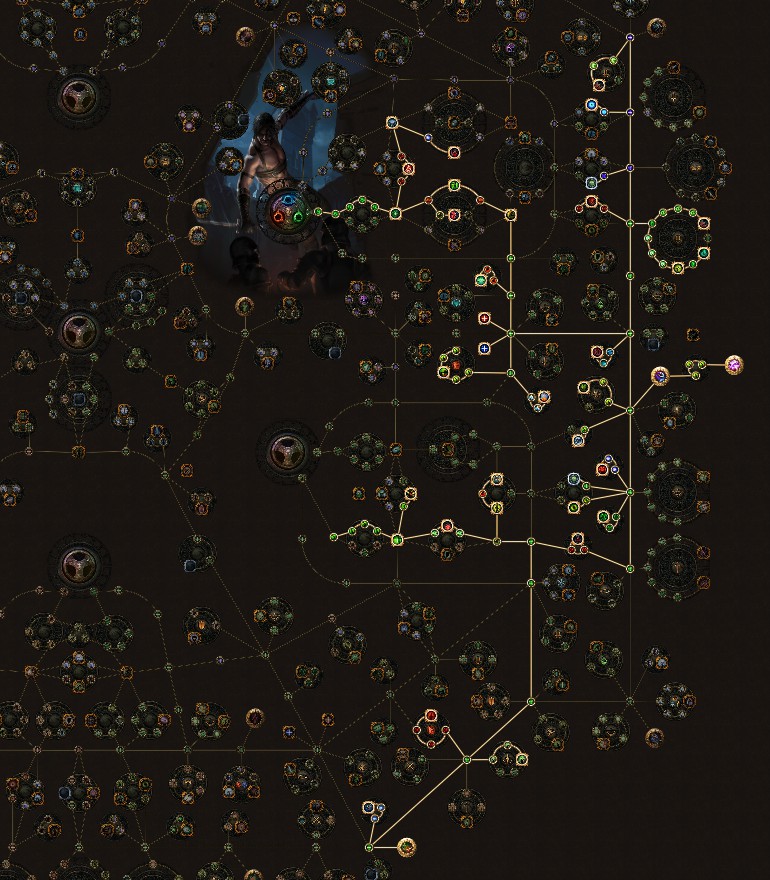 Gems Setup
We have our main 6L Venom Gyre, alongside a few utility skills liker Whirling Blades for Movement, CwDT Setup as well as Ancestral Protector for some bossing. Sprinkle some Auras on Top and we got your standard Cold Conversion Melee Build. I'll list out the best order of priority in my opinion, then go into details in the spoiler box below the skill for why I chose the supports I did and alternative options.
Gear Setup
Gearing for this build is fairly laid out for us as what we want is clear from the get go. Claw and Daggers are our only options with Venom Gyre, and Claws imo are the far better option so that is what we will be going with. Other than that all your basic stuff like getting maximum resistances, Maximum Life and Evasion when possible. None of the Uniques are absolutely necessary, some of them will probably be pricey League Start.
For the chest piece I think Daresso's Defiance is a really solid option. It pushes us to the Attack Dodge Cap as well as giving us a source of Endurance Charge Generation. 80% Increased Onslaught Effect is also a really nice source of DPS. Just an all round awesome combination of Defense and Offense. Another really solid Unique option is Incandescent Heart. Considering we do a lot of Elemental Damage, as well as the natural Chaos Damage from Venom Gyre, this is just the perfect match. You lost out on 6% Evade Chance however the damage is always pretty nutty. I personally will use Daresso's Defiance.
We have two options for the Helmet, and those are our stock staple Starkonja's Head and Abyssus. The trade off in damage gained vs damage taken for Abyssus isn't worth it imo, however at the same time we have so much Dodge, Evasion, etc that maybe you just want to squeeze out all the damage you can. Starkonja's Head is the Helmet I will be going with as it provides such good damage will also have good Maximum Life and Evasion Rating.
For gloves we are wanting to grab Hrimsorrow's or the Upgraded Hrimburn. This helps make sure that practically all our Physical Damage is converted to Cold. It doesn't matter which one you grab, the only difference is that you can Ignite with the upgraded version, which doesn't matter to us at all. This is a fairly cheap unique, so you save a lot of currency here.
Rare Boots are the best in slot for us. Getting a good amount of Resistances here, as well as grabbing some Strength (we need some for a later item). Adjust the Resistances, Movement Speed as necessary in the search and get what you can afford.
For Belts we have two options, those are The Nomad or Belt of the Deceiver. In terms of DPS Belt of the Deceiver just edges ahead thanks to Intimidate, and it also allows you to get more Resitances on your boots as you don't need the Strength. The Nomad has more resistances and solid damage that doesn't require you to be Nearby the Enemy. In order to get the Elemental Resistance you need to have at least 200 Strength, which is where the Strength on the boots come into play. Both of these are solid options and you can just grab whatever option you feel is cheaper when getting boots. If you Grab the strength go with the The Nomad if not go with Belt of the Deceiver.
Jewellery is where it can get fairly expensive. It is such a huge damage opportunity, at the same time it is also where we want to cap off our Resistances. Thanks to all the Resistances we grab prior to this it shouldn't be too hard. Rare Rings are going to give us far more damage than any uniques can give us. Make sure you adjust your Resistances to what you need (Untick the Weight Sum in Filter, adjust Resistances, then Retick before Searching) that way it will fit how your character is currently. When you have searched click on the Sum to sort by damage and then buy whatever you can afford, scroll until you find something that fits your budget. I don't worry about Maximum Life here as I just want to squeeze out big deeps.
The Pandemonious is our best in slot amulet. The Blind Chilled Enemies on Hit provides a huge source of defense, on top of also giving us really good dps and some Cold Resistance (Frees up the other rings). This is an expensive option, especially on in the league. You can easily go for a Rare Amulet as a placeholder and find one that has big damage modifiers. Same as before, search by Sum and buy what you can afford. Thanks to Blight we can now anoint our Amulets with a Passive Point. For us the biggest improvement for cost is by far the Ambidexterity point. To anoint it we need to use a combination of Amber Oil + Azure Oil + Black Oil. It will cost something like 15c to get it, however it is a massive boost to our dps. Once you have an Amulet you are going to stick with (before saving up for Pandemonious) definitely get this anointment, it works wonders.
Time for our Claws. Rare Claws with High Physical Damage is what we are after. Just sorting by Physical DPS and buying what you can afford is the best option here. Nothing fancy, our damage scales off our Weapon heavily (it's an Attack) so don't be afraid to flex your chaos/exalts a little. Touch of Anguish isn't a bad placeholder claw, however only get this if its cheaper than a rare with similar stats.
Final pieces, are beautiful pots. You always want to make sure you have your staples Pls Save my Life Flask so we grab a Seething Divine Life Flask of Staunching. The second pot which is always good is an Atziri's Promise. Extra Chaos Damage from both our Physical Damage and Elemental Damage, which will go perfectly with Venom Gyre. These last three pots aren't essential, but are nice to have. If you can't get these make sure you have at least a basic Silver Flask for Onslaught and then fill the other flask slots with whatever you feel comfortable with. The final three pots are Sin's Rebirth, Taste of Hate and Kiara's Determination. These are really non essential but if you got chaos to spend and they are cheap then go for gold.
For Jewels we go with Abyss Jewel's. We grab Maximum Life on them and then use our Weighted Sum to find some fatty dps Jewels. Search by Sum and go to town.
Lastest POE Builds, News and Guides