[Ranger] PoE 3.8 Tornado Shot Deadeye Clearer Build (PC, PS4, Xbox)
PoeCurrencyBuy
Date: Aug/31/19 07:49:39
Views: 5315
In particular, the build is designed around using Void Shot. An ordinary Void Shot isn't especially impressive, it deals around the same damage as a typical unsupported skill, but since it's not in a socketed piece of gear you've no way of adding support gems to it, which makes it seem underwhelming.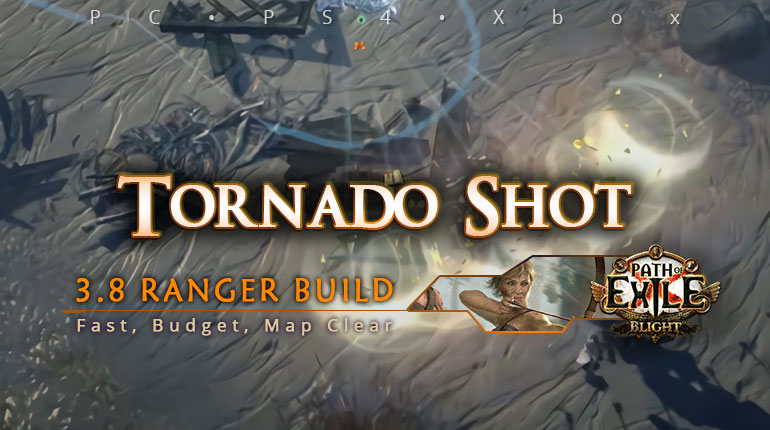 Quick Jump
About this build
The bulk of this build is designed around using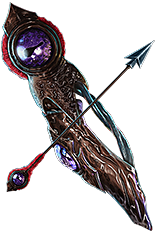 Voidfletcher - Corrupted
Bow Attacks fire an additional Arrow
Consumes a Void Charge to Trigger Level 20 Void Shot when you fire Arrows
Adds 34 to 93 Cold Damage to Attacks
+82 to maximum Energy Shield
+30% to Cold Resistance
+32 Mana gained on Kill
30% increased Projectile Speed
5 Maximum Void Charges
Gain a Void Charge every second
In particular, the build is designed around using Void Shot. Void Shot is a triggered skill that fires an arrow to the targeted point, which will then explode after a short delay... it's kinda a reskinned version of the exploding shot those crossbow enemies in act 5 fire at you.
An ordinary Void Shot isn't especially impressive, it deals around the same damage as a typical unsupported skill, but since it's not in a socketed piece of gear you've no way of adding support gems to it, which makes it seem underwhelming. However, it scales extremely well on extra arrows, better than any other skill (barrage and molten strike included), because it's extremely easy to get the explosions to overlap... it's like using multi-projectile lightning arrow when the enemy is up against a wall, only you don't actually need the wall. So one added arrow is effectively 100% more damage, for the explosion at least. Or in the case of this build, 4 extra arrows = 400% more damage (6 for 600% more with dying sun up)... and that kinda amplifier is on par with about 5-6 dps support gems.
Gameplay
Tshot for single-target, Ice shot to clear, and the mirage archer on ice shot helps pick off stragglers or clear other packs automatically. Firing off one ice shot against a boss will get the mirage archer procced to auto-fire for a few seconds while you switch to using tshot, effectively allowing you to attack with your single-target setup while mirage archer adds a little bit more by attacking with about ~35% of your ice shot's dps.
Skill Tree
Ascendancy
Far Shot -> Endless munitions -> Fast and Deadly -> Gathering Wind
+1 Arrow is the biggest factor, and you can get that from Ascendant as well, but Deadeye offers plenty of great boosts and utility.
Bandits
Help Alira, crit mult is solid and all res helps free up equipment choices
Pantheons
For pantheon, we use Ryslatha and Brine King, with at least the former getting it's upgrade. Brine King protects against stunlock, Ryslatha gives extra flask recovery in emergencies and restores charges if there's nothing around to kill (helpful in lab/trials in particular).
Passive Tree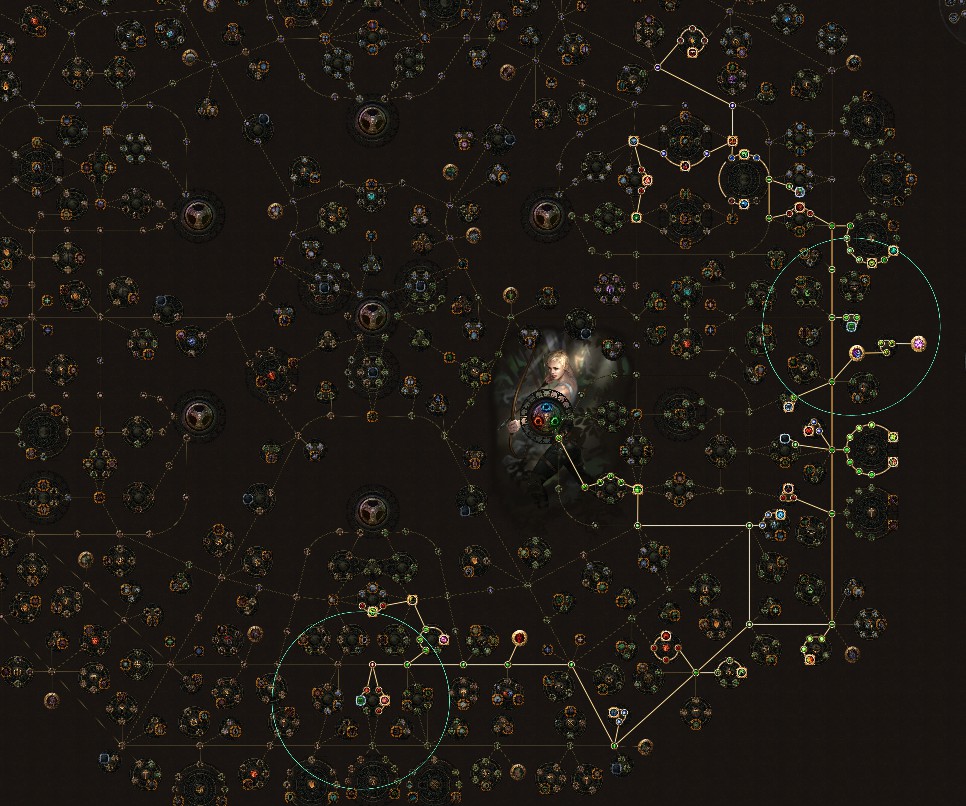 POB: https://pastebin.com/imS1s1qg
Gems Setup
Tornado Shot - Elemental Damage with Attacks - Cold Penetration - Added Cold - Hypothermia - (choice 6th)
Ice Shot - Elemental Damage with Attacks - Bonechill - Added Cold - Mirage Archer - (choice 6th)
These are the main damage setups, Tshot mostly for focused damage and ice shot for clearing and mirage archer supporting dps. Bonechill on ice shot helps all your skills deal more cold damage, so even though it's not the best support for ice shot dps itself it's worth using. Use an Omen on the Winds threshold jewel to get +3 pierce for ice shot.
For the 6th links, i use Faster Attacks for both Tshot and ice shot. There's other supports that could result in better dps, but all in all with the relatively low attack speed in the build and the plentiful dps already, i've elected to go with faster attacks to keep things smoother and allow me to attack-and-move more ably, which this build needs for defense.
As for the other setups
Frost Bomb - Phase Run - Vaal Grace - Increased Duration
Cwdt (~level 10) - Steelskin (~level 15)
Hatred - Herald of Purity - Blink Arrow - Precision (level 1)

The first is just utility skills, frost bomb for helping boss dps and whatnot, phase run for some travel/avoidance, vaal grace for a big dodge boost.
the second is a replacement for the old cwdt-immortal call setups. The levels you use can vary depending on how much strength you have and how strong of a buff you want to get.
And finally the reservations and blink arrow. Hatred's got damage, Precision grants some cheap 40% inc crit chance and offers watcher's eye options, and HoP gives flat phys damage (which is mostly converted to cold/added as cold) and provides the sentinels which are great for drawing aggro and bodyblocking enemies and projectiles.
For other options:
Aspect of the Cat, if using farrul's fur. Not really a gem, but still a setup. You may want to socket whatever's providing it with less duration, so that you have no downtime on your charges. Note that using phase run will eat all your frenzy charges, so you may want to drop that.
Herald of Ice. Some people still like using Herald of Ice for this build. Personally, aside from the flat cold, i think it's not worth it since Herald of Purity came to be. Both give you around the same amount of damage, but sentinels of purity are nice for defense, while ice explosions are mostly worthless (the build doesn't get much of anything to scale them). Some people use it with CoH and ice bite and such though.
Barrage. There's a gimmick interaction with barrage + voidfletcher that used to not exist when i made the build originally, in that barrage will cause all void charges to be expended rapidly and fire as many voidshots. Talking to support it seems it's not considered a bug, despite patch notes suggesting otherwise (apparently those patch notes were the one in the wrong). As such, barrage can make for potentially high burst hit-and-run style damage with voidfletcher, in particular for single-target. Not my thing, i still feel like it's imbalanced and a bug, but to each their own.
Chain, GMP, various other supports. I prefer my gem setups, but i've seen plenty of people swap in others. There's plenty of stuff that works and you should use whatever feels comfortable. I don't feel the need for more projectiles with GMP when i've got 4-5 (6-7 with dying sun), and i don't much like chain support compared to pierce (especially since piercing for ice shot doesn't even cost a link, much less diminish damage per hit with that link). But other people differ in their opinions. Go with what you like.
Gear Setup
For a more detailed selection of gear, please refer to the PoB Link. The gear selected in the PoB is not mandatory if it is not stated. It is recommended that the player check the affix of the gear and make a better choice.
Budget Options
Just some tips for working with a slimmer budget. Can't guarantee you'll be able to do t16s and the like, but you should be able to do up through t15s even with cutting substantial cost from the build.
- 5Ls do just fine for most content (my budget version in Incursion does guardians and whatnot just fine)
- inc crit strikes support can be swapped into gem links to pump up crit chance if Farrul's Fur or an elder crit chest is unavailable (think I'd recommend Hyrri's Ire as a budget chest in that case, though it lacks life). Not ideal, but it can be swapped out when you've got better crit established.
- Frenzy can be used to maintain frenzy charges (even against bosses) if Farrul's Fur isn't available. It can even be used instead of Ice Shot for clearing. I swapped mine for a test run and it felt fine, albeit not as good as Ice. And vs bosses it's not a bad idea to attack every now and then with that setup anyway as it helps maintain mirage archer, so with frenzy it'll build/maintain frenzy charges as well.
- Dying Sun isn't a must (Atziri's Promise or Wise Oak would make a suitable dps flask alternative til you can afford one)
- +1 arrow Voidfletcher isn't a must, 4 arrows is still pretty damned good
- Tombfist is by no means necessary, especially a 2 abyss socket version. A 1 socket version can still get you room for one abyss socket as well as intimidate, and there's plenty of other gloves available for crit (Oskarn would be nice in particular, I've got over 6k accuracy without any notable rolls on gear... that'd be 60% crit chance plus Assassin's Mark on hit. Either that or Maligaro's)
- Watcher's Eye is not necessary either, but it is a pretty solid amount of damage. Any one you can get with a hatred mod is useful to this build, though the conversion one is only really helpful for tshot. Barring that, abyss jewels with good flat cold rolls aren't bad either.
- Pandemonius isn't usually that expensive and easily worth the cost in my opinion, but even so if you need a budget version any old amulet with some flat cold, %cold, %elemental damage with attacks, crit chance/mult, etc would do just fine. A Karui Charge would at least give some decent dps (and movespeed) in the meantime while being dirt cheap.
- Lioneye's Fall is the main thing that's hard to swap out, besides the bow and quiver. It allows you to pick up 45% crit mult and 60% chance from the claw wheel (while also getting life and mana leech, but that's not enabled by Lioneye's), it's hard to replace that with a budget jewel... or any jewel, for that matter. If you can't afford it right away, you can still spec that part of the claw wheel to get the leech for now, and get a big upgrade later when you can get Lioneye's Fall.
Lastest POE Builds, News and Guides