[Synthesis] Best PoE 3.6 Shadow Builds (PC, PS4, Xbox) - Assassin | Saboteur | Trickster
PoeCurrencyBuy
Date: Mar/01/19 06:57:48
Views: 4017
GGG officially announced PoE 3.6 league in the 20th, 2019. The main NPC of this expansion is Cavas, a spirit who has lost all his memories and want you to help find them. As always, Poecurrency collect PoE 3.6 Shadow builds for player, including Assassin, Saboteur, Trickster Builds, and CoC Ice Nova, Lightning Trap, Lightning Spire Arc, Caustic Arrow skill gems. Some of which are great for league starter, farming, cheap, low budget available, and some powerful, fast, boss killer, endgame, popular builds for old players.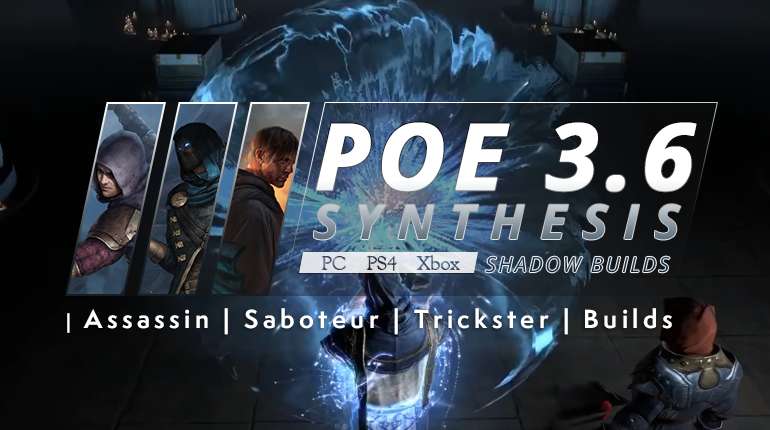 3.6 Assassin Builds
Pros
+ Up to 7m Shaper DPS (~2 sec per phase)
+ Amazing clearspeed and Movement Speed
+ ~8000 EHP @lvl 90
+ Everything dies instantly with best defense
Cons
- Melee Can be hard to dodge stuff with Cyclone • Not the cheapest build out there (not very expensive either).
End-Game PoB: https://pastebin.com/e6zZEEr1

POE 3.6 Synthesis Cospri's Malice Shadow COC Build
Advantages
Attack: the max dps, 700w, unrivalled clearing speed and movement speed.
Defense: reach above 8000 effective blood volume
80% element resistance in maximum
Fortify Support
To blind monsters
To decrease monster's hit through "Enfeeble Enfeeble" to enhance survivability
To enhance survivability through Discipline + Es Gain on Hit
Variety of flasks will be great helpful.
36% reduction
5% Dodge
To endure kinds of damage like "t16 Forge of the Phoenix Map"
3.6 Saboteur Builds
Pros
Start game and End game Easy
Cheap to kill uber elder (<50c gear)
Fast to kill uber elder (< 2 minute)
Delve more than 1500 depth(
Fast mapping(87%IIQ 280%IIR 1:20 map T15 Belfre or 2:30 T16 Burial Chambers)
Magic find(87%IIQ 280%IIR and easy to mapping)
Any map affix can be completed
High movement speed, Run lab(MF gear 230% UP, Fight gear 250% UP)
Cons
- may be not suitable for some demanding players.
Path of Building Link links: https://pastebin.com/dM3fka7N
Pros
+ great map clear speed
+ serious firepower with very low investment
+ end-game viable (need very good reflexes for end-game though!)
+ massive life regen (up to 20% per second and even more with Tinkerskin)
Cons
- Squishy as low Life pool (hard to go over 5k)
- Pretty slow with a wand and Flame Dash
- sketchy for HC
Path of Building Link: https://pastebin.com/qwAv98Cw
3.6 Trickster Builds
Defense
High effective health pool
~30% block chance
10/45% spell and attack dodge during Quartz flask
45/75% spell and attack dodge during Vaal Grace
~80% evade chance during jade and stibnite flasks uptime
3% reduced damage taken per Ghost Shroud stack, 3 stacks in total
~2.5k instant energy shield recovery when hit
~120% movement speed
Temporal Chains curse from Bane
3 endurance charges
Fortify
Grace
Vaal Grace
Offense
We get a lot of attack and cast speed from the Trickster ascendancy
Our damage over time is further boosted by Patient Reaper and Prolonged Pain
3 frenzy and 3 power charges
~15% chance to gain Onslaught on kill
Malevolence Aura
Despair curse from Bane
Vaal Haste
Path of Building Link links:
Life+MoM, Bane+2 Curses: https://pastebin.com/jGwjA6MS
Life+MoM+EB, Bane+2 Curses: https://pastebin.com/WqqBGtSV
Pros
+ Trickster's Patient reaper makes mapping a complete breeze
+ Smooth leveling process and transition into late game
+ Can preform amazing on a budget
+ Very defensive oriented, good for hardcore (Although not played myself)
+ Highly scalable although can get expensive quick.
+ Every piece of gear is rare no required uniques, Even kaoms can be supplemented for a 6link if you don't enjoy weapon swapping.
+ Can run any combination of Map Mods perfectly fine, no gear swaps needed.
+ Able to run Toxic rain and Caustic arrow, Two fun and new skills
Cons
- Single target becomes quite lackluster towards endgame guardians, although very do-able.
- Again single target sustain is an issue when it comes to harder bosses, relying on flasks/passive regeneration.
- Caustic arrow not being able to target flying enemies. Small gripe but in some cases can be annoying (Haku missions, Arsenal map) although having a weapon swap for toxic rain fixes this.
- Ideally needing a +1 curse amulet to take full advantage of mana reservations.
Path of Building Link links: https://pastebin.com/rqQ7xcND
Pros
+ insanely high exp/h gain
+ can level as itself without any external abilities required.
+ start with a very low budget
+ It's works wonders in low budget to accumulate enough currency fast for the higher budget version.
+ Has one of the most amazing feeling
Cons
- if you are looking to kill end-game bosses this build CAN do them, but will require investment and even at that point there are a lot of other builds that would work better than this
Path of Building Link links: https://pastebin.com/k3EeeBqk
Pros
+ Good EHP
+ Immune to stun if you have shrouds.
+ A lot of attack and cast speed for smooth clearing.
+ EB lets us reserve all our mana
+ Big hits that will end up shocking big bosses
+ Aesthetics of a new skill.
Cons
- Can't do ele reflect
- Channeling forces you to stand still and be a punching bag sometimes
Path of Building Link links: https://pastebin.com/h2jWSudB
Lastest POE Builds, News and Guides