Top-Rate Path of exile 3.1 builds for Scion Ascendant
PoeCurrencyBuy
Date: Dec/26/17 07:57:31
Views: 24093
The Poe Ascendant offers flexibility much more than any other class by permitting the player to take passives primarily based on different Ascendancy classes. These passives present comparable advantages representing the class's overall tree, but with mitigated effects. Only a single Ascendancy class passive could be taken from every base class. In this post, Poecurrencybuy will share five Top-Rate Scion Ascendant Path of Exile builds for you.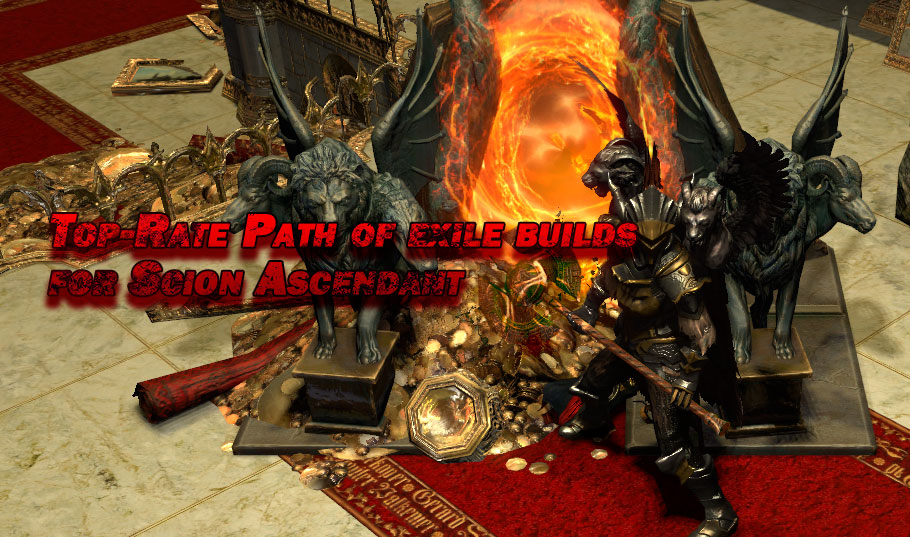 NO.1 [Poe 3.1 Build] too many balls! Greenwood Molten, TankyBossKiller 150K~250K DPS per ball

Molten Strike's balls take some time before landing on an enemy, even with Vaal Pact, you have to give it a sec to leech life from the Balls. Some have been using claws to gain the VP effect with life gain on hit, but after seeing the new swords, Greenwood Shank, I thought I'd give it a try with swords. To solve the leech problem, I thought of Endless Hunger. After using POB to try out different kinds of passive tree, I ultimately decided to go Scion and pick slayer to achieve full life leech. For secondary ascendancy, I picked raider for frenzy charges and onslaught.

Pros:
+ Tanky - thanks to GS, we gain Iron Reflexes and 80%*2 armor while standing still.
+ Sustain - Some nice leech from the passive tree, Atziri's Promise, blood rage.
+ Single Target - 150K/80K per ball on mobs/shaper on POB (can get more easily)
+ Budget Friendly - has high scaling if you have the currency (or luck)
+ Clearing - Pretty fast, whirling blades into packs, hit once or twice, move on
+ Simple - Pretty beginner friendly build start with, not much dmg conversion, DoT stuff

Cons:
- Not instant leech - need to dodge some dangerous attacks
- Passive points refunding - to utilize scions ascendancy, this is inevitable
- Reflect, and no leech can be a problem
- Might cause lag (with Vaal Haste, four frenzies, an onslaught, we can make 11*3*AttackSpeed balls in one second, so yeah, might cause some delay)

Read This Build Detail


NO.2 [Poe 3.1 Build] Tri Dark Pact Totems ~1M+ DPS~ 8k+ EHP~ Cheap and beginner friendly

This build is built for general map clearing mainly(getting attack speed and totem placement speed over damage) but still has excellent single target damage.(1M+ DPS) It can do all content on HHC as well without any issue.

Pros:
+ High damage, High mobility, High survivability
+ Totems can tank damage for you
+ High hp + mana regen
+ Cheap and easy to play
+ Can easily use Bisco's neck
+ Curse immune
+ Can do any map mods easily
+ Still doing damage when evading mechanics

Cons:
- Totems sometimes die quickly
- Switching your gear can be hard if correctly capped on resist
- Requires you to stand still to get maximum damage output
- Needs three unique items to work(not very good for SSF)
- Bosses that moves a lot can be annoying to deal with

Read This Build Detail


NO.3 [Poe 3.1 Build] Ascendant - Essence Drain - Beginner Friendly

Due to nerfs for ES on 3.0, I did this build based on life. But if you prefer ES build I think that it's viable too. Then, there we go. This Build is an essence drain build (ED) with a Scion. The builds used an Occultist or Trickster are very common, then I search to do some different. This build based on life due to nerfs on energy shield (ES), but if you prefer ES version I think is worth it to change the skill tree and life in priority for ES. The most important is your ability to move and evade the attacks and spells of the mobs whereas you use a second projectile ED causing a prominent degeneration.
The Ascendancy give us the deadeye double projectile, piercing (perfect for ED) and projectile speed. The trickster ascendancy give us more survivability and damage (if the energy shield is not full)

Pros:
+ You don´t need a six-link for the first maps, only for the end game (tier 12/13)
+ Damage can´t be reflected
+ You have your life regen and flask to save your life in risk situations
+ God evident speed and boss killer
+ Cheaper (only 6L is needed and for the best version a Kaoms Heart and Witchfire Brew). You can upgrade your budget
+ Not depending on labyrinth (just need cruel to do a lot of damage)
+ HC and SC viable

Cons:
- You need move around the mobs, this build isn´t a press button and destroy, requires some ability
- Leveling is easy, but not is the better
- Not useful in big parties (only 2)

Read This Build Detail


NO.4 [Poe 3.1 Build] Mace DW Phys Crit Sunder - Shaper Down - All Guardians Deathless

This Build is a Physical Critical Sunder build using a high PDPS crit 1H Mace. It does all content.With the Vaal Pact nerf, we're now forced to go over leech with Slayer. That means preceding the Raider ascendancy altogether, which is a significant loss in DPS, but it's still worth it IMO.

Pros:
+ Viable as league starter
+ Sunder is a mechanically sublime skill
+ Simple and effective
+ All content
+ Highest damage cap Sunder build in the game

Cons:
- Probably not HC viable due to having low block/dodge
- Crit mace is niche and can be hard to buy
- Blood Rage + Vaal Pact is uncomfortable

Read This Build Detail


NO.5 [Poe 3.1 Build] For Scion - Bloody Explosive Cyclone With Disfavour + Haemophilia (Not a Vaal Pact Build)

After achieving 40/40 challenges and 126/126 atlas completion in SSF Harbinger league, This Build decided to test out a simple physical Cyclone setup as Scion using Disfavour + Haemophilia for the bleed explosion and without relying on Vaal Pact.The map clearing speed is fantastic. The higher the density, the faster it gets cleared. This Build was also able to do Hydra Guardian deathless with a sub-optimal 5L setup on Belly chest (the correct gem setup of Cyclone should be in Disfavour, but This Build has yet to 6L it).

Pros:
+ High leech from physical damage makes it possible to drop Vaal Pact
+ Because you don't run Vaal Pact, traps in Uber Lab becomes no concern (especially if you wear Death's Door boots)
+ The unique flask that you will need is Lion's Roar

Cons:
- Physical reflect can take one shot you if you are not using Sibyl's lament + Soul of Yugul
- Can't-do no leech map
- Need int and dex on rings/amulet

Read This Build Detail
Commonly, they may be not worth the problems for reasons which are sufficient within the extended run. Whilst they may be useful for players who could know nothing about the game. For by far the most element, they're understanding tools for newcomers to ease them into the game. For more Path of exile 3.1 Builds, it is possible to visit Poecurrencybuy.com. Just a reminder: you will get 5% coupon code free of charge in the reps in the event you Get Poe Currency order from this article.
Lastest POE Builds, News and Guides