[Witch] PoE 3.8 Bane Occultist League Starter Build (PC, PS4, Xbox)
PoeCurrencyBuy
Date: Sep/02/19 03:07:37
Views: 5680
This is a beginner-friendly, league-starter viable, solo-self-found viable, and comprehensive Bane Occultist guide.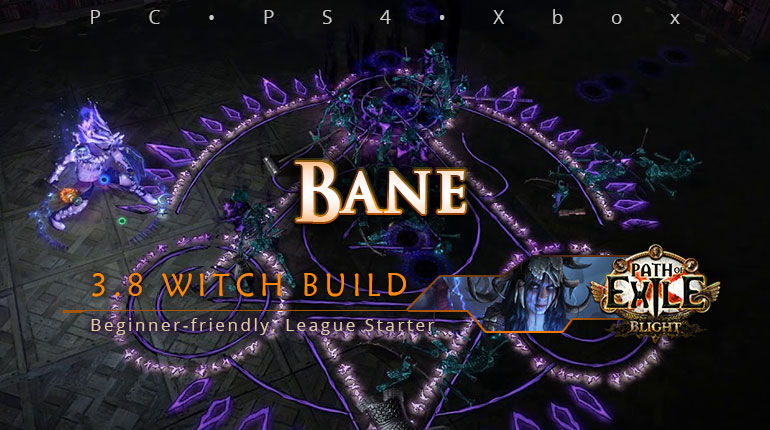 Quick Jump
Pros & Cons
- Uniques. A couple uniques really "turn on" this build for the endgame. Devouring Diadem and Vixen's Entrapment aren't 100% required to get this build off the ground but I will mention how some of the interactions of these items can make it easier to tackle the endgame.
Skill Tree
Ascendancy: Profane Bloom -> Void Beacon -> Withering Presence -> Malediction
Pantheon
Major God – Soul of the Brine King if without Kaoms Roots. Soul of Solaris if you have them.
Minor God – Gruthkul for mapping Yugul for Uber Elder
Bandit
Kill them All - if it's your first character of the league and you forsee resists being an issue, consider helping Alira and then using a Book of Reform after you get the resists.
Passive Tree & PoB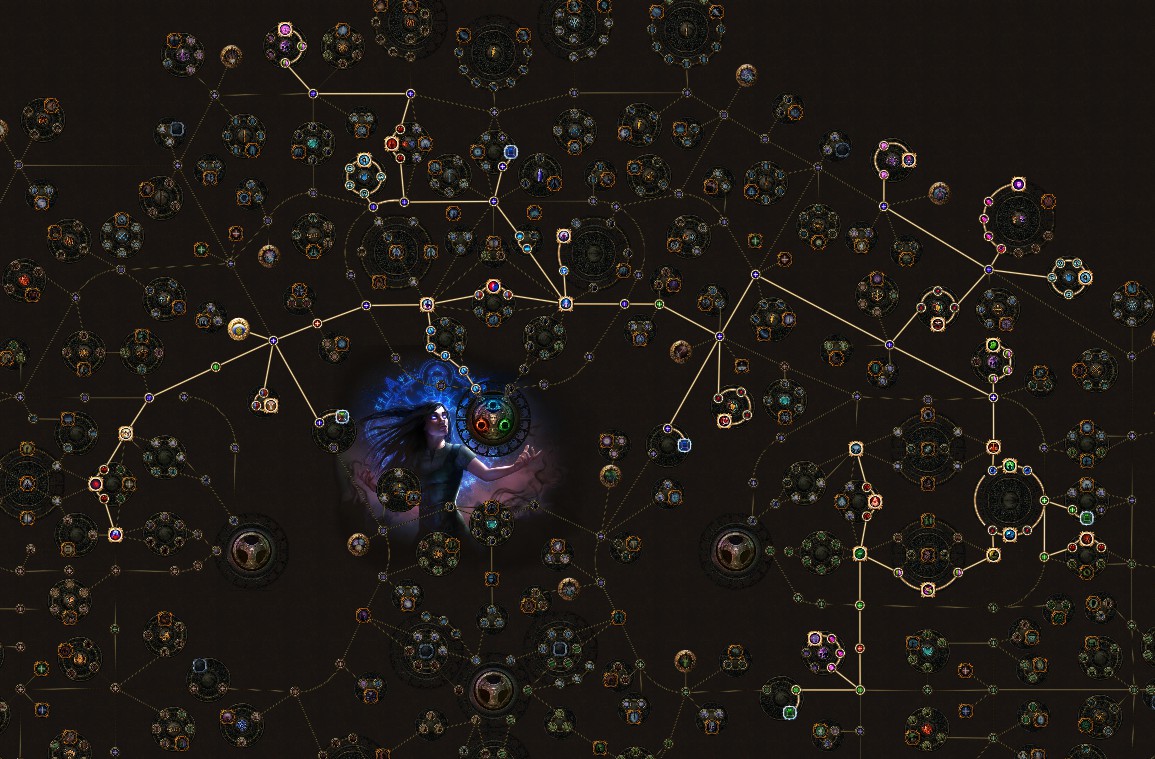 Path of Building Link: https://pastebin.com/3S4qcT4b
Gems Setup
Bane
Bane - Despair - Swift Affliction - Efficacy - Controlled Destruction - Void Manipulation*

*NOTE: Consider Empower depending on what Path of Building deems appropriate for your build.
Other Curses
Temporal Chains - Enfeeble

These are the two premiere defensive curses. You want these in your Vixen's Entrapment gloves. Prior to getting these gloves you can socket it with Cast When Damage Taken but the effects won't be cast until you've taken damage.
Poacher's Mark
Absolutely not necessary but this luxury curse can be used while mapping for higher flask uptime. I like swapping this out with Enhance along with Windshriek boots for quality of life while mapping.
Auras
Malevolence. It's a more multiplier for damage.
Aspects/Arctic Armor/Clarity/Vaal Auras I really love Aspect of the Spider and Arctic Armor but I wouldn't call either of these mandatory. Watchers Eye modifiers like Mana Gained as Energy Shield (Clarity) or Dodge while Grace could dictate your other aura. Access to reduced mana reservation can be grabbed from the passive tree, an enlighten, or the Devouring Diadem helm.
Utility
Cast When Damage Taken – Immortal Call - Desecrate - Spell Cascade
Don't overlevel your gems. You need to keep these gems relatively low level because we want CWDT to proc at a lower life threshold. By keeping it low – it also limits what level of spell it can cast. Personally, I keep CWDT at level 1.
The Desecrate will come into play later if you have Devouring Diadem.
Shield Charge – Fortify – Faster Attacks – Blood Magic – Culling Strike
An extra layer of defense if you feel you need it.
Flame Dash/Lighting Warp/Illusory Warp/Frostblink

Try them all out and see which you like better.
It's just something to get over walls with. If extra links then Faster Casting is nice quality of life (also Less Duration and Swift Affliction for Lightning Warp).
Illusory warp is a free mobility spell granted by the unique amulet Star of Wraeclast which has some additional synergy with the build.
Chaos Golem

Gives additional Physical Damage Reduction.
Can be annoying to recast and keep up so try having a high level Cast When Damage Taken. Culling Strike, Blind, and/or Increased Item Rarity are good ways to get more value from your golem.
Decoy Totem

Great utility totem used on all types of characters. Enemies that are taunted do 10% less damage to targets that did not taunt them.
Other Nice to Haves
Vaal Haste: For all the speed demons.
Vaal Grace: Great all around Defensive buff in sticky situations.
Quality Priority
Bane > Damage Supports (All give .5% increase) > Curses
Gear Setup
Helmet
Devouring Diadem. This helm really does a lot of work for the build. It saves 4 passive points from my current endgame tree by giving Eldritch Battery and also gives reduced mana reservation for gems inside. On top of that, the Feast of Flesh allows you to utilize corpse generation as a form of defense. Because this is a unique, good luck getting a relevant helm enchant. Luckily, none of the helm enchants are mandatory or fundamentally change the mechanics of the build. Before getting Devouring Diadem a generic rare will do the trick.
Stats to look for: Life > Resists > Energy Shield
Chest
Loreweave. The all-purpose Loreweave is great for this build. The maximum resistances 78 is the most important roll. After that life/attributes/energy shield are all nice to have. Pre-Loreweave any rare or generically strong chest like Belly of the Beast or Carcass Jack are fine but be careful for color requirements.
Stats to look for (if you're using a rare): Life > Resists > Energy Shield
Weapon/Shields
Rare. Wands with Non-Ailment Chaos Damage over Time multiplier are great. A nice starter weapon is Cane of Unravelling and can be taken all the way to endgame. Shields you're really just looking for large defensive stats. It's worth noting that I encourage you to try out using a staff, dual wielding, and weapon/shield and seeing the pros and cons of each.
Stats to look for (if you're using a rare): Life (if shield) > Non-Ailment Chaos Damage over Time Multiplier > Spell Damage/Chaos Damage > Resist (if shield)
NOTE: A Wand is a great spot to craft "Trigger a Socketed Spell when you use a Skill". This will have exceptional synergy with Desecrate and Feast of Flesh (from the Devouring Diadem) mentioned later in 6. Tips and Tricks
Gloves
Vixen's Entrapment. This glove really turns the defense of the build on and casts 2 defensive curses automatically when casting Bane. No glove enchant is particularly important but the one I like the most is the Reflection Enchant to create a mirror image that can prove useful for survivability. The spell damage implicit of Fingerless Silk gloves are also nice to have if you are using a rare.
Stats to look for (if you're using a rare): Life > Resists > Energy Shield
Belt
Rare. Stygian Vise is best in slot if you can get a good Abyss Jewel (more on this in the Jewel section below). The best endgame belt probably involves crafting with a Aberrant Fossil + Pristine and getting Generic Increased Chaos Damage and high life/resist rolls. I'm also a big fan of flask related rolls since resists can be grabbed on other pieces of gear and flask mods only appear on belts. I suppose Headhunter and Bisco's Leash should at least be mentioned for "speed clearing" but these are absolute luxuries and don't really take the build to new heights like they do for attack based builds.
Stats to look for (if you're using a rare): Life > Resists > Increased Flask Effect Duration/Increased Flask Charges Gaine.
Boots
Rare. 30 movespeed life and resists. Kaom's Roots are my personal favorite boots for Uber Elder because the Siphon slow that Elder does in that fight is only counted by Kaoms or being Juggernaut. Windscream/Windshriek are cool unique boots that can add some curse flexibility like adding in a Poachers Mark for mapping. A swap I like to do is to map with Windshriek (with my wither totem setup) and swap it out for Kaoms Roots for bossing. Also then swapping out Poachers Mark for Enhance
Stats to look for (if you're using a rare): Movespeed > Life > Resists > Energy Shield
NOTE: Enchants are pure luxury again, some of my favorites are Regen if you've been hit recently or either of the dodge enchants.
Amulet
Rare. Great place to grab some offensive things like Non-Ailment Chaos Damage over Time Multiplier since it's a fairly rare stat for the build. Some uniques that are interesting with the build: Star of Wraeclast, Solstice Vigil, and Aul's Uprising.
Stats to look for (if you're using a rare): Non-Ailment Chaos Damage over Time Multiplier > Life > Resist
Rings
Rares. Great place to pick up life and resists to support any uniques that you're working into the build. Some uniques that are interesting with the build: Doedre's Damning, Essence Worm, Mark of the Shaper
Stats to look for (if you're using a rare): Life > Resists > Energy Shield
Flasks
Quicksilver. A nice flask for moving around maps between packs.
Onslaught. Additional Movespeed and a little Cast Speed is nice to have.
Witchfire Brew/Basalt/Rumi's/Life Flask Witchfire is a decent damage flask for the build. The curse isn't relevant but it does give increased damage over time. Basalt is a great flask for physical mitigation and Rumi's is great if you're using block.
Look for Increased Duration and removal of Bleed/Freeze/Curse.
Jewels
Rares. Nothing fancy here. Great place to plug in life/es/resist and Non-Ailment Chaos Damage over time Multiplier. For the ultra rich there exists the Watcher's Eye Prismatic Jewel which can give bonuses based on the aura you're using. Faster Damage over time with Malevolence is great but anything else could be worked into the build
Stats to look for on Rare Jewels: Life, Non-Ailment Chaos Damage over time Multiplier, Energy Shield, Increased Damage (Damage over Time, Generic Damage, Chaos Damage, Spell Damage).
Stats to look for on Abyss Jewels: Life, Energy Shield, (Block if you are using a shield/staff), and any quality of life like onslaught on kill, phasing, or generic damage.
Leveling
The below is a comprehensive act-by-act breakdown intended to introduce players off of a fresh install into the game. If you are an experienced player consider just looking at the target trees and skipping the in-depth breakdown. The target trees are not to be strictly followed, in fact there are more points in the target tree in case you are ahead of schedule on levels/passives.
If this isn't your first character here are some recommended uniques that will make the leveling process easier (Remember this is SSF and League Start viable so none of these are required at all): Lifesprig, Goldrim, Tabula, Wanderlust, Axiom Perpetuum, String of Servitude (all resist), Le Heup of All, and buying skill/support gems with quality ready to be socketed in!
Lastest POE Builds, News and Guides