How to Choose Path of exile Different Leagues
PoeCurrencyBuy
Date: Oct/19/17 01:21:14
Views: 4820
To be fair, I can't blame the new player I talked to for not understanding the different leagues Path of Exile has to offer. I was lucky enough to start just before the last set of leagues was introduced, so it wasn't nearly as confusing for me personally.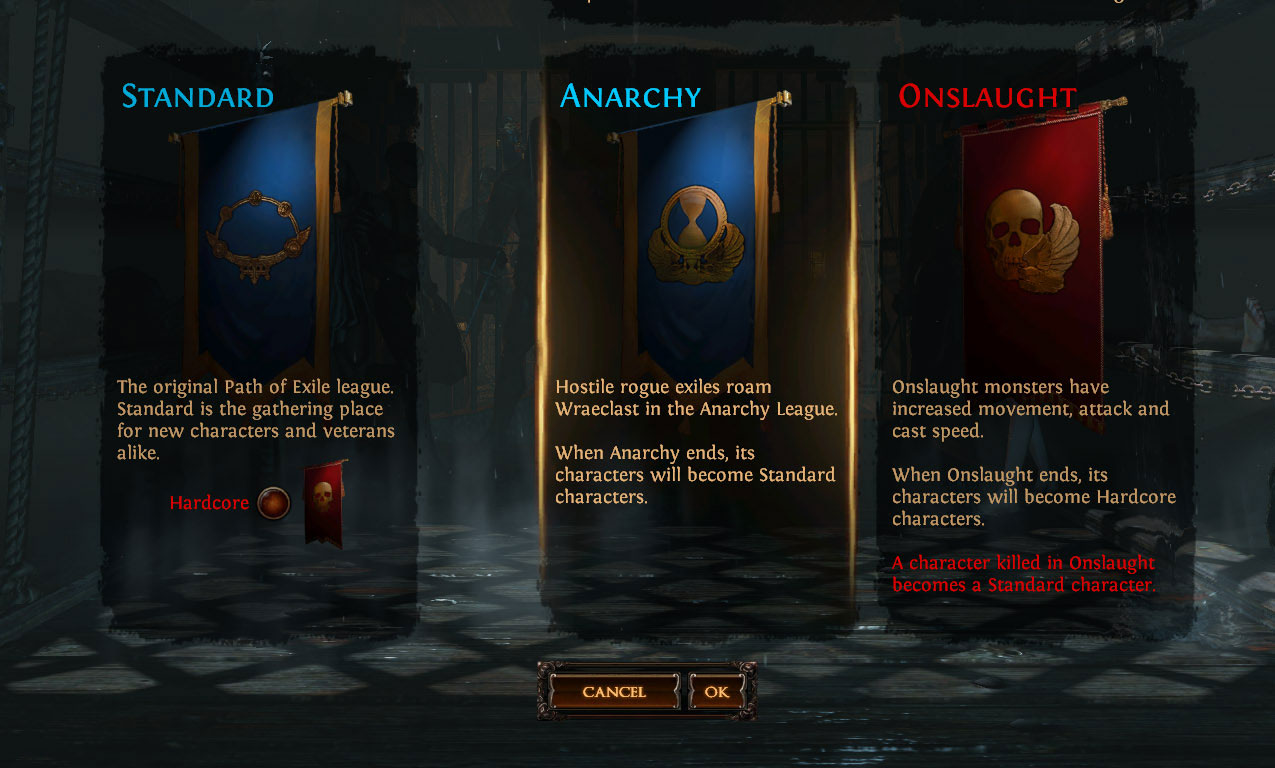 There are now eight different leagues that you can play in, each with its own economy and players. They are separated by 'league' and 'standard', as well as 'softcore' and 'hardcore.' Standard is the base game. It's permanent and has had a persistent economy since the game's release. Because it has been around for so long, all the items you could ever want have been crafted, and are quite cheap due to supply and demand. Builds in Standard are, in general, cheaper and stronger.

Leagues, on the other hand, are temporary, and most players spend the bulk of their time playing in a league. The way that Grinding Gear Games (GGG) adds new mechanics to the game is through the leagues. Each league comes with its own gimmick. The current league is 'Harbinger,' and they have added packs of Harbingers that spawn at random points in maps, as well as new poe currency and an additional map.

Path of Exile's various leagues serve as a way to playtest and add these mechanics to the overall game. During a league, however, standard players will not have access to the league's mechanics–this means no one in Standard has access to the new Harbinger mechanics. Once the league has ended, GGG decides how best to add the mechanic to the base game. After the league is finished, Standard gets updated to accommodate this, and any additions to the base game will get included in the next league. Most players play the leagues, partially because it's "fresh" and more interesting, but most players enjoy diving into a new economy every few months. Progression is far more exciting when there aren't a million perfect poe items on the market.

Once you've decided whether you're in Standard or the current league, there are four separate ways you can play the game, each of which separates you from other players who chose differently. First off, there's softcore and hardcore. In softcore, if you die, you lose experience. You may also have other penalties depending on the zone you are in, but punishments are fairly limited. In Hardcore, if you die, your character is permanently moved over to Standard Softcore. This is particularly bad for people playing within the leagues, because your character gets moved to Standard. For many players who exclusively play leagues, dying in Hardcore means you're essentially deleting your character. Hardcore is, as you might expect, more difficult, and the economy is far more volatile–items are constantly being removed from circulation when players die, and boss drops are fundamentally risky.

Path of Exile added another option around the time I started playing back in March of this year, called "Solo Self-Found" (SSF). If you choose Solo Self-Found, you can't interact with other players or characters outside of the mode–this includes transferring items from your characters in non-SSF modes. You have to start fresh, and can't rely on trading or stockpiled loot to make the game easier. This adds an extra layer of challenge, and SSF is mostly reserved for elite players who want to score bragging rights. You can play SSF Softcore or Hardcore.

In other words, it's no wonder why a new player would be confused about all the different leagues in Path of Exile. That being said, the fact that you start in Softcore and can then work towards SSF, Hardcore, or even SSF Hardcore gives players the option to explore self-imposed challenges at the pace of their choosing. I've stuck to Standard, but I know I'll try SSF at some point.

Path of Exile can be an incredibly rewarding experience, but sometimes it takes knowing where to look in order to enjoy the game's finer points. So how will you play? On your own, or with a guide? Will you trade, or be a lone wolf? And do you have what it takes to race against the best?
Lastest POE Builds, News and Guides