[PC,PS4,Xbox] PoE 3.7 CoC Discharge Shadow Assassin Fast Build
PoeCurrencyBuy
Date: May/30/19 07:08:51
Views: 6089
Super fast build, extreme dps, great aoe and overall just satisfying as hell to play.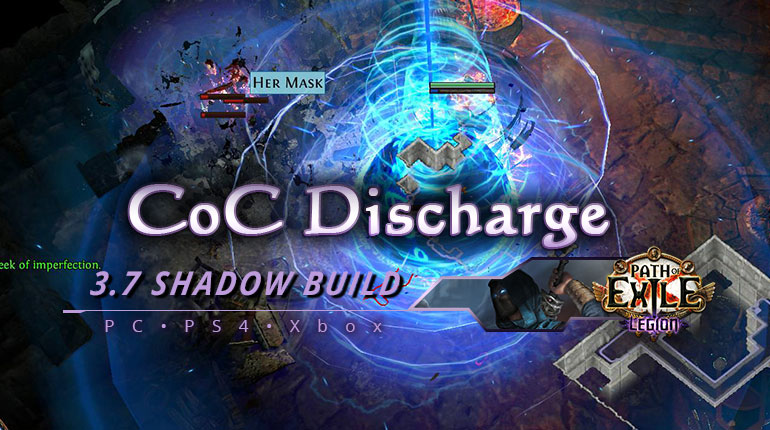 Quick Jump
Build Mechanics
To trigger Cast on Critical Strike you must first Attack and then IF you crit you will cast the linked spells (or the ones in Cospri's)
That means with Elemental Equilibrium, we hit with Cold Damage (negative fire/lightning res to enemies) and then Discharge (lightning/fire/cold damage, reseting to negative cold res) and then hit again. Flipping enemy resists for free damage!
We get Power Charges on every Crit with Voll's Protector. Voll's Devotion gives us Endurance Changes with each Discharge that consumes the Power Charges.
Skill Tree
Ascendancy: Unstable Infusion -> Deadly Infusion -> Ambush and Assassinate -> Opportunistic
Bandits: Every crit build takes Alira.
Pantheons
Major: Soul of the Brine King if without Kaoms Roots. Soul of Solaris if you have them.
Minor: Gruthkul for mapping Yugul for Uber Elder
Passive Tree & PoB
CI Path of Building Pastebin: https://pastebin.com/5Mkq9P5T
LIFE BASED Path of Building Pastebin: https://pastebin.com/CNGcDB2V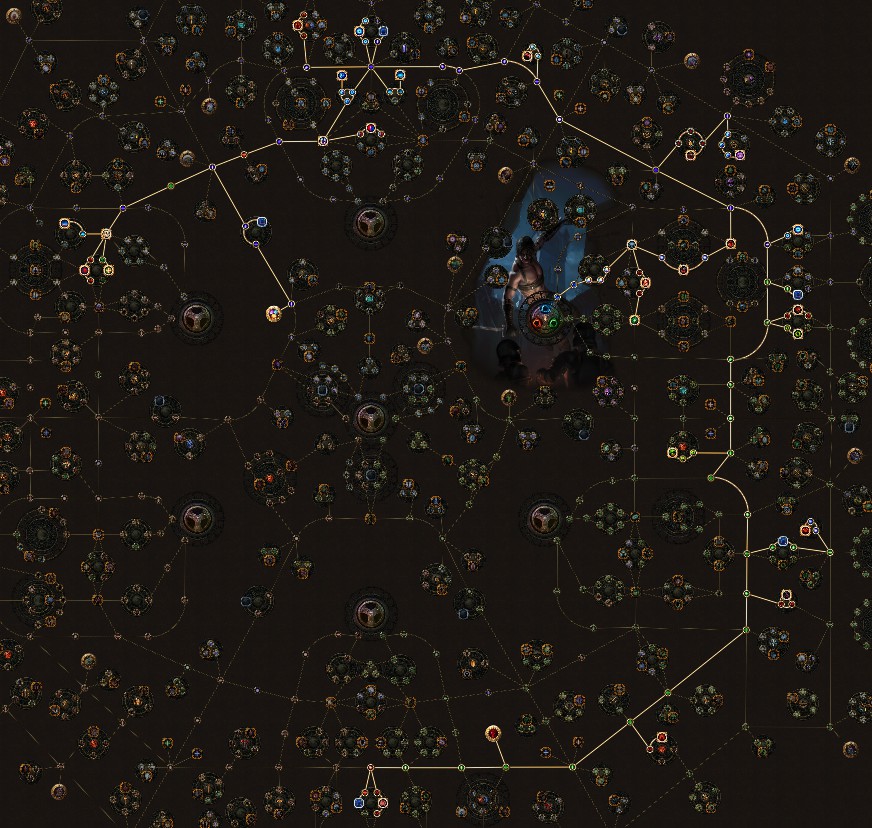 Gems Setup
3L IN COSPRI'S MALICE
Discharge, Controlled Destruction, Increased Critical Strikes
This setup casts anytime we crit with any melee skill (Shield Charge/Cyclone)
4L Shield Charge
Shield Charge, Increased Critical Strikes, Faster Attacks, Fortify
Super fast, high crit setup with a free defensive buff.
6L Discharge
Cyclone, Cast on Critical Strike, Discharge, Increased Critical Strikes, Power Charge on Critical, Concentrated Effect
Highest sustained dps single target setup, used basically only on bosses/hard uniques/rares.
3L Max Level CWDT
Cast When Damage Taken, Immortal Call, Ice Golem.
Defensive physical immunity as well as crit/accuracy.
3L Auras
Discipline, Blasphemy, Poacher's Mark
Big chunk of flat energy shield alongside free accuracy, double flask charges gained, mana gained on hit, and frenzy charge generation for damage/attack speed.
3L Buffs
Vaal Righteous Fire, Increased Duration, War Banner
BIG DPS BOOST for bosses as well as free Adrenaline (damage/attack/castspeed) if you drop the banner.
3 Random 1Ls
Portal, Flame Dash
Quality of Life links for going up and down ledges/portaling out.
Gear
For a more detailed selection of gear, please refer to the PoB Link. The gear selected in the PoB is not mandatory if it is not stated. It is recommended that the player check the affix of the gear and make a better choice.
Gear Stat Priorities In Order
Cospri's Malice: Prioritize Attack speed as it's your clear speed with Shield Charge. Added Cold to Spells next..
Helm: ES/Resists/Accuracy/Intelligence
Chest: Voll's Protector (has no range of rolls, +1 Gems corruption/+2 AOE Gems are best for DPS)
Shield: ES/Spell Damage/Intelligence/Resists/Spell Crit
Gloves: ES/Res/Attack Speed/Accuracy
Boots: Inya's Epiphany (Prioritize Intelligence)
Belt: Cooldown Recovery Speed, ES/Resists/whatever else
Amulet: Voll's Devotion (Grants Endurance Charge Generation) Can use Bisco's if you want to MF.
Rings: ES/Accuracy/Stats/Resists
Jewel Stat Priorities In Order
Normal Jewels
Crit Multi with Fire/Cold/Lightning Skills
Crit Multi With Elemental Skills
Crit Multi with Spells
Global Crit Multi
Attack Speed With Swords
Attack Speed While Holding A Shield
Attack Speed/Attack and Cast Speed
Spell Damage/Spell Damage While Holding A Shield
Area Damage/Damage
Abyss Jewel
Onslaught on Kill
Energy Shield
Attack Speed/Attack Speed if you've Crit Recently
If your ES is low, prioritize Energy Shield over damage.
Stats/Resists IF you need them.
Preferred Enchantments
Helm: 30% Chance for Discharge to Not Consume Charges, casually staying at max charges forever is nice lol.
Boots: Leech if killed recently for sustain.
Gloves: Of Winter for defensive murdering of anything that touches you.
Lastest POE Builds, News and Guides