[Synthesis] Best PoE 3.6 Witch Builds (PC, PS4, Xbox) - Necromancer | Elementalist | Occultist
PoeCurrencyBuy
Date: Mar/01/19 08:54:21
Views: 4220
GGG officially announced PoE 3.6 league in the 20th, 2019. The main NPC of this expansion is Cavas, a spirit who has lost all his memories and want you to help find them. As always, Poecurrency collect PoE 3.6 Witch builds for player, including Necromancer, Elementalist, Occultist, and ARC, Winter Orb, Raise Spectre, Raise Zombie, Summon Skeleton skills. Some of which are great for league starter, farming, cheap, low budget available, and some powerful, fast, boss killer, endgame, popular builds for old players.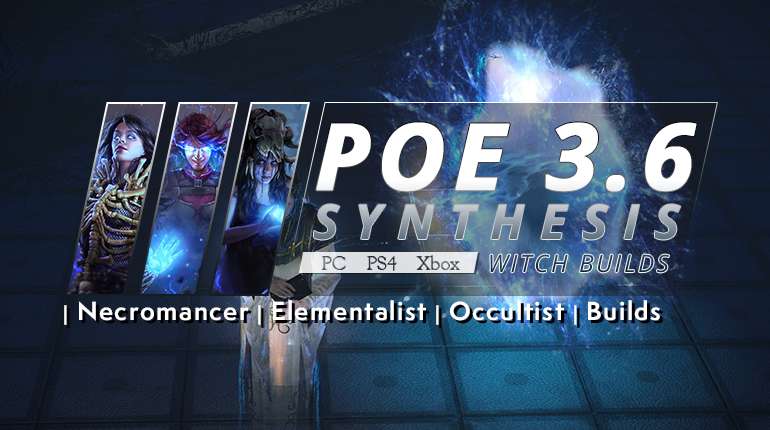 3.6 Elementalist Builds
Pros
+ cheap & fully SSF-capable
+ smooth gameplay & progression
+ capable to do all content & mapmods
+ immune to all kinds of reflected damage
+ fairly safe, lots of damage reductions & ranged playstyle
Cons
- not made for facetanking, physical damage hurts
- good boss damage requires some investment
- Lightning has a huge damage range
Path of Building Link links: https://pastebin.com/6bf8VNUG
Pros
+ Awesome clearspeed
+ Really budget / SSF friendly
+ Smooth gameplay
+ OK DPS
+ No complicated mechanics
Cons
- Not many defensive layers, gotta move to avoid damage
- Gotta cast WO every 7s
- Inpulsa is EXPENSIVE but not mandatory
Path of Building Link links: https://pastebin.com/DDJSCEji
Pros
+ Good clear speed
+ Good single target damage
+ Pretty tanky - 7-8k eHP
+ Fairly cheap to gear, not gated behind rare/expensive uniques. Good league starter, SSF is possible.
+ Scales exceptionally well in the end-game.
Cons
- Blade vortex mechanics may feel clunky to some
- Have to be in melee range to deal damage
Path of Building Link links: https://pastebin.com/G6jjuufr
Pros
+ Super Fast
+ Very Tanky (enough to tank Shaper Slam)
+ Variety of ways to gear
+ Lots of ways to improve gear/build
+ Easy to start up on a budg
+ Very good Single Target DPS with Lightning Spire Trap
+ Excellent AoE DPS with Storm Brand
+ Brainless
+ Flexible
Cons
- Storm Brand needs LS to help Single Target when not geared.
- Lightning Spire Trap can sometimes not activate if a mob moves.
- Not invincible
Path of Building Link: https://pastebin.com/G0E9Csh0
3.6 Necromancer Builds
Pros
+ safe across most content. Bosses offscreening.
+ extremely fast for map clearing
+ around 70% potential Phys Damage Reduction (Basalt, Taste of Hate, etc)
+ decent regen
+ flexible, can stack a lot of block chance if needed
+ great single target damage (around 3 million with Victario)
+ much better than Zombies as you don't need to constantly resummon spectres, also you don't care if Skeletons die. So you effectively are PAIN-FREE.
+ can go Energy Shield and 5-6 spectres too! POGCHAMP!
Cons
- Not super high sustain as we are running Vis Mortis with no life on it (around 7K for Uber Elder).
- Spectres are a pain to resummon if they die
Path of Building Link: https://pastebin.com/YSetdzTf
General Overview

A pure melee minion build using fast moving Skeletons and Zombies. Stay alive the easy way. Beefy life based defenses, with high regen and decent mitigation from all damage sources. Clear fast with 100% increased movement speed, and few button pushes.
Path of Building Link: https://pastebin.com/M5PG4mcw
3.6 Occultist Builds
Pros
+ Cheap
+ Good map clear
+ Tanky
+ Immune to Stun, Chill and Freeze
+ Can do most of map mods (only expcetion is No Life/ES Regen and Elemental Reflect mods)
Cons
- Using Flame Dash is not the best movement skill but the Quicksilver Flask helps on that.
- Some endgame items can be more expensive cause Cold Damage Over time builds are a bit hyped.
- Less recovery rate map mod is not so good.
Path of Building Link: https://pastebin.com/9xvYNGXn
Pros
+ 180%+ peak increased move speed.
+ Super curses. Mobs barely dent you with the super enfeeble and temporal chains.
+ 7k+ life.
+ Easy to maintain fortify.
+ Strong recovery via LGoH.
+ Agony Crawer does all the work.
+ Can handle EVERY map mod in the game
+ Good clear speed via minion augmented profane bloom explosions.
+ Good league starter. The base gear is dirt cheap and no six links are required.
Cons
- Something not for all players
Path of Building Link
Early mapping: https://pastebin.com/hUzn8gRQ
Endgame: https://pastebin.com/asAUQDB0
Pros
+ Healthy- 11-15k Effective Health to absorb those nasty one hitters
+ Damage - This build "Over Time's" so hard it feels like it hits. Effectively "One Hit" content with what is actually a DoT Skill.
+ Different - There is not another skill that feels quite like this. If you are bored of thousands of hours of the same style of skills, this is something fresh.
+ Good Clear Speed
+ Uber Elder Viable
+ Sexy Witch
+ Cheap - but Scales Well with Investment
Cons
- This is not Arc Traps/Totems/Arc in General
- Melee Range
Path of Building Link: https://pastebin.com/QTtkHc4D
Lastest POE Builds, News and Guides