POE 3.5 Shadow Saboteur Lightning Spire Arc Build (PC,XBOX,PS4)- Fast, Cheap, Endgame
PoeCurrencyBuy
Date: Dec/08/18 02:59:28
Views: 2752
"The artist need not to be present to make a lasting impression."
The Saboteur focuses on improving his traps and mines with utility bonuses and additional traps and mines.
This builds have great map clear speed and serious firepower with very low investment. You can choose it as your end-game build (need very good reflexes for end-game though!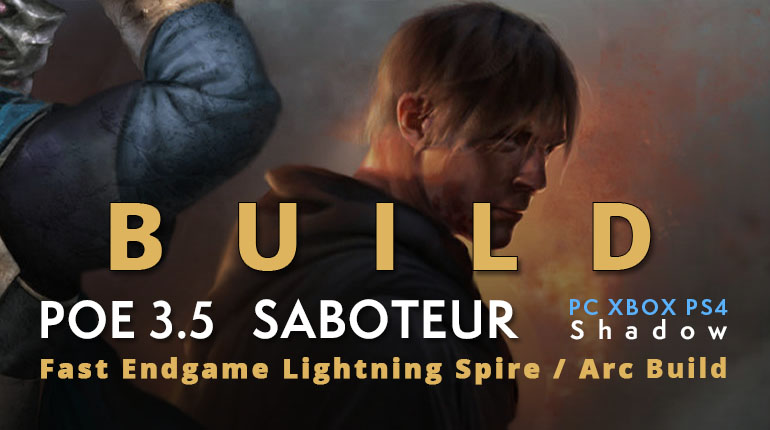 Pros & Cons
Pros
+great map clear speed
+serious firepower with very low investment
+end-game viable (need very good reflexes for end-game though!)
+massive life regen (up to 20% per second and even more with Tinkerskin)
Cons
-Squishy as low Life pool (hard to go over 5k)
-Pretty slow with a wand and Flame Dash

-sketchy for HC
Build mechanics in short
Trap Support has no cooldown now in 3.3 and you can throw 15 Traps instead of 3 (in the end-game you can have around 23 traps at a time on the ground). THIS IS A BUFF, so now it's all about your Throwing Speed + cooldown for lengthy 8 second Traps.
Arc is a lightning, chaining spell with highest amount of chains in the game. Chain means it will "zap" between enemies. In 3.3 Arc does 15% MORE damage per remaining chain. If 1 enemy is on screen it will be 105% more damage, which is DOUBLE the damage. So it's now good against single target.
We will use Arc+Trap in a shaper 5L gloves for clearing maps and 8 second fat Lightning Spire Trap in a 6L for bosses.
Run around, throw traps, don't run INTO packs or you will die. For the same reason i don't have a dagger and a shield here. Even with Acrobatics, this is still a pretty low HP build. Going ES route is pretty much same, maybe a little better.
Don't stand near bosses or you will die.
Skill Tree
Ascendancy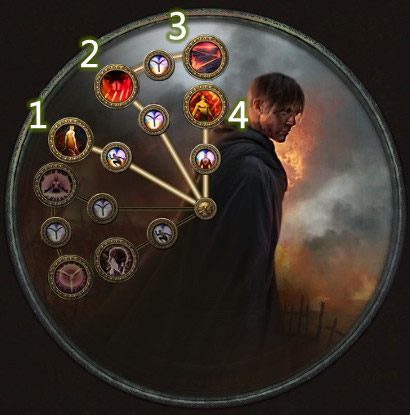 Pyromaniac, Perfect Crime, Chain Reaction, Explosive Expert (SC), or Born in the Shadows (HC)
Bandits
Alira or Kill All.
Pantheons
Major: Solaris, Arakaali is also incredibly strong with the regen we get from Ascendancy.
Minor: Ryslatha
Passive Tree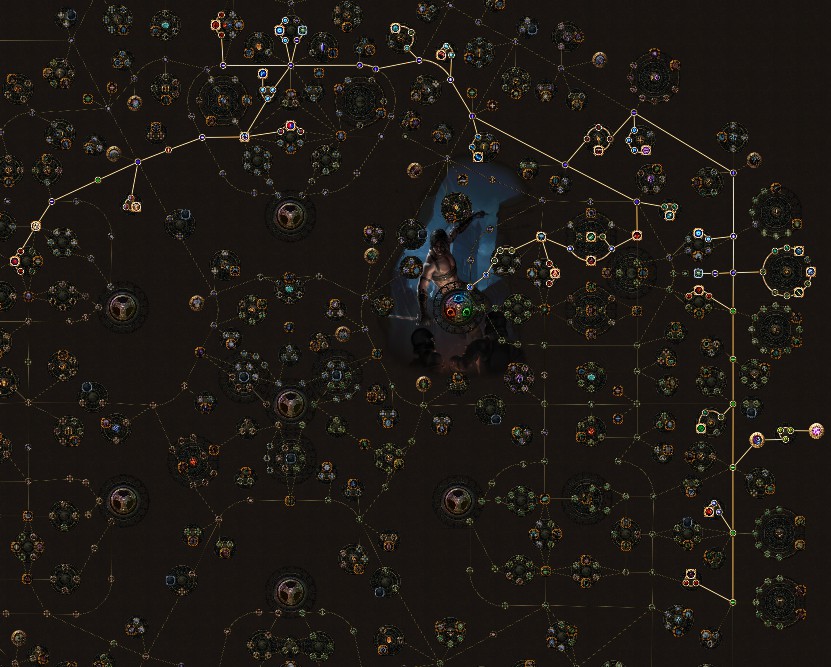 Leveling / Gear / Gems
There are no crazy gear here. Double Lifesprigs, Wanderlust, Lochtonial Caress.
Get Axioms early on. It will help you stack crit fast.

Lochtonial Caress, Lifesprig, Tabula Rasa Simple Robe, Axiom Perpetuum
You can also use Fencoil which is a free Trap link
Mirebough can be later upgraded to a solid 6L!
Level 12
At level 12 get Arc and start doing this setup:
3L: Arc-Trap Support-Multiple Traps
4L: Arc-Trap Support-Multiple Traps-Added Lightning
Level 18
4L: Arc-Trap & Mine Damage-Trap Support-Multiple Traps
Level 22
At level 22 buy Deerstalker boots!
Level 28
At level 28 start using Lightning Spire Trap in a second 4L:
4L: Lightning Spire-Added Lightning-Trap & Mine Damage-Advanced Trap Support (or Controlled Destruction)
Level 38
At level 38 start using Cluster Traps Support on Arc:
4L: Arc-Trap & Mine Damage-Trap Support-Cluster Traps
Flasks
1 Diamond for Crit
1 Atziri's Promise for Ele->Chaos DPS
1 Quicksilver
1 Basalt/Quartz
1 Eternal Life
More great gear
Loreweave is a fantastic choice for SSF and a super strong choice for Trade league as well. It gives a lot of everything as well as much more damage than Tinkerskin:
These gloves can be untill you get Shaper 5L: Architect's Hand, Slavedriver's Hand
WRATH jewels can +1 corrupted chests like Tinkerskin or Loreweave.
Expectations & POB
POB link: https://pastebin.com/qwAv98Cw
(If you do not know how to use it, see the instructions below, otherwise please ignore)
Download Path of Building (link: https://github.com/Openarl/PathOfBuilding)
Copy pastebin URL.
Launch path of building.
Click on Import/Export.
Click Import from Pastebin
Paste the URL copied in step 2.
Done!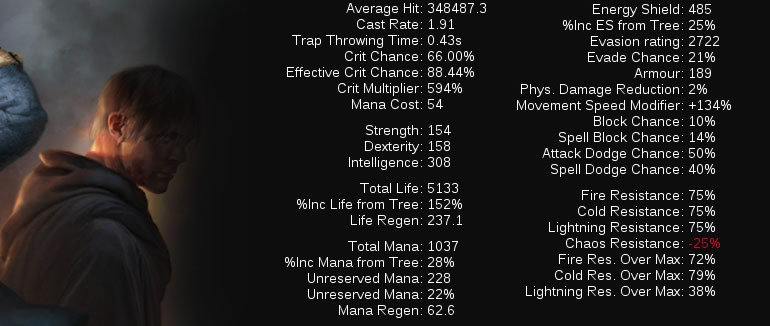 Lastest POE Builds, News and Guides